Mental health and wellbeing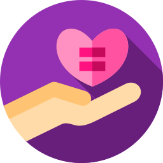 Students and mental health
As someone who supports students, you will be aware of the explosion in numbers of students reporting mental health issues over the past decade.
At Queen Mary, our Higher Education Statistics Agency (HESA) data return for mental health (as a disability) has increased from 160 in 2012/13 to 957 for 2019/20. This is a sector wide trend: the proportion of UK-domiciled full-time students studying in England reporting a mental health condition has increased from 1.4 per cent in 2012-13 to 3.5 per cent in 2017-18.5 November 2019. And research from UCAS tells us that 3.7 per cent of all 2020 UK applicants declared a mental health condition, up from 0.7 per cent 10 years ago.
Sadly, the true figure is likely to be far higher, as we know that some students do not disclose their mental health difficulties, while many students with a mental health diagnosis will select a different disability code than 'mental health', either for fears of stigma or because they'd rather cite another condition, such as a specific learning difference (e.g. dyslexia).
The Covid-19 pandemic is likely to have exacerbated students' mental health, and we know from academic year 2020/21 that there was sharp rise in the numbers of students at Queen Mary submitting claims for Extenuating Circumstances (ECs) citing their mental health as a factor in their travails with completing work on time.
Students and suicide
However, it is worth remembering that students in Higher Education are less likely to take their own life than their contemporaries who are not in education. There has been a significant fall in suicides of students since the 1990s. In 1993-94, 9.7 suicides were reported per 100,000 students. The most recent figures available, from 2017, now report this figure as 4.7 per 100,000.
Suicide rates among students are also significantly lower than among the general rate for people of the same age. For students aged 20 and under, suicide rates are 2.8 per 100,000, compared with 6.7 per 100,000 for the overall population of this age. For male students, the suicide rate is just over a third of the rate for men in the general population. Rather than suicide being an issue particular to students, it is a wider social problem, especially among young adults.
Looking back to the 1990s, this was largely a time before dedicated support and wellbeing services.
Student Wellbeing Services at Queen Mary
Mental health support at Queen Mary is largely split between two teams: the Advice and Counselling Service, and the Disability and Dyslexia Service. Both services are based in the Student Experience Directorate.
If you are worried about a student's safety, e.g. they have disclosed active plans to take their own life or have said something that leads you to feel concerned for their safety (or someone else's), please ring 999. Refer to our help in a crisis guide for more information.
Watch a video outlining mental health support available to students which explains how to refer and aims to make staff more familiar with Queen Mary mental health support and refer students with confidence.
Advice and Counselling Service
If you are concerned about a student's mental health and would like to refer a student, please contact the Advice and Counselling Service and ask them to make an appointment with one of our Mental Health Advisers. Mental Health Advisers will see students presenting with a mental health crisis in terms of their immediate safety; they can also offer interventions with students with poor mental health e.g. sleep hygiene, anxiety management etc. You can do this by emailing welfare@qmul.ac.uk.
As you would expect from the service's name, the Advice and Counselling Service also has a long-established counselling team. It is not possible to refer a student for counselling, as people must self-refer to access this strand of support.
Disability and Dyslexia Service
If a student discloses that they have an existing mental health diagnosis you should refer them to the Disability and Dyslexia Service (DDS), in line with our duties under the Equality Act (2010). DDS can offer support in applying for the Disabled Student's Allowance (DSA) scheme, as well as accessing reasonable adjustments such as exam arrangements. Students with a mental health diagnosis can access the Disability Advisers (Mental Health) who are based in the Disability and Dyslexia Service. They can be reached on dds@qmul.ac.uk.