Supporting Disabled Students
Accessing information on disabled students
Many staff based in our Schools and Institutes are unaware that the Student Support Summary documents that the Disability and Dyslexia Service (DDS) produce for colleagues across the University are available through MySIS. These documents contain details of the support, i.e. the reasonable adjustments, that students supported by DDS have been recommended, along with some advice and guidance on how to ensure these students can study in an inclusive environment, in line with our strategic objectives. They will also contain a synopsis of the student's presenting condition(s).
Advisers working in DDS will send the Student Support Summaries by email via MySIS to nominated staff in Schools and Institutes, (e.g. Student Support Officers), but they also appear on MySIS once they have been created.
NB: the Disability and Dyslexia Service has signed consent from the students we support to share this information, so there are no data protection issues with staff accessing these documents. Without students' consent we cannot share this information, so by definition the reports are available to share with colleagues.
Accessing the Reports
To access these reports, colleagues should log in to MySIS and select the 'Student Course Data' tab. They should then select 'Departmental DDS Student Support Search' (see screenshot below for an illustration):

Staff are then invited to select their School or Institute:

From the ensuing page, staff can choose from a suite of options, e.g. Student Level, Module Code, Module Year, Module Level, Scheme, Programme, Route Code – they can also pick a specific department. (Colleagues can also search on individual students, should they need to). See below for another screenshot: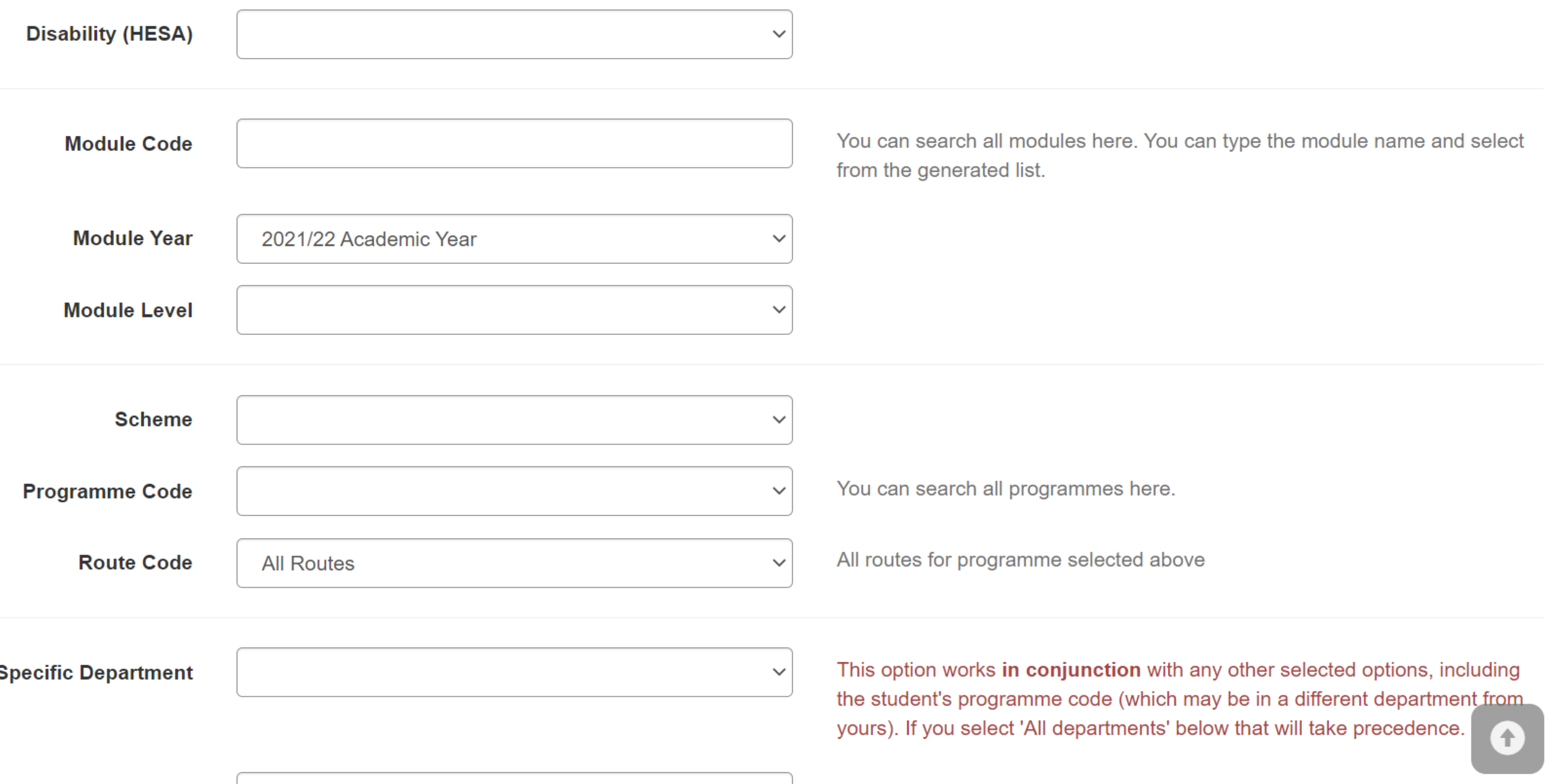 Many module organisers will be most interested in using the Module Code, but the functionality was designed to accommodate the various demands that staff in our Schools and Institutes may have.
Examination Arrangements
Staff can also run reports on any students on a module who have 'Examination Access Arrangements' in place, e.g. extra time. To do this, they should select the 'Module Class List with Exam Access Arrangements' report; see below for an illustration:

NB: not all students with exam arrangements will have a Student Support Summary in place, as some students do not request anything from the Disability and Dyslexia Service beyond exam arrangements. This would include students with temporary conditions, e.g. broken limbs, or pregnant students.
As such there will be students who are on this report and not on the Departmental DDS Student Support function – and vice versa.