Professor Penny Green, BA (Hons) (ANU), MPhil, PhD (Cambridge)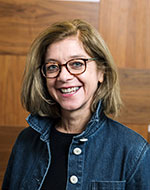 Professor of Law and Globalisation and Head of the Department of Law
Email: penny.green@qmul.ac.ukRoom Number: Mile End
Profile
Penny Green is Professor of Law and Globalisation at Queen Mary University of London, and has been appointed as Head of the Law Department from September 2018. She joined Queen Mary University of London in September 2014 following seven years as Professor of Law and Criminology at King's College London. She studied Psychology, Anthropology and Sociology at the Australian National University before undertaking graduate studies and a doctorate in Criminology at the University of Cambridge.
Professor Green has published extensively on state crime theory (including her monograph with Tony Ward, State Crime: Governments, Violence and Corruption), state violence, Turkish criminal justice and politics, 'natural' disasters, genocide, mass forced evictions, and resistance to state violence. She has a long track record of researching in hostile environments and has conducted fieldwork in the UK, Turkey, Egypt, Kurdistan, Palestine/Israel, Tunisia and Myanmar. She has secured over £1.5 million of Research Council funding, including four major grants from the Economic and Social Research Council (ESRC).
Professor Green is Founder and Director of the award winning International State Crime Initiative (ISCI) - a multi-disciplinary international initiative to collate, analyse and disseminate research-based knowledge about criminal state practices and resistance to them. ISCI is based at QMUL and partnered with the Harvard Humanitarian Initiative, Ulster University and the University of New South Wales (UNSW).
Professor Green's most recent projects include a comparative study of civil society resistance to state crime in Turkey, Tunisia, Colombia, Papua New Guinea, Kenya and Myanmar; Myanmar's genocide against its Muslim ethnic Rohingya population; and forced evictions in Palestine/Israel. Her seminal work, with ISCI colleagues, on the Rohingya genocide (Countdown to Annihilation: Genocide in Myanmar 2015; and Genocide Achieved, Genocide Continues: Myanmar's Annihilation Of The Rohingya 2018) has drawn widespread global attention.
She has been a Distinguished Visiting Fellow at UNSW and Ulster University, and Adjunct Professor at Birzeit University. She has also held visiting fellowships at the University of Melbourne, Latrobe University, Monash University, and Bosphorus University; is a Trustee of the People's Palace Projects, the Democratic Progress Institute and was a Trustee of the Howard League for Penal Reform for eight years. She is a member of the ESRC Peer Review College, co-editor in Chief of the international journal State Crime and Editor of the Routledge State Crime monograph series.
Research
Publications
Books and Edited Collections
Palestine, Palestinians and Israel's State Criminality (edited with Nadera Shalhoub-Kevorkian) Pluto Journals
Countdown to Annihilation: Genocide in Myanmar (2015) (with MacManus, T. and A. de la Cour Venning) London: International State Crime Initiative 100pp ISBN 978-0-9934574
Law and Outsiders: Norms, Processes and 'Othering' in the 21st Century' (with C. Murphy) (2011) Oxford: Hart
State Crime (2005) Special Issue: British Journal of Criminology, 2005, Vo. 45, No. 4, pp 434–445
Criminology and Archaeology: Studies in the Looting of Antiquities (eds) (2009) Oxford: Hart (with Simon Mackenzie)
State Crime: Governments, Violence and Corruption, 2004 (with Tony Ward), Pluto Press: London (Portuguese, Chinese and Indonesian translations)
Drugs, Trafficking and Criminal Policy: the Scapegoat Solution, Waterside Press: Winchester, 1998, 208 pp. (ISBN 1 872 870 33 3)
Drug Couriers, 1991, Howard League: London, 48pp. (ISBN 0 903683 12 1)
The Enemy Without: Policing and Class Consciousness in the 1984-85 Miners' Strike, 1990, Open University Press: Milton Keynes, 235 pp. (ISBN 0 335 09273)
Criminal Justice in Transition: Criminal Policy-Making Toward the New Millennium, 2000 (with A. Rutherford), Hart: Oxford 301pp. (ISBN1 84113 188 1)
Drug Couriers: a New Perspective, 1996, Quartet Books: London, 202 pp. (ISBN 0 7043 7103 0).
Forthcoming
Encounters with repression: Civil resistance in uncivil states 2017 (with Tony Ward) London: Routledge
Condemned to Nowhere: the genocide of Burma's Rohingya 2017 (with Thomas MacManus and Alicia De La Cour Venning) New Brunswick: Rutgers University Press.
Recent Journal Articles and Book Chapters
'Understanding State Crime', (2016) with Tony Ward, Oxford Handbook of Criminology Oxford: OUP
'Evicting Palestine' (2016), with Amelia Smith, in State Crime Journal Special Issue: Palestine, Palestinians and Israeli State Crime (eds Green, P. and Shalhoub-Kervorkian,N.) Vol. 5, No.1
'Law, the State and the Dialectics of State Crime' (2016) in Critical Criminology, Vol. 24, No. 2
'Civil Society And State Crime: Repression, Resistance And Transition in Burma and Tunisia' (2014) with Ward, T. in Chambliss, W. J. and Moloney, C. J. (eds.) State Crime: Critical Concepts in Criminology, New York: Routledge
'Enclosing the Commons: Predatory capital and forced evictions in Burma and PNG' (2014), with Lasslett, K. and Sherwood, A. in Pickering, S (ed.) Routledge Handbook on Migration and Crime London: Routledge
'The Barbarism of Indifference: sabotage, resistance and state corporate crime' (2014) with Lasslett, K. and Stanczak, D., Theoretical Criminology 2015, Vol. 19(4) 514–533
'Islamophobia: Burma's Racist Fault-line' in Race and Class October–December 2013; 55
'The Roboski Massacre' E-Testimony Case Study
'State Crime: A Dialectical View' (2012) (with T. Ward) in M. Maguire, R. Morgan, and Reiner, R.(eds) The Oxford Handbook of Criminology
'States, Crime and Violence' in (2010) Sistema Penal & Violência, Porto Alegre, vol. 2, no. 2, pp. 1-14, jul./dez
Civil Society, Resistance and State Crime' (2012) in L. Stanley and J. McCulloch State Crime and Resistance London: Sage
'State-Building and the Logic of Violence in Iraq' (2009) (with T. Ward) Journal of Scandinavian Studies in Criminology and Crime Prevention
'The Transformation of Violence in Iraq' (with T. Ward) British Journal of Criminology (2009) 49(5): 609-627.
Recent Media Articles
Supervision
Professor Green has supervised over 25 students to completion and is currently supervising:
Saeb Kasm, PhD: 'State Crime, Civil Society and the Use of Digital Technology in Counter-hegemonic Struggles: A Case Study of Egypt's Mosireen Collective'
Saniye Karakas 'State Crime and the Mechanics of Impunity'
Khalid Khedri 'Interrogating the Concept of Sovereignty in International Law'
Angela Sherwood, PhD: 'Urban Displacement, Settlement and the Right to Housing in Post – Disaster Haiti'
Alicia De La Cour Venning 'To what extent do Kachin Independence Army perceptions of international humanitarian norms conform with development of its policies and practice?'
Lina Johansson 'Land Grabbing in the Name of Development: the Law and 'illicit' Land Grabs: the Case of Peru.'
Amy Corcoran 'Protesting the Border but on the Border of Protest'
Natalie Brinham 'statelessness, state criminality, legal frameworks and the role of victim agency'.
Public Engagement
---
Related news