Kathryn Richardson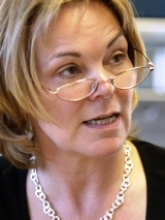 Chair/Director Of The Language Centre, and Director of The Confucius Institute
Email: kathryn.richardson@qmul.ac.ukTelephone: +44 (0)20 7882 2835Room Number: Bancroft Building 125
Profile
I am Professor of Language Education and Chair of the Language Centre in the School of Languages, Linguistics and Film at Queen Mary University of London since 2012. I had a long and successful career in language education and training before moving into the higher education sector in 2002, when I joined Southampton University as lecturer in languages, followed by a move to Kingston University in 2006 as Principal Lecturer.
The Language Centre at Queen Mary runs a number of programmes: PhD programme in Applied Linguistics, with a particular focus on institutional discourse; MA in English Language Teaching; MA in Language Teaching; International Foundation Programme and Pre-Masters Graduate Diploma Programmes in Humanities & Social Sciences and Economics & Finance; Pre-Sessional summer programmes with pathways for Law, Science & Engineering, and Social Sciences; In-sessional English language and study skills, both embedded, discipline specific modules and English for general academic purposes; and non-specialist language modules in Arabic, Mandarin Chinese, French, Japanese, German and Spanish.
As part of my public engagement, I am Chair of Queen Mary's global Excellence in Education Committee and Chair of the School's International Committee. I am also a founding member of the non-profit Paris-based association, Women Business Mentoring Initiative, renowned for its work in championing women employees in companies and institutions, and which mentors women entrepreneurs whose businesses are scaling up.
I hold professional doctorate in Higher Education Management, a Master's degree in Applied Linguistics for English Language Teaching, a DELTA, CELTA, PGCE and undergraduate degree in Politics and Sociology.
Research
Publications
Educational and professional qualifications
2017 DBA in Higher Education Management, University of Bath
2004 MA English Language Teaching, University of Southampton
1981 RSA Diploma in ELT, RSA International House
1980 RSA Certificate in ELT, RSA International House
1978 PGCE, University of Exeter
1977 BA Hons Politics and Sociology, University of Exeter
Professional experience (post-1990)
2009-2012 Principal Lecturer and Co-ordinator of English Language Development, Kingston University, responsible for Kingston's language centre
2006-2009 Principal Lecturer and Associate Co-ordinator of English Language Support, Kingston University, responsible for Kingston's language centre
2002-2006 Lecturer in EAP; Co-ordinator of in-sessional English language programme; Law Pre-Sessional Course Director; MBA Pre-Sessional Course Director, University of Southampton
1987-2002 Director of Studies, Business English Services, London