Learn a Language
We offer modules in a range of modern foreign languages for Queen Mary students and staff, and for members of our local community. You can now register for modules starting in week commencing 25 January 2021.
How do I apply?
If you want to register for a module and you are a complete beginner (i.e., you have never studied the language before), please complete our online application form. Beginner modules starting from January 2021 are only available in Arabic and Spanish. The full range of beginner modules will be available again from September 2021.
If you want to register for a module and you have studied the language before, please select your level or take a diagnostic test to ascertain your language level. Then please complete our online application form.
Once we have confirmed availability, we will send you a link for payment.
How will my module be taught?
We offer a friendly and professional service together with excellent facilities. Our well-qualified and experienced staff will help you achieve a high level of communication in your chosen language, in both every day and professional situations, and for all levels from beginners (A1) to advanced level (C1) (depending on language cosen).
Our classes are small and usually have a maximum of 20 students in a group. This means classes are highly interactive and students have the opportunity for regular practice and personal engagement with the tutor and other students.
In 2020-21, Language modules are being taught online, via timetabled synchronous sessions, supplemented by activities on QMplus that you will complete in your own time. This will be enhanced, where possible, by face-to-face tutorials on campus. The learning outcomes and expected progression remain the same as with face-to-face teaching.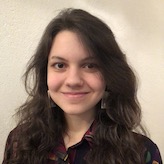 Being fluent in a few languages nowadays is crucially important in terms of employability. In my work field, the ability to communicate in Spanish is becoming more and more desirable, mostly because of the growing importance of Spanish speaking countries in the global space industry. As an Astrophysics student, I believe that taking this module enabled me to be more competitive in the workplace, as well as gave me an insight into the Spanish culture. Moreover, here at QMUL, the language modules are taught with great professionalism and expertise, using techniques that adapt the teaching style to the student's needs.

— Zuzanna Kocjan , BSc (Hons) Astrophysics (2020)