Ali Al Maleki, BSc., BA., MA.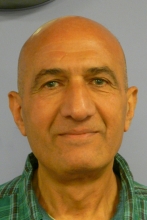 Teaching Fellow (Arabic)
Email: a.almaleki@qmul.ac.ukTelephone: +44 (0)20 7882 2843Room Number: Bancroft Building 136
Profile
Arabic Language and Culture Lecturer, since 1996 at London University, first at SOAS (School of Oriental and African Studies) and then Arabic Fellow Lecturer at Queen Mary University of London since 2007.
Interests:
Designing Arabic Language courses, writing Arabic text materials and making visual Art as well as writing poetry.
Qualifications:
Diploma in Education. Teaching qualification. Subjects studied included Pedagogy and Psychology.
MA in Fine Art.
BSc in Architectural Engineering
BA in Commerce.
Teaching
LAN 4156 and LAN 4157: Modern Arabic Language and Culture.
Research
Publications
Arabic for Beginners Coursebook (1984). Voyage Books.
Arabic for Beginners Video (1985).