The Institute of Dentistry (IoD) is one of the six institutes of Barts and the London School of Medicine and Dentistry (SMD), Queen Mary University of London (QMUL).
The Institute of Dentistry is situated in Whitechapel in East London, a multi-ethnic area with 92 different languages spoken by the borough's 300,000 residents. It opened a new five-storey facility in spring 2014 - the first integrated, stand-alone dental hospital and school built in the UK in 40 years. It houses the most modern and technological advanced dental facilities in the UK.
Barts and The London School of Medicine and Dentistry brings together two venerable teaching institutions: St Bartholomew's Hospital, which dates back to 1123, and The London Hospital Medical College, founded in 1785, the oldest medical school in England and Wales.
The two hospitals lie in very different parts of London, the City and the East End, meaning that you will be exposed to a greater diversity of people and their problems than at almost any other school. This combination of the scientific excellence mentioned above, and the unmatched medical and dental opportunities that flow from our location, means that we are in an unrivalled position to offer you the very best experience as a student, shaping the sort of dentist you will become and the rest of your life.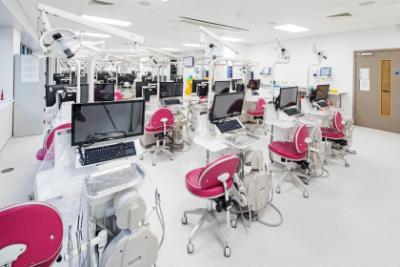 The Institute of Dentistry contains a clinical skills laboratory, which closely simulates the real clinical experience and is an invaluable learning facility, helping new students prepare for patient care work.
Other Institute of Dentistry facilities include:
10 dedicated seminar rooms and a student learning centre
92 production laboratory spaces
Digital imaging and two cutting-edge cone beam CT machines
A PC in every operatory with 'slave screen' on chair for viewing images and discussing results with patient
Modern facial-scanning equipment
Facilities and services for 72 'phantom' heads.
Find Us

[ View larger map ]
Institute of Dentistry
Queen Mary University of London
Turner Street, Whitechapel
London
E1 2AD
Whitechapel campus map [PDF 576KB]
Travel information
Nearest station is Whitechapel on London Underground's Hammersmith and City and District lines.
Transport for London publish interactive maps showing Underground, Docklands Light Railway (DLR) and bus information.