Virtual Graduation took place on 4 November 2020. Watch Youtube videos of the warm messages of congratulations given by some of our academics at the event.
Read below the thoughts of some of our new alumni as they consider their year at Queen Mary University of London: the teaching, their classmates and life in London.
Dr Guido Reinke (Technology, Media and Telecommunications Law LLM, 2020)
Today I had my virtual graduation ceremony at Queen Mary University. I am very grateful to all the lecturers, supervisors and peers that made the last two years an amazing experience! I am in particular thankful to Prof Ian Walden and Prof Julia Hörnle who supervised my research projects, and to Prof Anne Flanagan and Prof Christopher Millard who sharpened my understanding and my legal analysis of Data Protection and Cybersecurity Law.
Data Protection is an interdisciplinary function, which requires in-depth expertise in compliance, information technology, processes, risk mitigation, and of course the law. If you are as passionate as me about your current role and want to study law, QMUL has one of the best Law Schools world-wide and offers more than 20 specialised degrees. Most, if not all professors have previously worked for law firms or in other professional capacities.
Tanya Kalyanvala (Comparative and International Law LLM, 2020)
All good things come to an end, and it was a wonderful virtual ceremony held earlier this week that marked the end to my LLM journey at Queen Mary.
Additionally, the most cherished aspect of my experience has been working as a Legal Designer at qLegal that introduced me to the world of innovation and the law, allowing me a new perspective to practicing the law and the great pleasure of working with the amazing Karen Watton and Clemence Tanzi!
Last but not the least, a huge thank you to all my brilliant LLM colleagues and friends, sharing whose unique perspectives has made this a great learning experience for me both professionally and personally!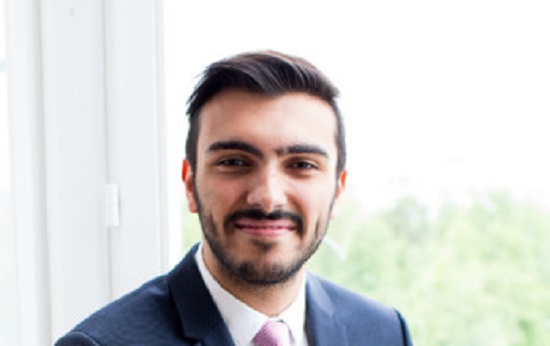 Konstantinos Vafeidis (Commercial and Corporate Law LLM, 2020)
The challenges faced this year were indeed overwhelming at times, but they also compelled me to look on the positive side of things. As such, I am deeply grateful for the incredible teaching staff at CCLS, who truly provided us with an exceptional level of education and insights on selected sectors and areas of law. Equally, a huge thank you to the qLegal team and the team over at Lawren.io - More than your legal assistant for the invaluable insight they provided me at the LegalTech sector. Finally, I am thankful for all the wonderful people I've met and all the memories I'll treasure for many years to come.
No generation has ever had it easy - and so there is no use in drawing such comparisons. What we can do, instead, is embrace what we are given and make the most of it. Equipped with more knowledge, experiences and friendships than ever before, I feel more prepared to embrace what the future beholds for me - whatever that may be!
Congratulations, QMUL Class of 2020! The future is yours!
Tinaz Kalyanvala (Comparative and International Law LLM, 2020)
A virtual graduation celebration amidst the "new normal" marked the end of a fantastic academic year at QMUL earlier last week.
An invaluable insight into the world of international arbitration alongside a strong foothold in legal innovation and technology have been the major takeaways for me and I am pleased to have graduated with a distinction in my masters thesis as well as an overall distinction in my LLM in International Arbitration.
Last but not the least the wonderful class of 2020, my friends, my colleagues who made this such a memorable experience. All good things they say come to an end eventually, I am glad though that the memories of this year will last me my lifetime!
Grigorios Fylaktou (Commercial and Corporate Law LLM, 2020)
I am extremely honoured to have been awarded the annual Commercial and Corporate Law Prize for the highest overall mark in the Commercial and Corporate Law LLM at QMUL School of Law. I owe many thanks to my professors for their help and support throughout the year, in particular Rosa Lastra, Costanza Russo and Rodrigo Olivares-Caminal and it is with great gratitude that I received my results and this award.
Further, my dissertation on How BigTechs are Changing the Face of Financial Services: A Looming Threat to the Banking System? has been awarded with a Distinction. I am very grateful to my supervisor Jelena Madir for her guidance on this interesting and complex area and I encourage anyone who is interested in finance, technology or new legal topics to look into this particular topic and of course, discuss it with me if interested.
Finally, I have thoroughly enjoyed my course at CCLS and I am grateful for sharing this journey with a great group of people, who will not only be colleagues, but also close friends. Thank you to everyone who made this year an unforgettable one and I wish you the best of luck in your future endeavours and the unprecedented times we are facing.
Jakub Banik (European Law LLM, 2020)
Graduate gowns were replaced by face coverings and video calls but Class of 2020 smashed it regardless!
Delighted to receive my dissertation results and to be graduating with Merit in LLM EU Law from Queen Mary.
Despite the C-word, I was able to successfully complete exams in May and write my postgraduate dissertation - Challenges facing UK anti-money laundering efforts after the Panama Papers. London at crossroads: 'dirty money' magnet or EU ally?
Polina Semina (Comparative and International Dispute Resolution LLM, 2020)
I am proud to share that I successfully completed my Master's Degree in Comparative and International Dispute Resolution at Queen Mary University of London with Distinction.
It was a great pleasure to learn from the renowned professors of one of the most prestigious Schools of International Arbitration and to study dispute resolution with students coming from all parts of the world. The LLM program offers a wide range of optional courses, including international commercial arbitration, investment arbitration, negotiations, ADR, construction disputes, energy arbitration, commercial conflict of laws. All the courses were interactive and required active participation from the students. It was a fantastic experience to get engaged in discussions on dispute resolution topics and exchange views with people who have different legal backgrounds.
One of the most exciting aspects of my LLM was the opportunity to go beyond the academic studies and learn from practicing lawyers, as CCLS and the School of International Arbitration organised a number of events with leading practitioners in the field. Furthermore, QMUL Careers Service provided useful insights into the legal market and opportunities to secure a job or an internship, offering an individual approach tailored to the needs of a particular student. This eventually helped me to get an arbitration internship.
I am grateful to all professors and my amazing classmates for making these achievements possible despite all the difficulties this year.
Maria Thiresia Roussou (International Shipping Law LLM, 2020)
Ι feel blessed because I am now a graduate from a prestigious university whose academic staff is known for having the highest level of experience and knowledge. After many days of late night studying, legal researching and working on the amazing topic of my dissertation, I achieved graduating from Queen Mary University of London with distinction.
When I first went to Queen Mary, I saw in the big wall at Queens' Building the motto: 'Achieve the previously unthinkable'. And this is what I did and what I intend to do for the rest of my life. Set goals and achieve things I could have never imagined! Queen Mary also gave me lifetime friendships and I am so glad I met these people during my LLM studies!
I am grateful having you in my life! Of course, last but not least, I would like to thank with all my heart all my amazing people who were every single day by my side and supported me during this LLM journey! This award goes to you! Even though your seats at the graduation ceremony were empty, I know that your heart was with me.
Cheers.