Dr Leonardo Guasti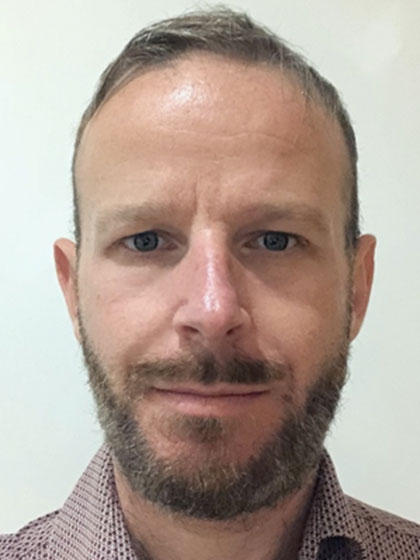 Reader in Endocrinology
Centre: Endocrinology
Email: l.guasti@qmul.ac.ukTelephone: +44(0) 20 7882 2115Twitter: @GuastiL
Profile
I obtained my degree at the University of Florence, Italy, in 1999 (BSc Biological sciences, MS in Pathophysiology). I was then awarded an Accademia Nazionale dei Lincei and a Telethon Fellowship from the University of Florence, Milano-Bicocca and Tulsa, (USA) to study the role of Ether-a'-go-go-Related Gene (ERG) in cancer progression, neural function and hormone secretion. I then undertook a PhD in Clinical and Experimental Oncology at the University of Florence, and spent half of the time at the University of Tulsa (USA) as a Fulbright Distinguished Fellow. My PhD studies uncovered a novel mechanism of post-translational regulation of ERG channels expression controlling ERG current density, neurite outgrowth and apoptosis. In 2006 I relocated to Queen Mary University of London, first at the school of Biological and Chemical Sciences and then at the William Harvey Research Institute's Centre for Endocrinology, studying signalling pathways regulating adrenal cortex development and function. After a year at the UCL Institute of Child Health, I became a lecturer in Endocrinology in 2012, a Senior Lecturer in 2015 and a Reader in 2019.
Research
Current members of the Group
Dr James Pittaway (MRC-funded Clinical Research Fellow); Dr Katia Mariniello (Barts Charity Postdoctoral Fellow); Dr Jordan Read (Barts Charity Postdoctoral Fellow, with Profs Chapple and Metherell), Dr Charlotte Hall (Barts Charity Postdoctoral Fellow, with Profs Chapple and Metherell).
Alumni
Dr Gerard Ruiz-Babot (BBSRC Postdoctoral Researcher, now postdoc at Harvard); Dr Irene Hadjidemetriou (MRC PhD student, now Scientist at NIPD Genetics, Cyprus); Dr Jayna Mistry, (PhD student, now Product manager at Almac group); Dr Demetris Mariannis (iBSc student, now doctor at NHS), Dr Alessandra Mancini (PhD student, now postdoc at Harvard), Ms Sharon Jane Ajodha (Research technician, now Centre Administrator, WHRI), Aswhini Maudhoo (SfE and MSc fellow, now final year medical student).
Summary
Reprogramming strategies aimed at obtaining steroidogenic-like cells
The adrenal cortex is the primary site of steroid synthesis and controls essential metabolic processes. The ability to generate an individual-specific cell platform through the generation of human induced pluripotent stem cells or lineage conversion (transdifferentiation) offers a new paradigm for functional studies, for modelling human disease and for drug testing. There is an unmet need for developing such technology in the adrenal field, as current in vitro systems are not physiologically relevant and some animal models do not phenocopy the adrenal disease. With this in mind, we have been able to generate human inducible steroidogenic cells (hiSCs) starting from skin fibroblasts, blood and urine-derived cells (Fig 1). hiSCs expressed steroidogenic enzymes, secrete corticol in a ACTH-dependent fashion and are viable when transplanted intra-adrenally or under the kidney capsule. hiSCs derived from patients with congenital adrenal hyperplasia showed an altered steroid profile, which was rescued by expressing the wild-type form of the enzyme.
We are currently working on alternative reprogramming strategies to generate adrenocortical-like cells and testing them on in vivo models of adrenal insufficiency.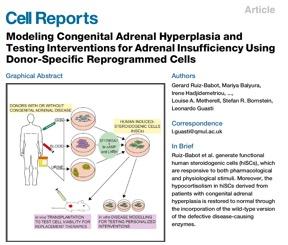 Figure 1
Molecular mechanisms in adrenocortical carcinogenesis
The adrenal cortex undergoes continuous self-renewal throughout life. The histologically and functionally distinct zona glomerulosa and zona fasciculata are replenished from a pool of undifferentiated capsular and subcapsular cells. Capsular cells expressing the transcription factor Gli1 are one source of steroidogenic cells. The differentiation of Gli1+ cells into fully mature steroidogenic cells is initiated through a distinct population of undifferentiated cells located underneath the capsule and secreting the cell-fate regulator sonic hedgehog (Shh). Corrupting the differentiation of these cells as part of adrenal self-renewal is a plausible contributor to the pathogenesis of adrenocortical carcinoma (ACC). Activation of WNT/bCatenin, another pathway active at the capsule/subcapsular boundary involved in adrenocortical growth, self-renewal and zonation, is a frequently observed molecular change in ACC. In addition to Gli1+ and Shh+ cells, another marker of undifferentiated cells recognised in rats is delta-like homologue 1 (DLK1). This is a paternally expressed, cleavable single-pass transmembrane protein, which is a member of the Notch/Delta/Serrate family. DLK1 expression is seen in many human tissues during embryonic development but in adults, expression is low in most healthy tissues. It is known to inhibit differentiation and expression is reported in numerous malignancies.
We have identified DLK1 as a distinct marker for cell clusters in human adrenals, seemingly clonal in appearance, which we have named DLK1-expressing Cell Clusters (DCCs) (Fig 2A). Cells expressing DLK1 remodel from a continuous subcapsular layer to form cell clusters after puberty in physiologically normal human adrenals (Fig 2B-E). This previously unrecognised cell population comprises cells that are poorly steroidogenic and histologically dissimilar from neighbouring zona glomerulosa and fasciculata. Cells expressing DLK1 have characteristics of cancer stem cells in vitro, namely DLK1 expression is significantly increased in spheroid cultures and in viable ACC cells after mitotane treatment (Fig 2F-I). DLK1+ve cells have a higher LD50 to mitotane than DLK1–ve cells (Fig 2J). Moreover, DLK1 is heterogeneously expressed in ACCs samples (Fig 2L).
The role of DLK1 and its interacting partners in the pathogenesis of ACC is being investigated through the use of mouse genetic lineage tracing, in vitro and ex vivo assays.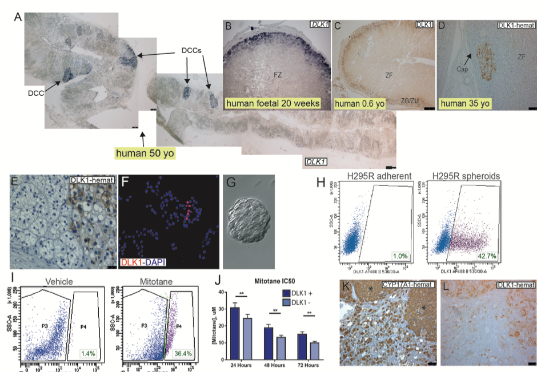 Figure 2


Key Publications
For a full list of publications click here

Saengkaew T, Ruiz-Babot G, David A, Mancini A, Mariniello K, Cabrera CP, Barnes MR, Dunkel L, Guasti L*, Howard SR*. Whole exome sequencing identifies deleterious rare variants in CCDC141 in familial self-limited delayed puberty.NPJ Genom Med. 2021 Dec 20;6(1):107. *co-senior authors

Pittaway JFH, Lipsos C, Mariniello K, Guasti L.

The role of delta-like non-canonical Notch ligand 1 (DLK1) in cancer.

Endocr Relat Cancer.

2021 Oct 15;28(12):R271-R287.

Van der Grinten H,

Ahmed

F, Arlt W, Auchus R, Falhammar R, Flück C,

Guasti L, Huebner A, Kortmann B, Krone N, Merke D, Miller W, Nordenstrom A, Reisch N, Sandberg D, Stikkelbroeck N, Utari A, Wudy S, Speiser P, White P.

Congenital adrenal hyperplasia – current insights in pathophysiology and management.

Endocr Rev

. 2021 May 7:bnab016.

Mancini A, Howard S, Marelli F, Cabrera C, Barnes M, Sternberg M, Leprovost M, Hadjidemetriou I, Monti E, David A, Wehkalampi K, Oleari R, Lettieri A, Vezzoli V, Vassart G, Cariboni A, Bonomi M, Garcia M,

Guasti L*, Dunkel L*.

LGR4 deficiency results in delayed puberty through impaired Wnt-β-catenin signaling.

JCI Insight, 2020; Jun 4;5(11):e133434.

*co-senior authors

Mariniello K, Ruiz-Babot G, McGaugh EC, Nicholson JG, Gualtieri A, Gaston-Massuet C, Nostro MC,

Guasti L.

Stem Cells, Self-Renewal, and Lineage Commitment in the Endocrine System.

Front Endocrinol. 2019 Nov 8;10:772.

Ä

Hadjidemetriou I, Mariniello K, Ruiz-Babot G, Pittaway J, Mancini A, Mariannis D, Gomez-Sanchez CE, Parvanta L, Drake WM, Chung TT, Abdel-Aziz TE, DiMarco A, Palazzo FF, Wierman ME, Kiseljak-Vassiliades K, King PJ, Guasti L.

DLK1/PREF1 Marks a Novel Cell Population in the Human Adrenal Cortex. J Steroid Biochem Mol Biol.

2019;193:105422.

Ä

Ruiz-Babot G, Balyura M, Hadjidemetriou I, Ajodha SJ, Taylor D, Ghataore L, Taylor NF, Schubert U, Ziegler CG, Storr HL, Druce MR, Gevers EF, Drake WM, Srirangalingam U, Conway GS, King PJ, Metherell LA, Bornstein SR & Guasti L. Modeling congenital adrenal hyperplasia and testing interventions for adrenal insufficiency using donor- specific reprogrammed cells. 2018 Cell Reports. Jan 30;22(5):1236-1249.
Prasad R, Hadjidemetriou I, Maharaj A, Meimaridou E, Buonocore F, Saleem M, Hurcombe J, Bierzynska A, Barbagelata E, Bergadá I, Cassinelli H, Das U, GOSgene, Krone R, Hacihamdioglu B, Sari E, Yesilkaya E, Storr H, Clemente M, Fernandez-Cancio M, Camats N, Ram N, Achermann J, Van Veldhoven P, Guasti L*, Braslavsky D*, Guran T*, Metherell L*. SGPL1 mutations cause primary adrenal insufficiency and steroid resistant nephrotic syndrome. J Clin Invest 2017 Mar 1;127(3):942-953. * co-senior authors
Howard S*, Guasti L*, Ruiz G, Mancini A, David A, Storr H, Metherell L, Cabrera C, Quinton R, de Roux N, Young J, Guiochon A, Andre V, Gothilf Y, Cariboni A, Dunkel. L. IGSF10 mutations dysregulate gonadotropin-releasing hormone neuronal migration, resulting in delayed puberty. EMBO Mol. Med. 2016 Jun 1;8(6):626-42. *co-first authors, cover
Guasti L, Silvennoinen S, Bulstrode NW, Ferretti P, Sankilampi U, Dunkel L. Elevated FGF21 levels leads to attenuated postnatal linear growth in preterm infants through GH resistance in chondrocytes. J Clin Endocrinol Metab. 2014 Nov; 99 (11):E2198-206.
Meimaridou E, Kowalczyk J, Guasti L, Hughes C, Wagner F, Frommolt P, Nurnberg P, Mann N, Banerjee R, Saka H, Chapple P, King P, Clark A, Matherell L. L. Mutations in Nicotinamide Nucleotide Transhydrogenase (NNT) are associated with familiar glucocorticoid deficiency. Nature Genetics 2012 May 27;44(7):740-2.
Hughes C, Guasti L, Meimaridou E, Chuang C, Schimenti J, Costigan C, Clark A, Metherell L. MCM4 mutations causes adrenal failure, short stature and natural killer cell deficiency in humans. J Clin Invest, 2012 Mar 1;122(3):814-20. Cover.
Sponsors
Collaborators
Internal (Adrenal theme)
Internal (Biology of pubertal timing theme)
External (Adrenal theme)
Prof Stefan Bornstein (Technical University of Dresden, Germany/Kings College London, UK)
Dr Gerard Ruiz-Babot (

Technical University of Dresden, Germany)

Prof Celso Gomez-Sanchez (University of Mississippi, USA)
Dr Olivia Crociani (University of Florence, Italy)