High-level knowledge of Russian will give you a distinct advantage on the job market, whether in the UK, in Europe or elsewhere in the world. Despite the sanctions decreed by Western countries, economic ties with Russia remain strong, while diplomatically and militarily, Putin's Russia has become increasingly assertive in the international arena. The Russian language remains a strategic language, and demand for proficient speakers is as strong as ever. As Britain negotiates its position in a fast-changing world, the future will increasingly belong to those who stand out because they master other languages.
At the same time, our students develop a range of other skills that are highly valued by employers: communication, critical thinking, team-working, adaptability to a different culture, and so on.
Russian is ranked third in the country for research quality (behind Manchester and Cambridge, but above Oxford and UCL), (Complete University Guide 2019)
If you study Russian at Queen Mary,
You will reach a high level of spoken and written competence in the language, which will in many ways enrich your life.
You will receive a rigorous training in reading analytically and writing lucidly, which are fundamental transferable skills.
You will learn to think deeply about a culture that is quite different, which is interesting, enjoyable and sometimes surprising!
You will have the opportunity to spend a summer or year abroad, which, as well as developing your knowledge of Russian, will give you interpersonal skills and demonstrate your adaptability and flexibility.
You will paradoxically learn to understand yourself and your own native tongue better by studying the structure of a different language and culture.
Graduates of Russian have worked for Amnesty International, Ernst and Young, the British Council, Exeter University, etc. Among them are an immigration lawyer, a fiction writer, and a BBC journalist. Entry to some professions requires a short period of specialised postgraduate training.
Find out how you can study Russian as part of our new BA in Modern Languages.
Our Russian undergraduate programmes also include: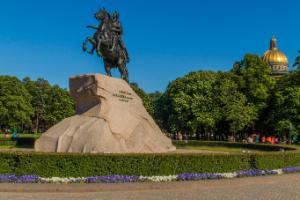 Russian with Business Management
Russian and Comparative Literature
Russian Play
Every year students of the Russian Department produce a play in Russian, a tradition which has been on-going for more than twenty years without interruption. Usually students take care of everything, from directing and acting, to designing the sets and preparing publicity. Even students from the Ab Initio year are involved in acting. Performing lines is a great way to develop pronunciation and intonation, and it helps develop confidence in speaking. Students receive coaching from staff on how to articulate their lines. And of course, the play gives students a chance to put their leadership, interpersonal, and organisational skills to good use, all things that come in handy on the job market. Participating in the play also enables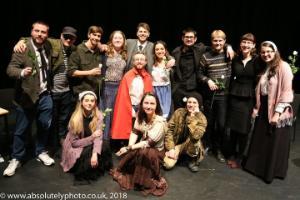 students to get to know one another across the year groups and creates a sense of community. Indeed, former students often return to watch the show.
If you are interested in coming to this year's play,or bringing a group, please email Dr Nadezda Bragina n.bragina@qmul.ac.uk
Russian Academic Visitors Scheme
Each year the Russian Department receives a visit from two Russian academic visitors, who give talks, consultations and masterclasses for students in Russian. In talking to the visitors, students gain fresh insight into contemporary Russia, as well as vital contacts and informal advice helping them with their trips to the country.
Profiles of Academic Visitors:
Evgeny Tsymbal is the only Russian filmmaker to win a BAFTA award, for his 1988 expose of the Stalinist terror, Defence Counsel Sedov. He has since won many international awards for the many films he has directed, including three NIKA awards, Russia's equivalent of Oscars. Evgeny is also the author of numerous articles about Russian cinema. He has been visiting the Department for over a decade, always screening one of his films, often offering the UK premiere.
Maia Volchkevich is a Senior Lecturer in the Department of Russian for foreign students at Russian State University for the Humanities (RGGU), Moscow and the author of four books on Chekhov, and numerous articles about Russian literature. Maia first visited the Department over a decade ago, while still researching her thesis, but has since become a recognized expert in Russian theatre.
BA Liberal Arts
A new degree for 2022, BA Liberal Arts. Full details about this programme here