Details about the London Arts and Humanities Partnership (LAPH2) competition, offering up to 90 AHRC-funded studentships can be found here
https://www.lahp.ac.uk/apply-for-a-studentship/
Details about the QMUL Principal's Postgraduate Research Studentships can be found here
Research in German covers the whole gamut of German Studies from the Middle Ages to the Present day, including language teaching, linguistics and literature, film, thought, theory, media and culture from Austria, Switzerland and the former GDR as well as the Federal Republic.
A particular area of expertise is Anglo-German Cultural Relations, including the history of German Studies in the United Kingdom.
Several members of the department also do interdisciplinary work in fields such as the history of thought, translation and translation theory, medieval studies and gender and queer studies.
The research staff and their areas of expertise:
German, Austrian and Comparative Cultural Studies from 1800 to the present day, especially feminist and queer studies, the work of Hubert Fichte and theatre history
Rüdiger Görner - Director of the Centre for Anglo-German Cultural Relations
European Romanticism, Nietzsche's aesthetics, the History of Anglo-German cultural relations, Life & Work of Oskar Kokoschka, Acoustic phenomena in the works of Franz Kafka, Poetics of Literary Modernism, Music and Literature since 1800
Postmigrant literature and film in Germany; German literature around 1800; Gender and Feminism; Postcolonial theory and literature
Cultural History of late 18th & early 19th Century Germany, East German Authors before and after German Re-unification
Literature and the human sciences, literary theory, literature and philosophy, German thought 1750 until the present, Anglo-German cultural relations, theories of myth, Goethe, German intellectuals in Australia and Britain
Linguistic purism, the influence of English on German (Fremdwörter / Anglizismen / 'Denglisch'), discourses of foreignness in school books, the relationships between politics language and culture, text book analysis
Legacy of German colonialism
German Grants
The main research income for the CAGCR currently comes from the BASF - supporting MA bursaries and the ANGERMION annual Lecture.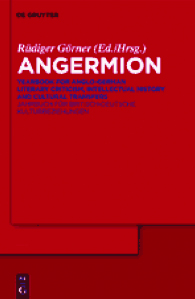 Previous sponsors include Bosch UK and the Claussen Simon Foundation (Hamburg) via the Stifterverband deutsche Wissenschaft as well as the British-German Club in Hamburg and the British Chamber of Commerce in Düsseldorf.
We currently have a AHRC Collaborative Doctoral Award with the V&A awarded to Jana Riedel.
Two research students work on the aesthetics of Friedrich Nietzsche and one on the literary phenomenology of objects.
One student received a QMUL research scholarship and one research student is supported by the Studienstiftung des Deutschen Volkes.