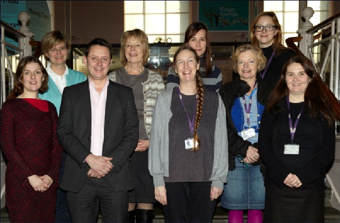 Students
Mary Guyatt
Mary Guyatt (m.l.guyatt@qmul.ac.uk) began the first PhD project on 'Children, Home and Empire' in 2010. Mary studied Architecture as an undergraduate and later obtained an MA in the History of Design from the Royal College of Art. She worked in museums prior to commencing her studentship, first at the Victoria and Albert Museum and most recently as Curator at the Garden Museum. Mary has published articles on a range of art and design subjects and enjoys the collections-based and archival research which her PhD involves.
Eithne Nightingale
Eithne Nightingale (e.nightingale@vam.ac.uk) is undertaking the second PhD project on 'Children, Migration and Diasporas'. This develops her work on the 'World in the East End', an earlier project at the V&A Museum of Childhood which collected tangible and intangible heritage from diverse communities of people living in Tower Hamlets and Hackney, which was then integrated into the museum's displays and online resources.

Eithne is also working part-time as Head of Diversity and Equality at the Victoria and Albert Museum, where she has been employed for 13 years. She also has extensive experience of working in equal opportunities, community development and regeneration and education in inner London. Eithne has published several reports and articles on issues of diversity and equality particularly in relation to museums and heritage and coedited the book 'Museums, Education and Social Justice', to be published by Routledge in Spring 2012.

She is also a writer (fiction, memoir and travel) and photographer.
Queen Mary Supervisors
Professor Alison Blunt
Alison Blunt is in the School of Geography at Queen Mary and she is supervising the second and third PhD projects.
Dr Alastair Owens
Alastair Owens is an historical geographer whose research focuses on two inter-related themes: families, wealth and investment and on home and material culture in the nineteenth and twentieth centuries. He is one of the supervisors of the first PhD project, exploring the relationships between Children, Home and Empire in Britain from c. 1870 to 1950. Alastair enjoys working with museums and has other collaborations with colleagues at the Geffrye Museum and Museum of London Archaeology.
Professor Miles Ogborn
My role in the project is as part of the supervisory team at Queen Mary, particularly as supervisor of the third PhD project on 'Children and Global Citizenship'. My own research is historical. It has dealt with questions of empire and globalisation in the seventeenth and eighteenth centuries. It connects with the Child in the World project in that I have tried – primarily in my book 'Global Lives' (2008) – to understand how people understand their place in a changing world and how that shapes their actions. That book examined this through individual biographies of a great variety of people caught up in Britain's changing relationship with the rest of the world in the period from 1550 to 1800. I am looking forward to seeing, through the Child in the World project, how that works out for children from the nineteenth century to today.
Dr Kiera Vaclavik
KieraVaclavik is Senior Lecturer in French and Comparative Literature and is a member of the supervisory team for the first and second PhD projects. A specialist in children's literature and culture, she is currently working on a project which considers works for young readers as a form of world literature.

V&A Museum of Childhood Supervisors
Carolyn Chinn
Carolyn Chinn (c.chinn@vam.ac.uk) is supervising the third PhD project. Carolyn has been the Learning Manager at the V&A Museum of Childhood since 2003. She previously worked at the Museum of Childhood in Edinburgh, the Royal Observatory Visitor Centre (Edinburgh) and the McMichael Canadian Art Collection. She has two BAs (Communications Studies and Classical Studies) from Concordia University in Montreal, Canada, and an MA in Museum Studies from the University of Toronto. She has 20 years of experience working within archaeology and museums.
Teresa Hare Duke
Teresa Hare Duke (t.hareduke@vam.ac.uk) is supervising the second PhD project. Teresa has been the Community Development Officer at the V&A Museum of Childhood since 2002, developing an audience development programme of exhibitions, projects and events with diverse communities. She worked with Eithne Nightingale on the earlier World in the East End project and the subsequent displays and resources. Since 2006 she has also managed and curated the Museum's Front Room Gallery. Teresa studied Sociology and Theatre Design and has extensive experience of community development and participatory arts practice.
Rhian Harris
Rhian Harris (r.harris@vam.ac.uk) is Director of the V&A Museum of Childhood. Previously she was the Director of the Foundling Museum. Rhian is a supervisor on the first PhD project.
Catherine Howell
Catherine Howell (chowell@vam.ac.uk) is the Collections Manager at the V&A Museum of Childhood and one of the Museum's supervisors on the first PhD project on Children, Home and Empire.
She has worked at the Museum since 1991 and is the lead curator of the toys and games collections. Her other main responsibilities are the overall care of the collection and the coordination of the Collections Team. Her specialist knowledge is in teddy bears, optical toys and games.
She has worked on several exhibitions, covering topics from Christmas to Rupert Bear, Batman and Alice in Wonderland. In 2002 she curated a major centenary exhibition on the teddy bear and in 2011 curated the Magic Worlds exhibition.