Winners of the prestigious University of London Gold Medal (BDS) 2021 award
The Institute of Dentistry is delighted to announce winners of the prestigious University of London Gold Medal ( BDS ) 2021 award.
Published:
Dr Emma Elliott - Winner of UoL Gold Medal 2021
Dr Jaimini Vadgama - Runner Up UoL Gold Medal and winner of Betuel Prize for Dentistry 2021
Dr Tallulah Hall - Third overall for UoL Gold Medal 2021
The recent graduates have won the awards in a head to head competition against King's College London. QMUL retains the award last won by Dr Indriyesha Wolfgang Puri in 2019.
Congratulations on their exceptional performance They worked hard in examination preparation together and won the coveted top three positions. The Gold Medal will be struck by the Royal Mint and engraved awarded alongside £500 prize money.
Thank you to all the University and NHS staff who supported the nominees in viva preparation coordinated by Dr Swati Nehete. A big thank you to Alan Cruchley and Ryan Salucideen for coordinating the process. Special thanks to Prof Ama Johal, Prof Anwar Tappuni, Dr Ed Bailey, Prof Farida Fortune, Dr Farnaz Akbarian-Tefaghi, Dr Huda Yusuf, Mr James Cymmerman, Dr John Buchanan, Prof Mangala Patel, Dr Mohsin Chaudhary, Dr Nikos Gkranias, Dr Raj Dubal, Prof Robert Hill, Dr Rosemary Whatling, Dr Sharan Sidhu, Prof Simon Holmes and Dr Stacey Clough for their generous help with coaching of the three candidates.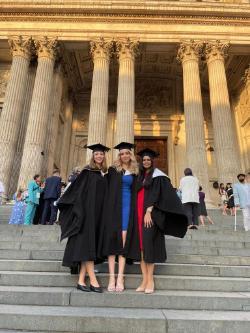 Congratulations to these wonderful 2021 graduates who are flying the flag of QMUL high.