Global Business Strategy in a Post-Brexit World
Co-designed and delivered by leading universities in Australia and the United Kingdom, this world class collaboration has been purposefully designed to help business understand and respond to the impact of Brexit on trade between the UK, Europe and Australasia.
Programme details
Duration: 36 hours made up of 3 x 6 hour modules, plus a strategic project (18 hours)
We are pleased to offer a 10% discount for School of Law Alumni.
Future dates: following the February – March 2022 programme, we will be announcing future dates in due course.
Ambiguity, uncertainty, transformation, and disruption are not temporary phenomena; they are today's operating environment. The course empowered me with tools and mental models to strategise, survive and thrive in a reshaped marketplace. Equipping me with the skills needed to develop a strategic foresight for risks across spectrum, and the messaging that's needed internally and externally while dealing with stakeholders to mitigate risks.

— Natasha Jha Bhaskar, General Manager, Newland Global Group, Sydney, Australia.
Overview
As of 1 January 2021, the United Kingdom (UK) ceased to be a member of Europe's Single Market and Customs Union. In addition, the UK announced that it is seeking to join the Comprehensive and Progressive Trans-Pacific Partnership (the CPTPP). There are virtually no businesses trading between the UK, Europe and Australasia which won't need to make changes as a result of these seismic market shifts – the question for business and government policy-makers is, what do these changes mean at both a strategic level, and also at the day-to-day operational level?
With the UK leaving the EU and focusing further afield, to the Pacific and Australasia, there are many trading opportunities, but also new challenges: changing trade formalities and regulatory controls, shifts in legal frameworks, as well as revised trade and competition standards.
This world-class collaboration between the Institute for International Trade (IIT) and the School of Law, Queen Mary University of London has been designed to provide participants with a deeper understanding the impact of these shifts in global trade patterns on their business and markets, and to provide tools which will enable participants to create strategies to succeed in a reshaped marketplace.
What will you learn?

At the conclusion of this professional development programme, it is expected that you will have an understanding of:
MODULE I: Trade and Economic Policy: the Impact on Business
How domestic economic policy and foreign affairs impact you and your clients' business and markets
How to effectively manage the risks of conducting business internationally
The impact of the UN's Sustainable Development Goals on trade, trade policy and global supply chains
'Building back better': ethics, corporate responsibility and global trade.
How to navigate international regulatory environments
Global digital trade regulation and its impact on trade flows
MODULE II: Understanding the Impacts of Brexit in a global context
What Brexit is and how it will impact global trade patterns between the UK, Europe and Australasia
How to assess the impact of Brexit on your markets
MODULE III: Responding Strategically
Developing strategies for success in a post-Brexit global business environment
Who is this Professional Development programme for?

Mid-senior professionals and trade officials seeking a deeper understanding of the recent global market realignments caused by Brexit for their UK, European, and Australasian operations.
What benefits will the programme deliver for you and your organisation?
Participants will leave the programme with a deeper understanding of how trade policy impacts business.
They will learn how to utilize a set of tools to assess the potential impact of trade policy changes for business, and how to develop organisational strategies to leverage the associated opportunities and mitigate potential risks.
Throughout the second and third modules of the programme, participants will assess the impact of Brexit and related shifts in trade flows between the UK, Europe and Australasia for their organisation, and develop organisational strategies to manage these effectively.
Participants will gain access to a network of experts with deep discipline knowledge, as well as becoming part of a community of practice where like-minded professionals can share and benefit from common experiences, navigating the new international trading environment.
Delivery mode

Delivered virtually over six weeks, this interactive professional development programme leverages the latest developments in online education to bring mid-senior business leaders a highly experiential programme which accommodates their need for flexibility, whilst providing opportunities for deep engagement with content, peers, facilitators and globally-recognized experts.

Facilitated through our custom designed online learning platform, you will:
Engage with experiential virtual learning modules;
Participate in interactive workshops, discussions and networking opportunities with leading educators and experts from the government and the private sector;
Learn about the latest tools, frameworks and practices;
Benefit from regional and global perspectives; and
Consider the impact of Brexit for your business and develop strategies to address these changes with the help of experienced educators and global practitioners with expertise in the fields of international business, trade policy, law and economics.
Our faculty
Simon Lacey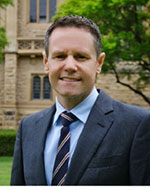 Simon Lacey, the academic lead for this course, is currently Senior Lecturer at the University of Adelaide's Institute for International Trade. Prior to joining the Institute, Simon held the position of Vice-President Trade Facilitation and Market Access at Huawei Technologies in Shenzhen China, where he was responsible for monitoring, managing and mitigating the biggest trade and investment risks facing the company across a dozen of its most important markets internationally. Before joining Huawei, Simon worked in over 30 countries providing training and advice in the areas of trade and investment policy to both sovereigns and the private sector. It was in this capacity that Simon spent four years advising the Indonesian Ministry of Trade on a broad range of issues in connection with the country's membership of ASEAN, the WTO, as well as a number of preferential trade agreements and bilateral investment treaties. Simon's research and teaching interests encompass trade and investment in the innovation economy, trade and investment policies for development, and the impact of increased geopolitical tensions and disruptive new technologies on trade and investment policies.
Dr Gabriel Gari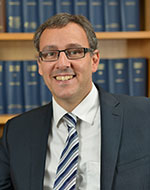 Dr Gabriel Gari is a Reader in International Economic Law at the Centre for Commercial Law Studies, Queen Mary, University of London and Academic Director of the International Economic Law LLM. Prior to joining Queen Mary, Gabriel practised Employment and Commercial Law and worked for the Uruguayan Supreme Court of Justice. In 2013-14, he held a visiting scholar position at the Trade in Services Division of the World Trade Organization. He has published extensively on trade in services, including his book on the liberalisation of trade in services in MERCOSUR and various articles in peer-reviewed journals. He has acted as a consultant to several multilateral institutions and taught trade law at American, Chinese, German, Italian, Lithuanian and Uruguayan Universities. Gabriel holds degrees in Law and in Sociology from the University of the Republic (Uruguay), an LLM in International Business Law from the London School of Economics and a PhD from Queen Mary, University of London. He is a member of the Latin American and Caribbean Research Network on Services, the Latin American Network on International Economic Law, the Society of International Economic Law and the European Society of International Law.
Dr Costanza Russo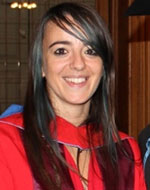 Dr Costanza Russo is the HSS Deputy Dean for Research (PGR) at Queen Mary University of London.
She is a Senior Lecturer (Associate Professor) in International Banking Law and Business Ethics at the Centre for Commercial Law Studies (CCLS) at Queen Mary, where she teaches several post graduate modules in Law and Ethics and in Banking and Finance in both London and Paris campuses. She is also the Director of the CCLS Institute for Regulation and Ethics. From Jan 2018 to December 2020 she served as the CCLS Director of Graduate Studies, responsible for the PhD in Law programme.
Since 2016, Dr Russo sits on the expert panel on «Banking Union – Resolution of Banks» for the ECON Committee of the European Parliament, as well as on the expert panel on «Company Law» for the Citizens' Rights and Constitutional Affairs DG of the same Parliament.
In 2015-16 she acted as adviser to the Committee on Standards in Public Life (CSPL), a UK Cabinet Office Committee, to conduct a review of the ethics of UK banking and financial regulatory Authorities, as part of the CSPL broader review "Ethics for Regulators". She also sat on a steering committee of the UK Banking Standards Board (BSB) for a research project investigating the relationship between law, regulation and ethics in finance.
Dr Russo's research expertise lies in cross border bank insolvency and resolution, corporate governance in finance, international banking regulation, CSR, and ethics in banking and in finance, areas in which she has presented and written widely. She holds a Master Degree in Law and a PhD in Economics. Her latest book, an edited collection on "Law and Ethics in Banking and Finance", was published in August 2019 by Edward Elgar pubs.
Lisa McAuley
Lisa McAuley has worked in international trade for over ten years, most recently as CEO of the ECA has seen the organisation focus on ground-breaking research and advocacy projects that promote and enhance the global competitiveness of SMEs. Lisa lends her passion for international trade and her respected voice in the industry to various initiatives, from an advisory role on the AmCham Trade Advisory Group, to the board of CargoHound and the Executive Director of the Global Trade Professionals Alliance (GTPA).
Scholarships Opportunity

The University of Adelaide's Institute for International Trade and Queen Mary University of London's School of Law are offering two full scholarships to attend our inaugural programme. These scholarships will be awarded to two outstanding applicants looking to make an impact on the world of international trade or business.
A world-class collaboration between leading universities in Australia and the United Kingdom: