Alumni Awards celebrate diverse legal achievements
Meet the winners of our CCLS Alumni Awards, which shine a light on some of those who chose Queen Mary for their postgraduate education.
Thursday 24 March 2022
The Awards recognise and celebrate the outstanding achievements of people who studied at CCLS, and highlight the impressive global impact of our alumni community. For this inaugural event, we received over 80 nominations.

The Community Impact Award recognises CCLS alumni who've made an outstanding impact on their community. This award was taken home by Geronimo Frigerio (Banking and Finance Law LLM, 2001) for his work to reduce poverty and enhance growth by removing legal red tape. Geronimo's achievements include developing education and transport sector policy reforms to rebuild Haiti after the 2010 earthquake, designing the regulatory framework for the expansion of the Panama Channel, and redesigning the sovereign financial architecture in the Bahamas. 
Geronimo said "Thank you Queen Mary, University of London and CCLS for providing me the tools to better understand the links between law, finance and economic development. This award recognises 20 years of efforts in legal and policy reforms that are summarised in my book 'Simple'".
Also shortlisted were Dr Amir Ibrahim (Competition Law PhD, 2015), Dr Maritza Adonis (Arbitration summer school, 2014), Mary Rizk (Laws LLM, 2018) and Siddharth Chandrashekhar (Commercial and Corporate Law LLM, 2012).
The Commitment to CCLS, Queen Mary Award recognises CCLS alumni who've supported CCLS and the wider University by sharing their time, expertise, networks or resources. This award was given to Assunta Ndami (Comparative and International Dispute Resolution LLM, 2019) whose determination and dependability were key to the success of qLegal's bid for funding to support the establishment of an Entrepreneurship Law clinic at the University of Strathmore in Nairobi. Thanks to Assunta, the bid was successful, and the Strathmore Entrepreneurship Law Clinic is thriving.
Also shortlisted were Ajit Mishra (Intellectual Property Law LLM, 2005), Dr Germán Darío Florez Acero (Intellectual Property Law LLM, 2011), Julia Bonder-Le Berre (Intellectual Property Law LLM, 2007) and Kuseme Iseh (International Dispute Resolution LLM, 2021).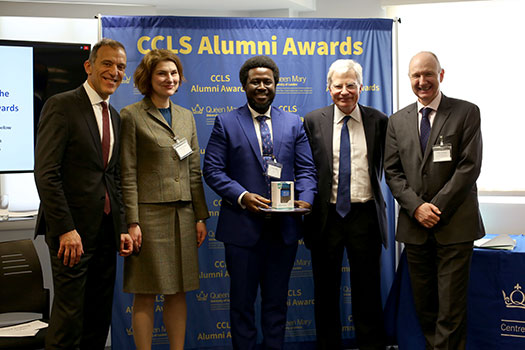 The Alum of the Year Achievement Award recognises CCLS alumni who've demonstrated excellence and best practice in a chosen area of commercial activity or society. This award was bestowed on Francis Ben Kaifala (Law and Economics LLM, 2014) for his impressive anti-corruption work in Sierra Leone, where he has introduced strong and far-reaching legislative reforms to ensure accountability in public life. Francis is head of the republic's Anti-Corruption Commission, as well as President of the Network of Anti-Corruption Institutions in West Africa and an elected member of the African Union Advisory Board on Corruption, while also lecturing in commercial law at the University of Sierra Leone.
Also shortlisted were Antonius Alexander Tigor (Computer and Communications Law LLM, 2017), Bijetri Roy (Public International Law LLM, 2014), Müge Bulat Çetinkaya (Commercial and Corporate Law LLM, 2010) and Meenakshi Salathia (Criminal Justice LLM, 2019).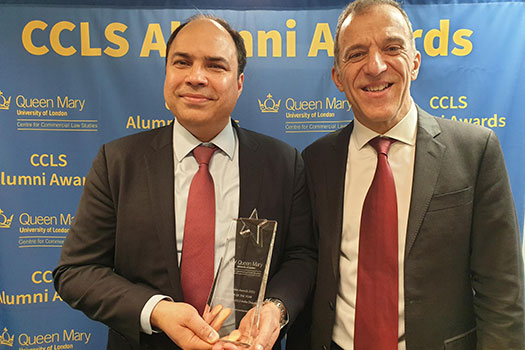 Finally, the Chapter Award recognised the achievements of CCLS international communities. This award was collected by Utkarsha Nikam (Commercial and Corporate Law LLM, 2022) on behalf of Chapter Chair Ajit Mishra for the CCLS India Chapter, which emerged as one the fastest growing Chapters with over 400 members in its inaugural year.
Ajit Mishra shared "It is a great honour for the CCLS India Chapter to receive the first Chapter of the Year award. This comes with a responsibility to continue to hold a range of great activities for the Indian alumni community. Since day one, the committee and I have aimed to do things differently which has been recognised by CCLS and the committee is pleased with our achievement."
Also shortlisted were CCLS Chapters for China, Columbia, Indonesia and Nigeria.
The awards were presented by The Right Honourable Lord Kitchin, who chairs the CCLS Advisory Council.
Winners were selected by a panel of judges drawn from across the University: Queen Mary's President and Principal, Professor Colin Bailey CBE; CCLS Director, Professor Ian Walden; Head of the School of International Arbitration, Professor Julian Lew QC; and Dr Franziska Arnold-Dwyer, Academic Deputy Director of Alumni Relations and a CCLS Alum herself (PhD in Law, 2018).
Professor Ian Walden, Professor of information and communications law and Director of CCLS, said: "We're delighted and very proud to have such an amazing alumni community. CCLS was created to bring together practising commercial lawyers with those from academia, so their different perspectives could find innovative solutions to complex legal challenges. The impact and achievements of our alumni highlighted here are proof positive that this diversity of ideas helps us achieve the previously unthinkable."
Professor Colin Bailey, Queen Mary's President and Principal, added: "On behalf of my colleagues on the judging panel, we have seen a really high standard of nominations. It has been great to see the nominations and the finalists today. We are proud of what our postgraduates achieve, and this can publicly help demonstrate successes for what future."
Judging panelist Profesor Julian Lew QC said "It was a great idea, the atmosphere on the day was both enjoyable and serious, and seeing the value contributed by CCLS alumni makes the first Alumni Awards worthwhile."
The networking and re-connecting opportunities were an added bonus to the online and in-person event.
See all the photos from the event.