Professor Federica Marelli-Berg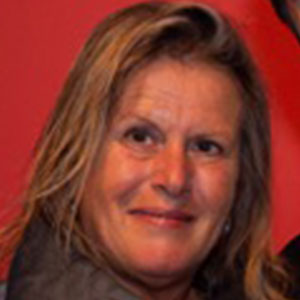 BHF Professor of Cardiovascular Immunology and Centre Lead of Biochemical Pharmacology
Centre: Biochemical Pharmacology
Email: f.marelli-berg@qmul.ac.ukTelephone: +44(0) 20 7882 3443
Profile
Federica Marelli-Berg qualified in Medicine and Surgery at the University of Milan in 1989, and specialized in Hematology in 1993 at the University of Pavia, Italy. In 1997 she completed her PhD studies at the Royal Postgraduate Medical School (London) under the supervision of Professor R. Lechler. In 2000 she was awarded a Governors' lectureship by Imperial College London, where she continued her academic career to become Professor of Immunology in 2011. She joined the WHRI (Barts and The London SMD, QMUL) as Professor of Cardiovascular Immunology in November 2011. Since 2014 she is leading the Centre of Biochemical Pharmacology. In 2016 she was awarded the prestigious British Heart Foundation Chair of Cardiovascular Immunology.
Research
Group members
Dr Hongmei Fu (Principal Research Officer), Ms Guosu Wang, Dr Juho Vuononvirta, Dr Thanusian Poobalasingan, Dr Carlene Dyer, Ms Anitha Nair, Ms Silvia Fanti, Dr Alexandros Protonotarios.
Summary


Cardiovascular Immunology

Effective immunity relies upon the prompt localization of activated T lymphocytes to the site of pathogen invasion. While other leukocytes migrate in response to non-specific inflammatory stimuli, activated T lymphocytes must discriminate and migrate to tissues where their cognate antigen is located. To maintain immune homeostasis, the anti-inflammatory regulatory subset of T cells also localizes to the site of inflammation to prevent excessive tissue damage.
The regulation of memory and regulatory T lymphocyte trafficking is the main focus of my research. Our major contributions have been in the field of antigen-dependent recruitment, which allows selective recruitment of primed T cells to localize antigenic sites, and have unveiled key molecular mechanisms of this effect, which can be targeted pharmacologically. We have recently discovered a novel pathway which promotes selective T cell migration to the heart. In addition, we have pioneered the field of metabolic regulation of T cell motility and migration and have discovered molecules – implicated in T cell metabolism - that can be pharmacologically targeted to therapeutically modulate T lymphocyte trafficking.
The long-term plan of our research is to provide translational bridges between T cell homing mechanisms and the therapy of immune-mediated diseases, including heart transplant rejection and myocarditis.
We are currently developing these studies with an aim to provide a solid basis for imminent clinical use.
Key Publications
For a full list of publications click
here
Kishore M., K.Cheung, H. Fu, F. Bonacina, G. Wang, D. Coe, E.J. Ward, A. Colamatteo, M. Jangani, A. Baragetti, G. Matarese, D.M. Smith5, R. Haas1, C. Mauro1, D.C. Wraith, K. Okkenhaug, A.L. Catapano, V. De Rosa, G.D. Norata and F.M. Marelli-Berg. 2017. Regulatory T-cell migration is dependent on glucokinase-mediated glycolysis. Immunity 47(5):875-889
Mauro C., J. Smith, D. Cucchi, D. Coe, H. Fu, F. Bonacina, A. Baragetti, G. Cermenati, D. Caruso, N. Mitro, A.L. Catapano, E. Ammirati, M.P. Longhi, K. Okkenhaug, G.D. Norata, and F.M. Marelli-Berg. 2017. Obesity-induced metabolic stress leads to 1 biased effector memory CD4+ T cell differentiation via PI3K p110delta/Akt-mediated signals. Cell Metabolism, 25(3):593-609
Cheung K, Ma L, Wang G, Coe D, Ferro R, Falasca M, Buckley CD, Mauro C, Marelli-Berg FM. D31 signals confer immune privilege to the vascular endothelium.
Proc Natl Acad Sci U S A. 2015 Oct 27;112(43):E5815-24. doi: 10.1073/pnas.1509627112. Epub 2015 Sep 21.
PMID: 26392551 Free PMC Article
Norata GD, Caligiuri G, Chavakis T, Matarese G, Netea MG, Nicoletti A, O'Neill LA, Marelli-Berg FM. The Cellular and Molecular Basis of Translational Immunometabolism. Immunity. 2015 Sep 15;43(3):421-34. doi: 10.1016/j.immuni.2015.08.023. Review.
PMID: 26377896
Haas R, Smith J, Rocher-Ros V, Nadkarni S, Montero-Melendez T, D'Acquisto F, Bland EJ, Bombardieri M, Pitzalis C, Perretti M, Marelli-Berg FM, Mauro C. Lactate Regulates Metabolic and Pro-inflammatory Circuits in Control of T Cell Migration and Effector Functions.
PLoS Biol. 2015 Jul 16;13(7):e1002202. doi: 10.1371/journal.pbio.1002202. eCollection 2015 Jul.
PMID: 26181372 Free PMC Article
Komarowska I, Coe D, Wang G, Haas R, Mauro C, Kishore M, Cooper D, Nadkarni S, Fu H, Steinbruchel DA, Pitzalis C, Anderson G, Bucy P, Lombardi G, Breckenridge R, Marelli-Berg FM.
Hepatocyte Growth Factor Receptor c-Met Instructs T Cell Cardiotropism and Promotes T Cell Migration to the Heart via Autocrine Chemokine Release. Immunity. 2015 Jun 16;42(6):1087-99. doi: 10.1016/j.immuni.2015.05.014. Epub 2015 Jun 9. PMID: 26070483 Free PMC Article
Fu H, Kishore M, Gittens B, Wang G, Coe D, Komarowska I, Infante E, Ridley AJ, Cooper D, Perretti M, Marelli-Berg FM. Self-recognition of the endothelium enables regulatory T-cell trafficking and defines the kinetics of immune regulation.Nat Commun. 2014 Mar 14;5:3436. doi: 10.1038/ncomms4436.
Ma, L., K.C.P. Cheung, M. Kishore, S. Nourshargh, C. Mauro and F.M. Marelli-Berg. 2012. CD31 exhibits multiple roles in regulating T lymphocyte trafficking in vivo. J. Immunol., 189(8):4104-11
Kishore M., L. Ma, G. Cornish, S. Nourshargh and F.M. Marelli-Berg, 2012. Primed T Cell Responses To Chemokines Are Regulated By The Immunoglobulin-Like Molecule CD31. PLoS One 7(6):e39443
Ma, L., C. Mauro C, G.H. Cornish, J.G. Chai, D. Coe, H. Fu, D. Patton, K. Okkenhaug, G. Franzoso, J. Dyson, S. Nourshargh and F.M.Marelli-Berg. 2010. Ig gene-like molecule CD31 plays a nonredundant role in the regulation of T-cell immunity and tolerance. Proc Natl Acad Sci U S A. 107:19461-6.
David, R., L. Ma, A. Ivetic, A. Takesono, A.J. Ridley, J.-G. Chai, V.L. Tybulewicz and F.M. Marelli-Berg. 2009. T-cell receptor- and CD28-induced Vav1 activity is required for the accumulation of primed T cells into antigenic tissue. Blood, 113:3696-705
Jarmin, S.J., R. David, L. Ma, J.G. Chai, H. Dewchand, A. Takesono, A.J. Ridley, K.Okkenhaug, and F.M. Marelli-Berg. 2008. T cell receptor-induced phosphoinositide-3-kinase p110delta activity is required for T cell localization to antigenic tissue in mice. J Clin. Invest, 118:1154-1164.
Mirenda, V., S.J. Jarmin, R. David, J. Dyson, D. Scott, Y. Gu, R. Lechler, K. Okkenhaug, and F.M. Marelli-Berg. 2007. Physiological and aberrant regulation of memory T cell trafficking by the costimulatory molecule CD28. Blood, 109:2968-2977
Mirenda, V., O. Millington, R. I. Lechler, D. Scott, M. P. Hernandez-Fuentes, J. Read, P. H. Tan, A. J. George, P. Garside and F. M. Marelli-Berg. 2005. Tolerant T cells display impaired trafficking ability. Eur. J. Immunol., 35:2146-2156
Sponsors
Immune Systems Research Theme (Barts and The London School of Medicine and Dentistry)
Collaborators
Internal
Prof Fulvio d'Acquisto
Dr Crnogorac-Jurcevic
Dr Sam Mohiddin
Dr Kostantinos Savvatis
Dr Dunja Aksentijevic

External

Dr Klaus Okkenhaug (Babraham Institute)
Prof Giovanna Lombardi (KCL)
Prof Anne Ridley (KCL)
Prof Robert Lechler (KCL)
Prof Julian Dyson (ICL)