Professor Yuti Chernajovsky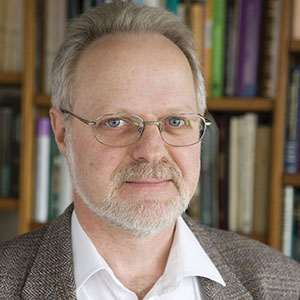 Professor Emeritus
Email: y.chernajovsky@qmul.ac.ukTelephone: +44(0) 20 7882 2352
Profile
Trained as a molecular biologist, at The Weizmann Institute of Science in Israel, his research activities have included the cloning of several interferons, interleukins and their receptors. He has contributed to the cloning and development of interferon beta as a therapeutic agent and the use of suicidal genes for cancer gene therapy. Current research interests include the development of novel targeted therapeutics, gene transfer strategies for the treatment of rheumatoid arthritis and other autoimmune diseases via molecular design and cellular engineering including stem cells. He is member of the editorial board of Gene Therapy and Arthritis Research and Therapy and has served as Assistant Editor of Rheumatology. He became Centre Lead for Bone and Joint Research Unit at the William Harvey Research Institute in 1999.
Research
Group members
Research staff: Prof. Rizgar A Mageed; Dr David Gould; Dr. Taher Taher; Dr. Jonas Bystrom
PhD students: Chris Schultz
Honorary Clinical Professors: Mr Gareth Scott; Ali Jawad
Summary
Bone and Joint Research Unit
BJRU investigates the pathological and genetic mechanism of arthritic diseases, research the responsiveness to biological therapies to define biomarkers (work lead by Prof. Mageed) and develops gene transfer strategies for their treatment (with Dr. D. Gould) via cellular engineering, molecular design (using targeted antibodies, work lead by Dr. A. Nissim) and genetic engineering.
Regeneration of damaged tissues is pursued by engineering stem cells for targeting and survival in pathological conditions where absence of trophic factors limits regeneration.
A recent development has been the design of latent cytokines. By fusing the latency associated peptide (LAP) of TGFβ and a cytokine with therapeutic potential, via a metalloproteinase (MMP) cleavage site, renders the cytokine inactive until it reaches a site of inflammation where the high levels of MMP activity releases it. The LAP provides for a shell that inhibits the interaction of the cytokine with its receptors increasing its half- life and assures delivery to sites of disease. Proof of concept has been provided in many models of disease including: arthritis, multiple sclerosis, atherosclerosis, humanised model of graft vs. host disease and cancer. This platform delivery technology led to the establishment of Stealthyx Therapeutics Ltd. a spin-out company with patents granted worldwide.
Structure of a latent cytokine
The latent cytokine delivery system (Prothyx ® ) is a fusion protein between the latency associated peptide of TGF? that confers a shell structure by dimerisation and a peptide or cytokine with pharmacological properties linked via a metalloproteinase cleavage site. This delivery system provides longer half-life, disease-specific delivery and latency i.e. no side effects. Applications in: autoimmunity, inflammation, cancer, atherosclerosis, infection and regeneration.
Key Publications
Koutsokeras, A, Purkayashta, N, Rigby, A, Subang, MC, Sclanders, M, Vessillier, S, Mullen, L, Chernajovsky, Y and Gould, D Generation of an efficiently secreted cell penetrating NF-kappaB inhibitor' FASEB J. 2013.
Mullen, L., Adams, G., Julie Foster, J., Vessillier, S., Köster, M., Hansjörg Hauser, H., Layward, L., Gould, D., and Chernajovsky , Y. A comparative study of matrix metalloproteinase and aggrecanase mediated release of latent cytokines at arthritic joints. Ann Rheum Dis. doi:10.1136/annrheumdis-2013-203513
Cervellini, I; Annenkov, A; Brenton, T; Chernajovsky, Y; Ghezzi, P; Mengozzi, M. Erythropoietin (EPO) increases myelin gene expression in CG4 oligodendrocyte cells through the classical EPO receptor. Mol. Medicine 2013 Jun 27. doi: 10.2119/molmed.2013.00013.
Viale, DL, Cafferatta, EG, Gould, DJ, Rotondaro, C, Curiel, T, Chernajovsky, Y, Podahjcer, OL, and Lopez, MV Therapeutic improvement of a stroma-targeted CRAd by incorporating motifs responsive to melanoma microenvironment. J Invest Dermatol. 2013 Apr 19. doi: 10.1038/jid.2013.191.
Mullen, L, Rigby, A, Sclanders, M, Adams, G, Mittal, G, Colston, J, Fatah, R, Subang, MC, Foster, J, Francis-West, P, Köster, M, Hauser, H, Layward, L, Vessillier, S, Annenkov, A, Al-Izki, S, Pryce, G, Bolton, C, Baker, D, Gould, DJ and Chernajovsky, Y. Latency can be conferred to a variety of cytokines by fusion with latency associated peptide from TGF-beta Exp. Op. Drug Del. (in Press 2013)
Targeted delivery of cytokine therapy to rheumatoid tissue by a synovial targeting peptide. Wythe SE, Dicara D, Taher TE, Finucane CM, Jones R, Bombardieri M, Man YK, Nissim A, Mather SJ, Chernajovsky Y, Pitzalis C. Ann Rheum Dis. 2012 Jul 27. [Epub ahead of print] PMID: 22843486
Increased disulphide dimer formation of latent associated peptide fusions of TGF-β by addition of l-cystine. Mullen LM, Adams G, Chernajovsky Y. J Biotechnol. 2012 Jul 23. [Epub ahead of print] PMID: 22835852
Erythropoietin-induced changes in brain gene expression reveal induction of synaptic plasticity genes in experimental stroke. Mengozzi M, Cervellini I, Villa P, Erbayraktar Z, Gökmen N, Yilmaz O, Erbayraktar S, Manohasandra M, Van Hummelen P, Vandenabeele P, Chernajovsky Y, Annenkov A, Ghezzi P. Proc Natl Acad Sci U S A. 2012 Jun 12;109(24):9617-22. Epub 2012 May 29. PMID: 22645329
A novel hybrid promoter responsive to pathophysiological and pharmacological regulation. Subang MC, Fatah R, Bright C, Blanco P, Berenstein M, Wu Y, Podhajcer OL, Winyard PG, Chernajovsky Y, Gould D. J Mol Med (Berl). 2012 Apr;90(4):401-11. Epub 2011 Oct 30. PMID: 22038171
Molecular engineering of short half-life small peptides (VIP, αMSH and γMSH) fused to latency-associated peptide results in improved anti-inflammatory therapeutics. Vessillier S, Adams G, Montero-Melendez T, Jones R, Seed M, Perretti M, Chernajovsky Y. Ann Rheum Dis. 2012 Jan;71(1):143-9. Epub 2011 Oct 13. PMID: 21998117
The importance of understanding the molecular mechanisms of resistance to biologics. Chernajovsky Y. Rheumatology (Oxford). 2012 Mar;51(3):397-8. Epub 2011 Oct 8. PMID: 21984767
Comment on: Low TNF-induced NF-κB and p38 phosphorylation levels in leucocytes in tumour necrosis factor receptor-associated periodic syndrome. Turner MD, Chernajovsky Y. Rheumatology (Oxford). 2011 Aug;50(8):1525-6; author reply 1526-9. Epub 2011 Jun 14. PMID: 21672967
A chimeric receptor of the insulin-like growth factor receptor type 1 (IGFR1) and a single chain antibody specific to myelin oligodendrocyte glycoprotein activates the IGF1R signalling cascade in CG4 oligodendrocyte progenitors. Annenkov A, Rigby A, Amor S, Zhou D, Yousaf N, Hemmer B, Chernajovsky Y. Biochim Biophys Acta. 2011 Aug;1813(8):1428-37. Epub 2011 May 4. PMID: 21600935
Human single-chain variable fragment that specifically targets arthritic cartilage. Hughes C, Faurholm B, Dell'Accio F, Manzo A, Seed M, Eltawil N, Marrelli A, Gould D, Subang C, Al-Kashi A, De Bari C, Winyard P, Chernajovsky Y, Nissim A. Arthritis Rheum. 2010 Apr;62(4):1007-16. PMID: 20131274
Quantitative imaging of cartilage and bone for functional assessment of gene therapy approaches in experimental arthritis. Stok KS, Noël D, Apparailly F, Gould D, Chernajovsky Y, Jorgensen C, Müller R. J Tissue Eng Regen Med. 2010 Jul;4(5):387-94. PMID:20101620
Dual luciferase labelling for non-invasive bioluminescence imaging of mesenchymal stromal cell chondrogenic differentiation in demineralized bone matrix scaffolds. Vilalta M, Jorgensen C, Dégano IR, Chernajovsky Y, Gould D, Noël D, Andrades JA, Becerra J, Rubio N, Blanco J. Biomaterials. 2009 Oct;30(28):4986-95. Epub 2009 Jun 17. PMID: 19539363
Tumor associated stromal cells play a critical role on the outcome of the oncolytic efficacy of conditionally replicative adenoviruses. Lopez MV, Viale DL, Cafferata EG, Bravo AI, Carbone C, Gould D, Chernajovsky Y, Podhajcer OL. PLoS One. 2009;4(4):e5119. Epub 2008 Apr 8. PMID: 19337591