PhD in Translation and Adaptation Studies
We invite applications from highly motivated students who wish to apply to our new PhD programme in Translation and Adaptation Studies beginning September 2021. The Department provides unique supervision in a range of languages and original areas of Translation and Adaptation Studies, we also offer a Practice-led Pathway.
High profile academics in Modern Languages and Cultures collaborate closely with the Departments of Comparative Literature, Film Studies, and Linguistics as well as with the Schools of History, Politics and International Relations, and English and Drama.
Research in The Department of Modern Languages was ranked highly in the last assessment of national research performance, the 2015 Research Excellence Framework (REF2014), receiving a 3.04 overall GPA score, which ranks us second in London.
Research in Interlingual Translation covers:
Catalan
Chinese
Dutch
French
Galician
German
Portuguese
Romanian
Russian
Spanish
Research in Translation Studies covers:
Adaptation
Cultural translation
Intersemiotic translation
Literary Translation
Medieval/ pre-modern translation
Postcolonial translation
Queer translation
Sub-titling
Theatre translation
Theories of translation (including East European, German, Latin American and Russian)
Translation as activism
Translation for museums
Further information:
Dr Maha El Hissy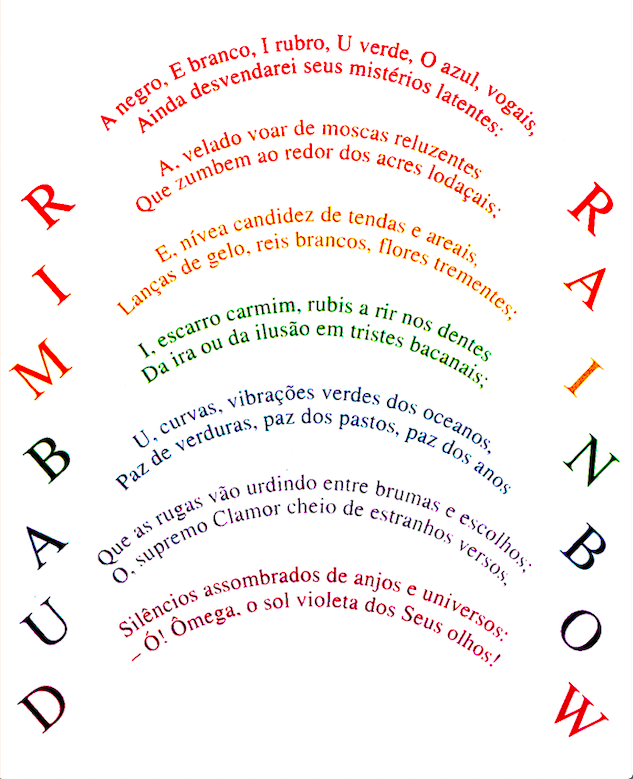 Image: Rimbaud/Rainbow (1992). Translation of Rimbaud's "Voyelles" by Augusto de Campos
(graphic art: Augusto de Campos and Arnaldo Antunes)