Dr Nadezda Bragina, PhD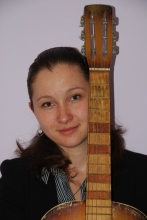 Lecturer and Co-ordinator in Russian Language Studies
Email: n.bragina@qmul.ac.ukTelephone: +44 (0)20 7882 8322Room Number: Arts One, 2.44Website: https://aciano.wixsite.com/nbragina Office Hours: By appointment and via MS Teams https://nadiabragina.youcanbook.me
Profile
I am a Russian-born teacher of the Russian and English languages. I graduated from one of the most prestigious linguistic universities of Russia - Moscow State Linguistic University (with the thesis "Games in Language Teaching"). Later on I received CELTA (Cambridge Certificate in English Language Teaching for Adults) followed by a certificate of advanced training in teaching Russian as a foreign language. My PhD research focused on teaching approaches analysis and development of new methods to introduce Russian language and culture to English-speaking students.
Teaching
Introductory Russian
Russian I Intensive
Russian I
Russian IN
Russian II Intensive
Russian II
Russian IIN
Russian III
Russian IIIN
Reading Contemporary Russia
Russian Musical Culture in the 20th Century
Research
Research Interests:
Concept of motivation in foreign language learning and the ways of enhancing it in the classroom through various creative educational tools including communicative games, songs, computer technologies, use of audio-visual materials
Examples of research funding:
2014 "Educational Songs to Teach Russian Grammar for Sub-Honours Students"
Enhancement Theme Grant from the University of St. Andrews
Publications
Брагина Н.В. Обучение русскому языку как иностранному на начальном этапе через тексты лингвострановедческой направленности. // Определение картины мира в русском языке, культуре и литературе. Сборник научно-методических статей. – Словакия, 2018.
Брагина Н.В., Баптиста А. Инновационные методы преподавания перевода в курсе русского языка как иностранного. // Славянские чтения. – Латвия, 2017.

Брагина Н.В. По грамматике с песней. Russian Grammar through Songs – М.: Прондо, 2015. – 64 с. + CD

Брагина Н.В. УРА! – Уроки русского англоговорящим. Russian for Speakers of English – М.: Прондо, 2014. – 134 с. + CD
Брагина Н.В. Мотивация изучения РКИ в Объединенном королевстве. // Мир русского слова. – 2011. – № 1. – С. 102 – 105.
Брагина Н.В. Краткосрочное обучение англоговорящих студентов повседневному общению на русском языке. // Русский язык за рубежом. – 2010. – № 6. – C. 37 – 42.
Брагина Н.В. Этапы изучения русского языка как иностранного в Великобритании. // Преподаватель XXI век. – 2010. – № 4. – С. 153 – 157.
Брагина Н.В. Песни в преподавании РКИ вне страны изучаемого языка. // Современная методика преподавания русского языка как иностранного: проблемы и их решение. Сборник научно-методических статей. – М.: Правда – Пресс, 2010. – С. 68 – 75.
Брагина Н.В. Формирование социокультурной компетенции на начальном этапе обучения РКИ вне страны изучаемого языка. // Русский язык как иностранный и методика его преподавания: XXI век. Сборник научно-методических статей. – М.: Прометей, 2008. – С. 25 – 29.