Childhood Heroes: storytelling survival strategies and role models of resilience to COVID-19
Funded by a British Academy Special Research Grant: COVID-19 (COV19\201444), this project will run from 3 August 2020 to 28 February 2022.
About this project
The project focuses on storytelling – past and present – and aims to mitigate the immediate and longer-term educational, social and mental health impacts of COVID-19, as well as the marginalisation of children's voices.
There are two interlinked strands to the project: the first explores historical children's interaction with classical role-models in early magazines which forged new communities through distanced learning. The second focuses on creative responses to heroic narratives today in light of COVID-19. Researching archival and contemporary material together enables us to understand shifting, but enduring, notions of both heroism and childhood.
In collaboration with Storytime Magazine and underpinned by historical research, we are producing a series of print and digital resources enabling children to make reassuring transtemporal connections with models of survival. These will also be used as prompts to encourage children's creative responses as a way of facilitating emotional processing.
Via a series of blog posts (below), we will also be documenting some of the many contemporary narratives and resources which address COVID-19, focusing on narratives of heroism.
Principal Investigator: Rachel Bryant Davies
Co-Investigators: Lucie Glasheen; Kiera Vaclavik
Consulting collaborator: Kristin Hadfield

Blog
Childhood heroes: stories for children about COVID-19 in the UK and beyond
About this blog: stories for children about COVID-19 in the UK and beyond
A growing number of children's books, and other texts for children, are being produced in response to the COVID-19 pandemic. They aim to inform and educate children about COVID-19 and/or help with its social and emotional impacts using storytelling.
With the first examples appearing in March 2020, these texts are being created rapidly, and reacting and evolving to advice and policy. Often circulated online for free, sometimes self-published and sometimes translated and adapted multiple times, they are highly ephemeral. As such, they offer snapshots of particular moments in a quickly evolving situation and valuable insights into contemporary ideas about childhood.
This blog, aimed at academics, researchers, practitioners and other interested parties, draws out some of the key issues and themes emerging from COVID-19 children's literature for future research, including individual and collective heroism, time and temporality and storytelling.
The majority of the texts featured on this blog have been found through the New York City School Library System's catalogue of COVID-19 Children's eBooks available on their website to whom we are very grateful.
This blog is run by Dr Lucie Glasheen. If you would like to get in touch please email childheroes@qmul.ac.uk
September 2020: Ordinary Heroes and Everyday Superheroes
Ordinary heroism, or the 'everyday superhero', became a popular trope during lockdown in the UK.[1] The concept of the everyday hero, often applied to NHS workers, is a nebulous one. This allows it to be expanded, so it can sometimes include waste collectors, cleaners, carers, delivery drivers, supermarket workers, and other 'key workers'. It can also be applied to the population in general.
This idea of ordinary heroism can be seen in the Scottish anthology Stay at Home! Poems and Prose for Children Living in Lockdown. Stay at Home! was published as a free e-book by the small independent publisher Cranachan in May 2020 and contains a section called 'Everyday Super Heroes'.
Out of the seven stories and poems in this section, three explicitly mention heroes/superheroes. In all three instances, the 'superhero' in question is a woman – the mum or step-mum of the first person narrator.[2]
Figure 1: Darren Gate in Stay at Home! Poems and Prose for Children Living in Lockdown ed. by Joan Haig, Cranachan, 2020, p. 48. Reproduced by kind permission of Darren Gate and Cranachan Publishing.
In Rachel Plummer's poem 'Superhero', the narrator initially describes the ways in which her mum, who 'doesn't wear a lycra suit/ or hold a ray gun primed to shoot', does not meet the typical characteristics associated with a superhero (p. 49). Instead, the protagonist's mum is a supermarket worker. 'Super' is repeated three times in the poem: 'superhero', 'supermarket' and 'super empty-shelf-restacker'. This helps to link the 'ordinary' and 'heroic' roles together, and the poem is emphatic about the importance of supermarket work. It ends by describing the narrator's mum as 'the hero, hunger-mender,/ key worker and smile-defender'.
In Yasmin Hanif's 'Daisy's Mum', the mum in question is similarly a 'key worker'. Her job is not defined but it involves putting on an 'outfit, pristine and clean' to 'help those unwell' and she works long hours (p. 56).
In Ross Sayer's 'The Game', in contrast, it appears to be the narrator's stepmum's role within the home that is heroic. The narrator's step-mum is described as 'the real superhero' in the very last line of the short story. It is implied that this is because she 'works on her laptop a lot and has to make dinner and change my little brother's nappies and do the shopping and take some of the shopping to my gran and do the washing and sort basically everything in the flat' (p. 55).
In all three texts, but especially in Plummer's and Sayer's, there is a juxtaposition between the everyday nature of the tasks being described, both unremarkable and regularly repeated, and their super-heroic nature or impact in light of the pandemic.[3] The texts, and the context that they evoke, elevate the ordinary into the extraordinary.
It is also notable that these heroes are women and are maternal. Heroism, and particular superheroism, has often traditionally been associated with stereotypically masculine attributes such as courage, bravery, endurance and action. However, these texts describe typically feminised activity as heroic. Hanif's poem emphasises the feminine qualities of Daisy's mum, describing her as '[buzzing] away like a bee', 'leaving… her sweet honey smell' that 'comforts me' and with 'a tired smile' praising 'voices that heal' (p. 55).
Meanwhile, in Sayer's story the step-mum's heroism comes from seemingly single-handedly balancing child care and housework with her unspecified employment (an LSE study shows that women 'are more likely to be taking on extra housework and childcare' during the pandemic than men). In doing so, 'Superhero', 'The Game' and 'Daisy's Mum' promote the idea that such tasks and attributes should be valued.
There has, however, been growing criticism about the use of 'hero' to describe NHS workers in particular. Esther Murray, Senior Lecturer in Health Psychology at Queen Mary, argues against using heroic tropes for healthcare workers 'because it makes it look as if people signed up to die, as a hero does, when they didn't', as well as making it harder for staff to express how they feel. Jennifer Mathers and Veronica Kitchen have similarly said that heroic narratives suggest that 'the current situation was inevitable', allowing criticism of the government's actions to be deflected, and it has been pointed out that government rhetoric has not necessarily matched their spending or migration policies. Nonetheless, Mathers and Kitchen's research also shows the value in heroic narratives, arguing that 'creating and sharing stories about heroes is important for building and maintaining communities'.
The trope of the 'ordinary hero' has been used during the twentieth century to advance a range of, sometimes conflicting, political positions. At the moment, the Covid-19 'ordinary hero' narrative, has the potential to either support a return to the pre-Covid status quo or to contribute to a revaluing of care roles. 'Superhero', 'Daisy's Mum' and 'The Game', and the relationship between all three in the anthology, leave either interpretation open to the reader.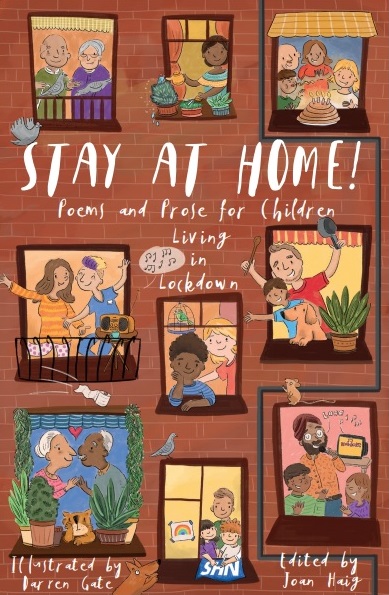 'Superhero' by Rachel Plummer, 'The Game' by Ross Sayers and 'Daisy's Mum' by Yasmin Hanif in Stay at Home! Poems and Prose for Children Living in Lockdown ed. by Joan Haig, illus. by Darren Gate, Cranachan, 2020.
Image 2: Haig, Stay at Home!, cover. Reproduced by kind permission of Darren Gate and Cranachan Publishing.
[1] This is currently the theme of an exhibition at the Southbank Centre.
[2] The other remaining four texts centre on: a helpful boy called Fergus; a male neighbour associated or identified with Robin Hood; Dot and her Grandmother 'clapping for' a gender neutral group of doctors and nurses; and a gender neutral list of 'farmers and food workers' and 'doctors, nurses, cleaners and all angels in disguise'.
[3] There is an established juxtaposition between the ordinary and extraordinary in some superhero characters such as Superman, but in these texts the actions as well as the character move from one to the other.