Reviews, Reflections & Lifestyle
If you have ideas for contributions, please see the Pitching and Submissions Guidelines, and get in touch!
Recently, I was able to explore Tate Modern. I was heavily looking forward to this excursion since it is in the heart of London and it is situated next to the River Thames. Tate Modern is a part of an institution called Tate that includes four galleries. I was lucky enough to get the opportunity to explore Tate Modern's national collection of British, modern and contemporary artworks and exhibitions such as 'Surrealism Beyond Borders', 'A Year in Art: Australia 1992', as well as other displayed pieces.
In the Turbine Hall, there was a bustling atmosphere since it was at the entrance of the museum, so it was the first thing you could see. It includes a vast amount of contemporary art featuring large-scale sculptural projects and site-specific installation art. The first ever piece to be exhibited in Turbine Hall was a commission called I Do, I Undo, I Redo made by Louise Bourgeois where she made a three tiered sculpture that formed a staircase that visitors could see. I liked how the art displays and exhibitions differed between sculptures, paintings and films throughout the gallery. Thus, I was able to use the Turbine Hall exhibition to immerse myself in different cultures.
'A Year in Art: Australia 1992' runs until 30 September 2022 and looks at the Aboriginal and Torres Strait Islander Land rights in Australia. The 'Surrealism Beyond Borders' exhibition runs until 29 August 2022. It showcases how artists from Buenos Aires, Cairo, Lisbon, Mexico City and other places have been inspired by the history of Surrealism. I liked looking at this exhibition and was excited to explore it since, in my Spanish course, I learn about the Spanish culture and, of course, the roles that Surrealist artists such as Frida Kahlo and Salvador Dali play. Thus, I was keen to further enlighten my mind with this exhibition based on all the knowledge I gained from studying university level Spanish.
I could see that Tate Modern was the place to be: full of eager visitors, an atmosphere which I immediately loved. There was definitely a diverse collection from looking at Spanish artists such as Salvador Dali to seeing Turkish artists such as Gulsun Karamustafa who was inspired by the military coup of 1971 to create a series of Prison Paintings to commemorate the brutal lives the female prisoners had to endure.
When considering all the exhibitions I have seen, I think the most shocking artwork I have encountered during my trip would have definitely been Cecilia Vicuña's 'Quipu Womb' where she created a sculpture that references menstrual blood.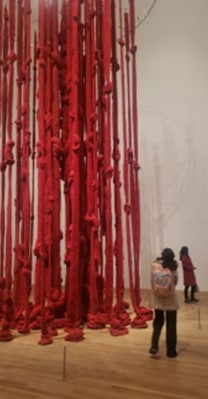 Photo: section of Cecilia Vicuña's 'Quipu Womb', installed at Tate Modern. Photo by Mariam Yusuf.
I found it amazing to see this since there has never been an artist who has wanted to tackle issues so intimate and personal such as a woman's menstruation. Typically, when it comes to talking about topics such as menstruation, some people can be quite prudish. However, the fact that someone actually made a sculpture based on this issue just shows how art also strives to raise awareness about menstruation and adds much needed depth to our society.
After my trip to the museum, I think it is safe to say that the Surrealist section and the 'Quipu Womb' are exhibitions and pieces that will stay with me. This is because, from the beginning my main agenda was to finally experience the Surrealist section and I was not disappointed! I loved looking at all the different exhibits since I found them to be an amazing recollection of the history of the Surrealists. Although some exhibitions you had to pay for, the rest was all free of charge and I was satisfied enough by all the easily accessible exhibitions. And as for the 'Quipu Womb', it was honestly one of the first pieces of artwork that shocked me since I never thought someone could be bold enough to dedicate their artwork on a topic as sensitive and intimate as the women's menstruation state. Thus, I would highly recommend one to visit this place if you want to immerse yourself in London culture!
Tolstoy's Anna Karenina and Flaubert's Emma Bovary: lack of agency or trapped in reality?
Laura Ruiz Viejobueno (Second-year Comparative Literature and Culture undergraduate student)
Leo Tolstoy and Gustave Flaubert both have something in common: in their respective literary masterpieces, both pertaining to the genre of realism, they choose to make their female protagonist eponymous. Anna Karenina as well as Emma Bovary carry in their names the weight of stories considered monumental in the sphere of world literature today. Seen from an analytical standpoint, however, one could say that this heavy burden metaphorically also stands for the difficult lives these women lead on the page. By naming the novels after their respective female protagonists, these women become universally recognizable figures synonymous with the principles each woman upholds in her story and still make us identify with them. Although both novels end with the tragedy of death, the two heroines lead very different lives that allow us to learn important lessons from them. Their contrasting journeys allow the reader to delve into the causes of their tragedies. We ask the questions: what connects Anna and Emma beyond their inevitable deaths? What causes each heroine's downfall? Maybe their stories would have ended differently if people and institutions around them had listened, and tried to help them – so what are the mental health life lessons we can take from these novels?
Content warning: this post deals with issues around the portrayal of mental health in literature.
Tolstoy and Flaubert wrote during the nineteenth century. This was a time with very different (medical) insights about mental health. This piece does not mean to judge these novels from an anachronistic point of view of our advancements in mental health nowadays. However, it does seem interesting to analyse these figures (as literary figures) as well as their environments from a distanced critical lens so that we can recognize what more can be done to give the right help to people who need it in our own world. Empathy, whether in fiction or reality, is the only way we can see and help each other.
A first similarity Anna Karenina and Emma Bovary share is their adulterous behaviour. For Emma, the simple life lived as her rather boring husband Charles' housewife is unbearable. This is mainly due to the divergence between the reality she experiences and the ideal reality she has built in her mind. Romantic novels and fairy tales have led her to believe that she can live the glamorous life of a woman of high society, but her marriage quickly reveals itself to be the opposite of her fantasies. She flees her misery by projecting her deepest desires onto other men, who, ignorant as they are, do not have the capacity to give her the love she so deeply desires. Thus, even though Emma actively decides to seek a different life, she cannot flee the fatal constraints of bourgeois society, at least not in Flaubert's fictional world.
For Anna Karenina on the other hand, love turns out to be more complicated: happily married to Alexei Alexandrovich, Karenina is a wealthy and prominent woman of high society when she meets her future lover Vronsky. The couple's first meeting leaves them both in awe and sparks their later relationship. However, Anna's existing marriage and Vronsky's apparent intention to marry Kitty Shcherbatsky, a young lady belonging to the Moscow upper class, further complicate romantic developments. However, things turn out differently than expected: Vronsky's interest in Anna deters him from proposing to Kitty, prompting outrage from Moscow's upper class. Vronsky's scandalous escape with Anna thus ends with her exclusion from the public sphere of Russian nobility. Here, Anna finds herself alone and trapped in her own mind because almost everyone has abandoned her. Overcome by the fearful reality of her exclusion – the worst outcome for a wealthy woman of Russian society – Anna spirals into jealousy and distrust of her lover, further pushing her into isolation. Thus, both Emma and Anna find themselves lonely and miserable, leading the way to further unnoticed pain.
Furthermore, the motifs of decision-making and agency specifically highlight the different approaches these two women take to attain happiness by trying to shed the constraints of high society. The motifs can change our view of the women receiving justified punishment and influence not only our judgements of them as literary characters but also our empathy with and understanding of them as people. Emma Bovary on the one hand is so caught up in her world of fantastic tales and stories that she admittedly refuses to recognize her own situation. This leaves her as a passive and lifeless thing willing to accept anything just so that she does not feel the pain of living this suffocating life. However, you can argue that she tries her best to reach out for help when she realizes the extent of her distress. First, she tells her husband of her unrest, but unfortunately, Charles does not understand the depth of her pain. He is only capable of contacting the doctor, a man equally if not more helpless in the face of Emma's deteriorating mental state. Secondly, she also reaches out to her village priest. As the reader can imagine, the Church, an institution expected to console and help those in need, also fails to acknowledge Emma Bovary's despair. All these failed attempts to get help show that it is not Emma who is failing herself but the systems of support that should protect her. The existing systems are inadequate and ultimately push Emma to her harmful fantasy because she has no one and nowhere to hold on to.
One could also argue that Emma Bovary's downfall is her search for the ideal literary love from her fantasies – a kind of love which more often than not is portrayed through the male gaze. Her ideal vision is so far from the corrupt, unfaithful and superficial reality of the society she lives in that she gets lost in her own mind. Emma is therefore unable to bring herself out of the disappointment this discrepancy creates in order to take care of herself (and much less her daughter). Thus, Emma is depicted as being devoured by her misery leading to her death. This spiralling narrative cleverly depicts how agency is slowly snatched from Emma, not only by the darkest parts of her own mind, but through Charles and others' lack of support. The agency perceived in the beginning where Emma runs off and indulges in adultery is now revealed to be a desperate attempt to seeking help. The support that her fantasies provide her is the support that the reality of her marriage with Charles does not give her. Emma is left to her own devices because of a lack of empathy and appropriate support systems to help with her specific issues.
Anna Karenina on the other hand seems to act more confidently from the beginning: she is a strong and well-known woman in the public sphere (ironically, this initial Anna is the ideal fantasy Emma Bovary envisions to be). However, after she falls in love with Vronsky, she rejects the superficial rules of decency imposed by the Russian bourgeoisie. Despite her husband denying her divorce, Anna does not let this affect her relationship with Vronsky. Instead, she runs away with her lover in search of a life that fulfils her. However, similarly to Emma's journey, the constraints of bourgeois society rule over Anna. Because her affair with Vronsky is unlawful, she gets excluded from, and even shamed by, the social class she has always belonged to. When finally, Karenin grants her the divorce during the birth of her and Vronsky's child, Anna refuses to accept. Perhaps this is out of resentment for her husband's cruel and lengthy denial to grant her the freedom she desires. This refusal seemingly gives Anna agency, like Emma's adulterous behaviour. However, ultimately without any change in her situation, Anna is constantly scared of loneliness and deeply jealous of Vronsky's ability to move freely in society as a man, while she is still bound to hide from the public eye, as a ruined woman. Therefore, the darkest parts of her mind are in charge as she too, like Emma, is left without support and true agency. And thus, Anna Karenina is abandoned by patriarchal society, and her lover, to drown in desperation so consuming she sees no other option than to take her own life. An option that would not have been the sole one if only she had had a support system in place.
In conclusion, even though both heroines seemingly have some kind of agency in their situations as the novels begin, Tolstoy and Flaubert ultimately highlight how this is not true agency. Through objective realism, both writers criticize the ruinous and deeply toxic atmosphere of bourgeois society which traps their female protagonists in a reality unsuitable for women who strive for a fulfilling life and love. Thus, in my opinion, we cannot judge Anna and Emma as failing to take agency of their situation. Instead, we must acknowledge that the blame lies within their destructive environments. Therefore, their tragic downfall cannot be seen as an inevitable moral consequence of adultery: in fact, the women are cornered and led to their deaths by a society deeply influenced by patriarchal pressures.
This narrative is very much still relevant today. The fact that their stories still hit a nerve in readers today is but one of Tolstoy's and Flaubert's strengths as authors. Unfortunately, mental illness is still a topic that is not talked about enough. Though there has been some progress, there are still a lot of prejudices to be undone.
Laura Ruiz Viejobueno
If you've been affected by the issues discussed in this review, you can get help and advice from:
https://www.samaritans.org/ (24/7 freephone 116 123)
In addition to (on-site and remote) Advice and Counselling services, Queen Mary offers all students access to Togetherall a 24/7 anonymous mental health online support service you can sign up to using your university email address. This service offers a range of different types of support including moderated peer support forums and guided support to help you address specific issues or difficulties.
Netflix series review: Maid
Laura Ruiz Viejobueno (Second-year Comparative Literature and Culture undergraduate student)
Alex is an unemployed young mother who leaves an abusive relationship to ensure a better future for herself and her daughter. She struggles to get financial aid for the child's daycare, cannot afford a new home and struggles to get custody of her daughter after being charged with kidnapping her.
In this series, their names are Alex and Maddy. But out there, there are hundreds of thousands of other Alexs and Maddys suffering in the same or a similar situation.
The Netflix miniseries Maid tells Alex's story through ten episodes and unfolds a panoply of issues that victims of abuse face daily in the United States (and elsewhere). It is a critical social commentary on the lack of help provided by social institutions but it also depicts the reality of abusive relationships: the fear, the running away, the anger, the helplessness and finally the return to the abuser because there is nowhere else to turn. Maid is based on the memoir by Stephanie Land called Maid: Hard Work, Low Pay, And a Mother's Will to Survive and poignantly shows all the problems that someone like Alex faces day to day. Not only are the struggles of a single mother or the poor working conditions of an underpaid cleaning maid depicted, but also the very real financial troubles that come with running away from a partner who used to sustain her financially. On top of this, Alex loses her car because of an accident, moves from one run-down apartment to the next and has to deal with her mother's personal issues and her ex's drinking problems so that they can look after Maddy sometimes.
The raw and cruel scenes that are dominated by Alex's impotence are cleverly signposted in the episodes by different artistic methods: when she struggles financially for example, the spectator can see the bills appearing on billboards, posters or car advertisements in the background. Or, in the court scenes, the judge's speech turns into mumbling. These elements exemplify how it feels for Alex to experience all of these troubles: the bills are everywhere and she doesn't understand what is demanded of her in court.
All of these negative circumstances do not however hide the good moments that Alex still is lucky enough to experience. Thus, we witness her make friendships, celebrate the small but increasingly significant wins, start her own cleaning business and lastly explore her passion for writing. Ups and downs are part of Alex's (and everyone's) trajectory and the series does not forget to highlight life's polarity and the confusion that comes with this.
Ultimately, Maid is a beautiful telling of a heart-wrenching story that surely resonates with a lot of different audiences and highlights the ways in which there is still help to be offered to people like Alex.
Laura Ruiz Viejobueno
The only book you need to read at uni? What Happens When an Author Turns Last Night's Dream into a Novel of Demons and Librarians
Review of 'Strange the Dreamer' (Laini Taylor) by Ilsa Ahmad Anjum
"The dream chose the dreamer, not the other way around—"
Strange the Dreamer; a book that first manifested in a dream (or at least Laini Taylor is pretty sure it did) is a story that hooks a sly hand around the reader's ankle and tugs them off a cliff -- or more accurately, the sky. The opening lines are just that: a girl tumbling from the sky. The opening lines are also much more than just that: the girl is blue. That girl is a goddess. A goddess tumbling.
"Blue as opals, pale blue. Blue as cornflowers, or dragonfly wings, or a spring—not summer—sky."
And we tumble along with her, heart first, into a story about monsters and dreamers, a story, that questions whether there is all that much separating the two.
Strange the Dreamer follows Lazlo, an orphan boy, the mere librarian who burns with the need to find the Lost city of Weep. A city whose name no one can, or cares to remember anymore. No one except Lazlo. So, when a legendary warrior, the Godslayer himself comes to Zosma to recruit individuals in order to banish a haunting evil, Lazlo is to make a choice. To grasp at his dream, or let it slip through his fingers? Is he courageous – outrageous – enough to pursue the answers that plague him?
I know dearest readers, I know: Mere librarian, Mere? I hear you cry in incredulous tones and with pinched brows. To which I say: Hey, it's that fictional society, I, don't make the rules here. Now focus please.
Laini Taylor, author of Sunday Times Best Seller, The Daughter of Smoke and Bones series, once again stuns with a vivid world, chock full of breath-taking cities and breath-taking topography. Her writing is whimsical, poetic and brutally sharp:
"That was the year Zosma sank to its knees and bled great gouts of men into a war about nothing. [...] I turned my nightmares into fireflies and caught them in a jar."
Even the title, Strange the Dreamer, is intertwined with a lyrical prosody, reflecting the voice and quiddity of this book. Strange being the last name of Lazlo, our resident dreamer. A character with a cutting wit even at five years old: "[...] To which Lazlo replied, with fire in his soul, "And none of us became children to become orphans."
One of the major reasons I fell in love with Strange the Dreamer was characters like Lazlo, who grow, mature and learn new ways of looking at the world, without losing that uncompromisable part of themselves. Which makes them alluring to the audience as characters and people. Lazlo is always a dreamer. Minya is always angry. Minya, a girl in a toddler's body, who also happens to be one of the deadliest people to exist in this world. You know, as it goes.
Laini does not warp the characters to make them palatable for all. This book is about angry people, desperately hopeful people, weary people, unnecessarily cruel people. It's a story about ugliness and the beauty that some ugliness brings forth. It's Belle Laide Ink.
The plot is full of it, ugliness and beauty. Terrible acts are carried out by wonderful people; Brave acts are carried out by dubious people. Lives are lost, backs are turned, cities are crumbled-- only to be remade again. For every dilapidated recess in these pages, there is a veering corner where you linger amongst stars, spar in moonlit glades. Even Laini was "scandalised by the possibility" (Waterstones, 2018, 6:00-50) of the storyline, and she wrote the goddamn book.
Wrote each relationship – romantic, or otherwise – with a precise, personalised approach. Everyone is a sculpture of brilliance smattered throughout this book. Characters befriend each other, sisters truly find one another, sons and mothers meet anew, people fall in love with girls and boys, regardless of which they themselves are. All of it unfolding naturally, in the complicatedly simple way such things do. No one is flung together for the sake of it.
Overall, humorous and intense, Strange the Dreamer reads like a bewitching fairy-tale, a fairy-tale in which protagonists are the dragons of their own towers. Towers they inhabit or burn to ashes as they see fit. A book of monsters and librarians, so basically the only book you need to read at uni.
Bibliography:
Waterstone (2018) Laini Taylor answers fan's questions: Laini Taylor at Waterstones, 29 October. Available at: Laini Taylor answers fan's questions (Accessed: 31 September 2021).
Obsession, Nostalgia, and the Age of Criminal Responsibility
The Sailor Who Fell From Grace With The Sea by Yukio Mishima (1963; translated into English by John Nathan, 1965)
13 year-olds commit gruesome crimes— and in Japan it's not criminal? Hyperbole, you ask? The answer: No.
Japanese Law entails that a minor under 14 cannot be held legally responsible for a crime, which includes aggravated assault, torture etc. A chilling concept that the novel, The Sailor Who Fell From Grace With The Sea by Yukio Mishima, explores.
The novel dips and flows through a close third perspective, entering the twisted psyche of three main characters. Noboru: A 13-year-old boy. Fusako: Noboru's single mother. And Ryuji: Sailor and lover of Fusako.
"'Sleep well, dear." Noboru's mother closed his bedroom door and locked it. What would she do if there was a fire? Let him out first thing—she had promised herself that.'
With painful claws, The Sailor Who Fell From Grace With The Sea, digs its way into the reader's flesh. The narrative starts off with Fusako locking Noboru (her son) in his bedroom, and of course the novel only speeds morally —but not linguistically—downhill from there. Mishima dissects the festering intentions and incorrigible consequences of a person's choices—regardless of age and inclusive of responsibility.
Following Fusako's affair with Ryuji, a sailor who craves escape from land but finds no kinship at sea, the novel tears apart the intricacies of the couple's desires. Not simply for each other but for the nameless want to belong. Anything but a romance, the novel further staggers down Noboru's disintegrating path of obsession with Ryuji the Sailor. Who crashes violently from his position as Revered Hero to Contemptuous Traitor in the boy's eyes.
"Suddenly the full long wail of a ship's horn surged through the open window and flooded the dim room—a cry of boundless, dark demanding grief; pitch black and glabrous as a whale's back and burdened with all the passions of the tides, the memory of voyages beyond counting, the joys, the humiliations: the sea was screaming."
Every word in The Sailor Who Fell From Grace With The Sea is essential; every sentiment that should be saturated by the sheer history of literature is biting. The title of the novel itself is drenched with foreshadowing and linguistic dexterity.
However: A Warning. This novel is not for those who flinch easy. An aspect that personally captured my interest all the more.
And I don't mean in the jump-scare, tacky-horror sense. Mishima explicitly overturns and churns the most disturbing of topics throughout the novel—for example torture. As well as the literal plot, I particularly enjoyed the metaphoric position of characters personifying Japan's struggle and transition into westernisation. With Noboru acting as Imperial Japan, Ryuji as Japan in transition and Fusako as modernised Japan.
Mishima is therefore infamous for not only contributing to modern Japanese Literature, but also staging a failed coup in November 1970 after which he committed seppuku (ritualistic suicide) in Tokyo. A coup intending to reignite the imperialist era of Japan. Ridiculous! You say. Well, not so much: his men did successfully take Central Tokyo's military commandant hostage.
Thus, you have been warned.
All-in-all The Sailor Who Fell From Grace With The Sea is an unflinching narrative of obsession, belonging and the dangers of nostalgia. Told through the sharp tongues of three protagonists—each of whom is perhaps more humanely despicable than the other—Mishima's The Sailor Who From Grace With The Sea will leave a sour taste in your mouth and parasitic obsession in your bones.
Have you ever wondered what would happen if we had robots disguised as human companions in our everyday life? How human can a robot be? And can humans and human-like robots coexist peacefully?

In his novel, Machines Like Me, Ian McEwan explores exactly these questions as he navigates through his protagonist Charlie's experience of appropriating one of the brand-new artificial humans, called Adam. Intertwined in the narrative that sheds light on practical issues of this strange situation, the author also ties in a love relationship between Charlie and his upstairs neighbour Miranda.

Initially, Charlie is a lonely person: he dwells on his past and fantasizes about what he could have chosen as a career that would have brought him more success and reputation than his current position as a stock investor. That is why he uses the inheritance from his mother's death to buy an Adam, the newly developed and first ever human robot on the market. With this investment he hopes to make a fresh start, to gain a new experience and to ultimately feel part of a community that witness this bizarre coexistence between robots and humans. One might also think that Charlie is looking to find a friend in Adam; a sort of helpful companion in his life. After Miranda helps him carry Adam into his flat, he suggests programming the robot together – with the aim to get closer to her – so that they can share the robot between the two.

Oblivious to the moral consequences of this choice, Charlie enjoys the robot's company after he gets used to having another person in his house. The aspect of exploiting a machine for one's own purposes is one route the story goes down: in fact, Charlie uses Adam to take over his own job of investing money in the stock market. The protagonist does not foresee what this will entail: Adam, who tries his hardest to act like a human, will confront Charlie with issues like wanting a salary for his work. Charlie even starts to suspect an affair between Miranda and Adam which adds to the rising doubts that sharing a robot can bring.

The plotline becomes more and more tense in the second half of the book, as more and more of the Adams and Eves on the market start doing odd things. A very awkward face-to-face conversation between the protagonist and the founder of the human robots, filled with doubts, shame and self-deprecating thoughts on Charlie's side, concludes the story and leaves the book open for the reader to form their own opinion on how Charlie will deal with what has happened.

The almost dystopian-like atmosphere in Machines Like Me allows for a critical exploration of the controversial topic of the human-versus-computer rivalry. Although the novel is rather conservative in giving much information on how this phenomenon would play out in technical terms in the real world, the author does give enough attention to different aspects that influence Charlie's experience, surprising the reader repeatedly. Machines Like Me is accessible to all readers interested in the topic of the ethics of Artificial Intelligence, even if it needs to be acknowledged that it is just a fictional exploration of the topic and the story might therefore not seem as realistic as the real-life phenomenon would be, because not all technical intricacies are fully explained. Nevertheless, this novel is a good starting point for discussing this topic on a deeper, more philosophical and ethical level.
Convenience Store Woman by Sayaka Murata and translated into English by Ginny Tapley Takemori is a weird, whimsical novel depicting the dissonant experience of being a woman from a unique perspective. Protagonist Keiko Furukura is a devoted convenience store worker and a single woman in her thirties, making her an unwanted paradox in society. She is neither a home-maker nor someone with a high-powered career. The fact that she loves her job, finding belonging and much-needed structure there as opposed to a confusing and adversarial outside world, is inconsequential.
This third-wave feminist push to get women to the point where they can 'have it all'—i.e. a traditional family life as a homemaker as well as a full-time career in whatever job they might want—has morphed here into codifying three restrictive ways to be an acceptable woman. In Convenience Store Women, full-time mothers are applauded, having a low-valued part-time job is permissible if you also have children, and well, if you're single without children, you'd better be an ambitious career woman rising up the ranks to make up for that deficit.
Keiko fits into none of these categories. She is scorned by some and regarded as pitiable and downright incomprehensible by others. Her perspective shines a light on how nonsensical and confining these social expectations are; no wonder she prefers the solace of the convenience store to a judgemental society!
These elements also combine to support a reading of Keiko as autistic-coded. She doesn't understand society, and more importantly, society and the people around Keiko make no effort to understand her. Keiko thrives with the external structure provided by the store and appreciates the fact that customer service has a set group of social rules that she can learn rather than the confusing and ever-shifting norms of society. Yet, Murata renders Keiko's perspective with such sensitivity and relatability that I intimately understood Keiko. One of the novel's greatest successes is how it depicts the people around Keiko as absolutely unwilling to understand her while drawing the reader so deep into her psyche, taking the reader on an exercise in compassion and empathy that the supporting cast of the book are incapable of.
The novel's depiction of the convenience store as a heterotopic space is depicted with such detail it challenges the genre of the novel, bringing it beyond contemporary or women's fiction—genres themselves which are infinitely vast and variable. Convenience Store Woman could be described as magical realism or fabulism, and yet it doesn't fit neatly into either of those categories. This rejection of binary definitions links to Keiko's assertion that convenience store workers don't have gender like they do in the outside world, but instead leave all of those defining characteristics behind when they enter the store and put on their uniform. Every other character in the novel, even Keiko's co-workers, dismiss the convenience store as an insignificant place to work, but for Keiko, it is the only place she can escape the gendered demands of a world that refuses to make space for her needs and her happiness. It is more than a convenient space for her.