International Business Law
Are you a current student or recent alumnus of CCLS? Would you be willing to share your testimonial? If so, you could help a prospective student to make an informed choice to study at Queen Mary (class of 2020, 2021 and 2022 only).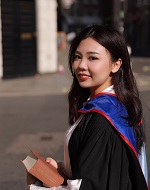 Jinjun Chen, International Business Law LLM (2021)
25 August 2021

"I always knew that Queen Mary enjoys high fame and top teaching and research faculties, as well as close links with law firms and institutions – both nationally and internationally".
Umar Geidam, International Business Law LLM (2019)
3 June 2020

"I can assure any candidate looking to join Queen Mary that the University provides much needed help for students to succeed in their chosen field of study..."