Dr Tibisay Morgandi, Law Degree (Catholic University, Milan); Masters in International Law (Graduate Institute, Geneva); LLM (Harvard); PhD in International Law (Graduate Institute, Geneva)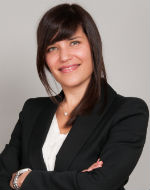 Lecturer in International Energy and Natural Resources Law
Email: t.morgandi@qmul.ac.ukTelephone: +44 (0) 20 7882 5081
Profile
Dr Tibisay Morgandi is Lecturer in International Energy and Natural Resources Law at Queen Mary University of London. She is based at the Energy Law Institute at the Centre for Commercial Law Studies.
Dr Morgandi is a public international lawyer and teaches in the area of international energy law. In 2016, Dr Morgandi was a Swiss National Science Foundation Postdoctoral Fellow at the University of Cambridge. At Cambridge, Dr Morgandi lectured in International Environmental Law in the MPhil in the Department of Land Economy and taught International Law at Trinity Hall. She previously worked as an associate in the Public International Law Practice and in the International Arbitration Group at Freshfields Bruckhaus Deringer LLP (Paris).
Dr Morgandi holds a PhD in international law from the Graduate Institute in Geneva (2016), an LLM from Harvard (2014), a Masters in International Law from the Graduate Institute in Geneva (2011) and a Laurea Magistrale in Giurisprudenza (Law Degree) from the Catholic University of Milan (2009). Dr Morgandi was admitted to the Bar in Italy in 2014. Her native languages are Italian and Spanish. She is fluent in English and French.
Postgraduate Teaching
Energy Law and Ethics (London)
Energy Law: Development, Decommissioning and Waste Management (London)
Energy Law and Ethics (Paris)
Research
Dr Morgandi's research is in public international law, focusing on international energy law, international environmental law and international economic law. Her specialism is bilateral state energy agreements. Her monograph 'State Energy Agreements', forthcoming with Cambridge University Press, examines an original dataset of over 600 bilateral state agreements regulating a variety of energy resources and activities, situating these within the broader corpus of international law.
Dr Morgandi is currently working on the interactions between disputed resources and boundary disputes.
Examples of research funding:
During her Postdoctoral Fellowship at Cambridge, Dr Morgandi published a dataset of bilateral energy agreements at www.energybilaterals.org as part of a research project funded by the Swiss National Science Foundation, the Philomathia Foundation and the University of Cambridge.
Publications
State Energy Agreements (Cambridge: Cambridge University Press, forthcoming) [Monograph]
'Energy Security in International Law' in R Geiss, N Melzer (eds),

Oxford Handbook on the International Law of Global Security

(Oxford: Oxford University Press, forthcoming) (co-authored with J E Viñuales) [Chapter in Book]
'Legal Aspects of Energy Policy'

in M Politt et al (eds)

In Search of 'Good' Energy Policy: A Multidisciplinary Approach to Energy and Climate Problems

(Cambridge: Cambridge University Press, forthcoming 2019) (co-authored with J E Viñuales) [Chapter in Book]
'Options for the Legal Form of a WTO Agreement on Fisheries Subsidies' (Geneva: International Centre for Trade and Sustainable Development, 2017) (co-authored with L Bartels) [Research Paper]