Dr Vahitha Abdul Salam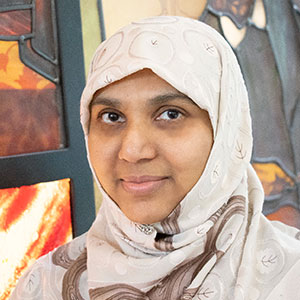 Lecturer
Centre: Cardiovascular Medicine and Devices
Email: v.abdulsalam@qmul.ac.ukTelephone: +44(0) 20 7882 5720Room Number: 213 John Vane Science Centre
Profile
Vahitha Abdul Salam was trained as a pharmacist (First Class, National University of Malaysia) in Malaysia before securing a Malaysian and Universities of UK scholarship to pursue a PhD at Imperial College London under the supervision of Prof Martin Wilkins and Dr Robert Edwards in the field of cardiovascular proteomics. During her PhD, she investigated mass spectrometry based proteomics approaches for biomarker discovery in cardiovascular diseases. Work during her PhD and post-doc has led to the discovery of two biomarkers patented for the assessment of heart failure and coronary artery disease and development of label free proteomics methods to screen for druggable targets in pulmonary arterial hypertension (a rare disease).
Together with Dr Beata Wojciak-Stothard's group at Imperial College London, Vahitha worked on understanding the role of Chloride Intracellular Channel Proteins (CLICs) in vascular pathobiology using a combination of proteomics, molecular and cellular biology techniques and in vivo models of disease, receiving the European Young Investigator award from Pfizer for these studies.
In 2020, she joined William Harvey Research Institute (WHRI) as a lecturer in Vascular Pharmacology at the Centre for Cardiovascular Medicine and Device Innovation to establish her independent research group under Bart's Charity's rising stars lectureship programme. Her current work has focused on the role of CLICs in vascular remodelling
Awards/Affiliations
Member of Pulmonary Vascular Research Institute (2018-present)
Member of Athena Swan Committee, Imperial College London (2013)
Travel Fellowship, British Lung Foundation /GlaxoSmithKline (2012)
Silver member of the European Respiratory Society (2012-present)
European's Young Researcher Award, Pfizer (2011)
Fellow of the Pulmonary Vascular Research Institute (2011-2017)
Overseas Research Scheme Award, Universities of UK (2004)
Gold Medal Award, Malaysian Pharmaceutical Society (1999)
Gold Medal Award, National University of Malaysia (1999)
Best Asian Student Award, National University of Malaysia (1999)
Vahitha is an editor for Cogent Medicine and is an ad-hoc reviewer for Circulation, Circulation Research, Atherosclerosis Thrombosis and Vascular Biology and American Journal of Respiratory Cell and Molecular Biology.
Research
The main focus of Vahitha's lab is to understand the underlying mechanisms of endothelial dysfunction, widely recognised as an initiating event in the pathogenesis and progression of vascular disorders such as pulmonary hypertension. Of interest is the role of chloride intracellular channel proteins (CLICs) which are raised in numerous vascular diseases and cancer. In 2010, Vahitha published the initial discovery of high expression of CLIC1 and CLIC4 proteins in the lungs of pulmonary arterial hypertensive patients and has since demonstrated the mechanism by which CLIC4 exerts endothelial damage. She has recently identified Arf6 as novel effector of CLIC4 that can be therapeutically targeted. Ongoing projects include deciphering mechanism of endothelial-platelet crosstalk and its consequence on endothelial trans-differentiation and on mitochondrial and platelet function with the objective of developing novel drugs for cardiovascular diseases.
Key Publications
Sindi H*, Russomanno G*, Sandro S, Abdul-Salam VB, Jo KB, , Chaudhry BQ, Ainscough AJ, Szulcek R, Bogaard HJ, Morgan CC, Pullamsetti SS, Alzaydi M, Rhodes CJ, Eichstaedt CA, Grünig E, Wilkins MR, Wojciak-Stothard B. Therapeutic potential of KLF-2 induced exosomal microRNAs in pulmonary arterial hypertension. Nature Communication. 2020; 11, 1185.
Abdul-Salam VB, Russomanno G, Chen-Nien C, Mahomed AS, Wilkins MR, Zhao L, Gierula M, Dubois O, Schaeper U, Endruschat J, Wojciak-Stothard B. CLIC4/ARF6 pathway – a new lead BMPRII inhibition in pulmonary hypertension: Circulation Research. 2019; 124:52-65
Edwards RJ, Pyzio M, Gierula M, Turner CE, Abdul-Salam VB, Sriskandan S. Proteomics analysis at the sites of clinical infection with invasive Streptococcus pyogenes. Scientific Reports. 2017; Apr13;8(1):5950
Aldabbous L, Abdul-Salam V, McKinnon T, Duluc L, Pepke-Zaba J, Southwood M, Ainscough AJ, Hadinnapola C, Wilkins MR, Toshner M, Wojciak-Stothard. Identification and assessment of plasma lysozyme as a putative biomarker of atherosclerosis. Arterioscler Thromb Vasc Biol. 2016; 36:2078-87
*Wojciak-Stothard B, *Abdul-Salam VB, Lao KH, Tsang H, Irwin DC, Lisk C, Loomis Z, Stenmark KR, Edwards JC, Yuspa SH, Howard LS, Rhodes CJ, Gibbs SR, Whatron J, Zhao L , Wilkins MR. Aberrant chloride intracellular channel 4 expression contributes to endothelial dysfunction in pulmonary arterial hypertension. Circulation. 2014 Apr 29;129(17):1770-80.] *Joint first authors
Abdul-Salam VB, Wharton J, Cupitt J, Berryman M,

Edwards RJ, Wilkins MR. Proteomic Analysis of Lung Tissues in Patients with Pulmonary Arterial Hypertension. Circulation. 2010; 122:2058-67. *Highlighted in 2 Circulation special reviews: Circulation. 2012; 125: e645-e652 & Circulation. 2012; 125: e507-e519
Abdul-Salam VB, Ramrakha P, Krishnan U, Owen DR, Shalhoub J, Davies AH, Tang TY, Gillard JH, Boyle JJ, Wilkins MR, Edwards RJ. Identification and assessment of plasma lysozyme as a putative biomarker of atherosclerosis. Arterioscler Thromb Vasc Biol. 2010; 30:1027-33. *Corresponding author
Paratz E & Abdul-Salam VB. Investigation of lactate dehydrogenase isoenzymes as candidate biomarkers of idiopathic pulmonary arterial hypertension. Aust Med Stud Journal. 2010; 1:16-20
Abdul-Salam VB, Paul GA, Ali JO, Gibbs SR, Rahman D, Taylor GW, Wilkins MR, Edwards RJ. Identification of plasma protein biomarkers associated with idiopathic pulmonary arterial hypertension. Proteomics. 2006; 6:2286-2294
Sponsors
Collaborators
Internal: Prof Amrita Ahluwalia, Prof Adrian Hobbs, Prof Paul Chapple, Dr Neil Dufton & Dr Suchita Nadkarni
External: Dr Beata Wojciak Stothard (Imperial College London), Prof Martin Wilkins (Imperial College London), Dr Luke Howard (Imperial College London), Dr Nabil Hajji (Imperial College London), Dr Punit Ramrakha (Imperial College London NHS Trust), Prof Samuel Breit (The University of New South Wales, Australia) & Dr Harpreet Singh (Ohio State College of Medicine, USA)
News
Invited speaker – London Vascular Biology Meeting (2014)
Invited grant reviewer - Portuguese Foundation for Science and Technology (2012)
Invited facilitator for the thematic Poster session on Management of Pulmonary Hypertension at the American Thoracic Society meeting, San Francisco, USA ( 2012)
Poster presentation - special parliamentary reception for Britain's' Top Young Bioscience Researchers at the House of Commons (2005)