Professor Amrita Ahluwalia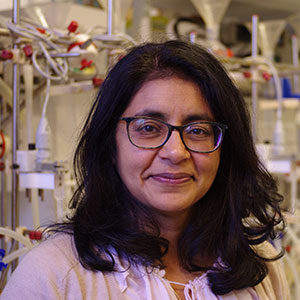 Professor of Vascular Pharmacology
Centre: CV Medicine and Devices
Email: a.ahluwalia@qmul.ac.ukTelephone: +44(0) 20 7882 8377
Profile
If you are a potential volunteer interested in participating in one of the trials we are running please see: Clinical trials in Vascular Pharmacology.
Amrita Ahluwalia obtained a BSc in Pharmacology from Bath University and undertook doctoral training at the William Harvey Research Institute (WHRI). In the mid-nineties she worked at St George's Hospital Medical School with Professor Patrick Vallance followed by University College London as a Lecturer before returning to the WHRI where she is currently a Professor of Vascular Pharmacology. Amrita was Deputy Director of the WHRI from 2013-2016 and then Director from 2016-2020. Her interests revolve around developing therapeutics targeting inflammation in the cardiovascular system for which she has won awards e.g. GSK Prize in Clinical Pharmacology 2012, WISE 2015 Prize for Research). In addition to her research she is committed to establishing equality in the workplace. Amrita established the first National mentoring scheme for women of a learned society (British Pharmacological Society) in 2005. She was also the first Chair of the Women in Pharmacology Committee of the same society from 2007-2010 that established the Astra Zeneca Women in Pharmacology Prize and led the award of the first Athena Swan Silver prize for Barts & The London Medical School. Amrita is the first female EiC of the internationally leading British Journal of Pharmacology (2016-current).
Amrita is currently Lead of The Vascular Pharmacology Group, Director of the Barts Cardiovascular Clinical Trials Unit and Editor In Chief of The British Journal of Pharmacology.
Director of the Barts Cardiovascular Clinical Trials Unit (CVCTU)
Prof Ahluwalia is the Director of the Cardiovascular Clinical Trials Unit (CVCTU), a branch of the Barts Clinical Trials Unit (a UK Clinical Research Collaboration (UKCRC) registered unit). Under Prof Ahluwalia's leadership, the CVCTU has been established to manage and coordinate clinical trials with robust systems to ensure the highest quality standards of conduct and delivery of cardiovascular clinical trials and is funded by the Barts Charity Cardiovascular Research Programme.
As Director, Prof Ahluwalia as the CVCTU Steering Committee Chair, leads the strategic development, vision and work of the CVCTU, including;
Delivery of clinical trials within the cardiovascular field with existing teams at the Barts Heart Centre
Promotion of the CVCTU to Investigators within Barts Health NHS Trust and Queen Mary University of London, and wider clinical networks as the CV CTU develops
Generation of external grant income to support the CVCTU core team
Review of resources and recruitment of staff
Oversight of the CVCTU trial portfolio and research management.
Prof Ahluwalia is also the Chair of the CVCTU Scientific Committee, which oversees the adoption of new studies onto the CVCTU portfolio. The Scientific Committee reviews and assesses the scientific validity and justification of new studies requesting adoption to the CVCTU portfolio.
Research
Vascular Pharmacology Group members
Research staff: Jonathan Ho (Lab Manager), Vikas Kapil (Clinical Senior Lecturer/Consultant), Dan Jones (Clinical Senior Lecturer and Consultant Cardiologist), Rayomand Khambata (Lecturer), Gianmichele Massimo (Post-Doctoral Researcher), Krishnaraj Rathod (Clinical Senior Lecturer and SpR in Cardiology), Dr Claudio Raimondi (Lecturer), Dr Vahitha Abdul Salaam (Lecturer).
PhD students: Nicki Dyson, Chris Primus (Cardiology SpR), Asad Shabbir (Cardiology SpR), Tipparat Parakaw, Anne-Marie Beirne (Cardiology SpR).
Barts Cardiovascular Clinical Trials Unit (CVCTU) Team
CVCTU Manager: Jessica Adams
CVCTU Senior Clinical Trials Co-ordinator: Charlie Mizon
CVCTU Quality Assurance Manager/TC: Alexandra Papa
CVCTU Database Developer/Manager: Simon Menezes
CVCTU Monitor: Shahana Chowdhury
CVCTU Statistician: Tom Godec
Vascular Pharmacology Group
The main research focus of my group is the exploration of the impact of inflammation on cardiovascular function and the mechanisms involved in this phenomenon with a view to identifying novel targets and therapeutics. The group has four key areas of interest:
1. Effects of nitrite and nitrate on the cardiovascular system in health and disease
A major research focus of the group is study of the bioactivity of the reductive nitrate-to nitrite to NO pathway in humans, often dubbed the enterosalivary circuit of inorganic nitrate. We made the first demonstrations of the protective effects of inorganic nitrite against myocardial ischemia-reperfusion injury implicating two enzymes in the conversion of nitrite to NO: xanthine oxidoreductase and eNOS. More recently, the vasodilator activity of nitrite has attracted much attention. In 2008 we published our findings that a dietary nitrate load, in the form of beetroot juice, reduces blood pressure and improves platelet and endothelial function in healthy volunteers. We are currently investigating the effect of a similar inorganic nitrate load in hypertensive and hypercholesterolemic patients and with Anthony Mathur the potential of intracoronary nitrite in patients suffering an acute myocardial infarction.

2. Role of the kinin B1 receptor in cardiovascular disease
Ahluwalia & Perretti in 1996 published findings demonstrating the key role of the inducible kinin B1 receptor in neutrophil recruitment to a site of inflammation. Our research has focussed on the molecular pathways involved in this response and we have identified two particular pathways that play a role i.e. B1-induced endothelial chemokine generation and sensory C-fibre activation. Our most recent studies have demonstrated that laminar shear stress plays a major role in regulating endothelial kinin B1 receptor expression and that this regulation implicates the receptor in atherosclerosis.

3. Sex differences in cardiovascular function and susceptibility to cardiovascular disease
In 2005 Ahluwalia and Hobbs published the findings demonstrating that endothelium-dependent relaxation of the resistance arteries of females is predominantly mediated by the endothelial factor endothelium-derived hyperpolarising factor, EDHF, whereas in the resistance vessels of males NO and the prostaglandin PGI2 are the primary endothelial factors. We also demonstrated that this propensity to express EDHF protected females from genetically-induced hypertension and protects females from inflammation. We have speculated that these differences may have a role to play in the reduced susceptibility of females to cardiovascular disease. We are currently investigating the pathways involved in this sex-specific upregulation of EDHF and reduced inflammatory responses in healthy volunteers to determine the relevance of our findings in pre-clinical models to humans.

4. Investigation of the role of TRPV1 in vascular reactivity
In 2004 we identified a major role for the TRPV1 channel and sensory C-fibres in mediating the constriction of resistance arteries that occurs in response to rises in intraluminal pressure; termed myogenic tone. We are currently investigating the molecular pathways involved in this response, in particular our observations have identified the arachidonate metabolite 20-hydroxyeicoasteraenois acid as an important TRPV1 activator.
Beetroot study


Dietary nitrate in the form of beetroot juice lowers blood pressure in healthy volunteers.
Scheme
Within the blood vessel nitrite conversion to NO increases progressively with decreasing pH and oxygen tension. Our evidence suggests that both eNOS and xanthine oxidoreductase (XOR) are two key enzymes that act as nitrate reductases and are localised to both the endothelium and the red blood cell.
Key Publications
For a full list of publications click here


Khambata, Rayomand S., Ghosh, Suborno M., Rathod, Krishnaraj S., Thevathasan, Tharssana, Filomena, Federica, Xiao, Qingzhong, Ahluwalia, Amrita. Antiinflammatory actions of inorganic nitrate stabilize the atherosclerotic plaque. PNAS, 2017, 114, E550-E559
Krishnaraj S. Rathod, Vikas Kapil, Shanti Velmurugan, Rayomand S. Khambata, Umme Siddique, Saima Khan, Sven Van Eijl, Lorna C Gee, Jaspal Bansal, Kavi Pitrola, Christopher Shaw, Fulvio D'Acquisto, Romain A. Colas, Federica Marelli-Berg, Jesmond Dalli, Amrita Ahluwalia. Accelerated resolution underlies sex differences in the inflammatory response in humans. Journal of Clinical Investigation, 2017 Jan 3;127(1):169-182.
Amrita Ahluwalia, Mark Gladwin*, Gary D. Coleman, Norman Hord, George Howard, Daniel B Kim-Shapiro, Martin Lajous, Filip J. Larsen, David J. Lefer, Leslie A. McClure, Bernard T. Nolan, Ryszard Pluta, Alan Schechter, Chia-Yih Wang, Mary H. Ward, Jane L. Harman. Dietary Nitrate and the Epidemiology of Cardiovascular Disease. Report from a National Heart, Lung, and Blood Institute
Daniel A Jones, Rayomand S Khambata, Mervyn Andiapen, Krishnaraj S Rathod, Anthony Mathur, Amrita Ahluwalia. Intracoronary nitrite suppresses the inflammatory response following primary percutaneous coronary intervention. Heart 2016 Sep 28. pii: heartjnl-2016-309748. doi: 10.1136/heartjnl-2016-309748
Velmurugan, J M Gan, K S Rathod, R S Khambata, S M Ghosh, A Hartley, S Van Eijl, V Sagi-Kiss,TA Chowdhury, M Curtis, G G. Kuhnle, WG. Wade, A Ahluwalia. Dietary nitrate improves vascular function in patients with hypercholesterolemia: a randomised, double blind placebo controlled study. American Journal of Clinical Nutrition, 2016, 103, (1) 25-38
Jones DA, Pellaton C, Velmurugan S, Andiapen M, Antoniou S, van Eijl S, Webb AJ, Westwood MA, Parmar MK, Mathur A, Ahluwalia A. Randomised phase 2 trial of intra-coronary nitrite during acute myocardial infarction. Circ Res, 2015, 116(3):437-47
Kapil V, Khambata R, Robertson A, Caulfield MJ, Ahluwalia A. Dietary nitrate provides sustained blood pressure lowering in hypertensive patients: a randomized, phase 2, double-blind, placebo-controlled study. Hypertension, 2015, 65(2):320-7
Velmurugan S, Kapil V, Ghosh SM, Davies S, McKnight A, Aboud Z, Khambata RS, Webb AJ, Poole A, Ahluwalia A. Antiplatelet effects of dietary nitrate in healthy volunteers: Involvement of cGMP and influence of sex. Free Radic Biol Med. 2013 65:1521-32.
Kristen J Bubb, Catherine Panayiotou, Hairuo Wen, Michaela Finsterbusch, Melissa Chan, John V Priestley , Mark D Baker & Amrita Ahluwalia. Activation of neuronal transient receptor potential vanilloid 1 (TRPV1) channel underlies 20-HETE-induced vasoactivity: role for protein kinase A. Hypertension 2013, 62(2):426-33.
Suborno M Ghosh, Vikas Kapil, Isabel Fuentes-Calvo, Kristen J Bubb, Vanessa Pearl, Alexandra B Milsom, Rayomand Khambata, Sheiva Maleki-Toyserkani, Mubeen Yousuf, Nigel Benjamin, Andrew J Webb, Mark J Caulfield, Adrian J Hobbs, Amrita Ahluwalia. Enhanced vasodilator activity of nitrite in hypertension: critical role for erythrocytic xanthine oxidoreductase and translational potential. Hypertension 2013 61(5):1091-102.
Anthony Rousselle,Fatimunnisa Qadri,Lisa Leukel, Rustem Yilmaz, Jean-Fred Fontaine, Gabin Sihn, Michael Bader, Amrita Ahluwalia, Johan Duchene. Cxcl5 limits macrophage foam cell formation in atherosclerosis. J Clin Invest 2013, 123(3):1343-7.
Vikas Kapil, Syed MA.Haydar, Vanessa Pearl, Jon O Lundberg, Eddie Weitzberg , Amrita Ahluwalia. Physiological role for nitrate-reducing oral bacteria in blood pressure control. Free Radic Biol Med. 2012, 55C:93-100
Hairuo Wen PhD, Kristen J Bubb PhD, Catherine Panayiotou PhD, Johan Östman PhD, John V Priestley PhD, Mark D Baker PhD & Amrita Ahluwalia 20-HETE is a novel activator of TRPV1. J Biol Chem, 2012, 287(17):13868-76.
Reshma S Baliga, Alex B Milsom, Sarah L Trinder, Suborno M Ghosh, Raymond J MacAllister, *Amrita Ahluwalia PhD & *Adrian J Hobbs. Dietary nitrate prevents hypoxic pulmonary hypertension: cytoprotective role for endothelial nitric oxide synthase. Circulation 2012, 125(23):2922-32
Inmaculada C Villar, Ramona S Scotland, Rayomand S Khambata, Melissa V Chan, Johan Duchene, Andre L Sampaio, Mauro Perretti, Adrian J Hobbs, Amrita Ahluwalia. Suppression of Endothelial P-Selectin Expression Contributes to Reduced Cell Trafficking in Females: An Effect Independent of NO and Prostacyclin. Arterioscler Thromb Vasc Biol. 2011, 31:1075-83.
Ramona Scotland, Melanie Madhani, Salvador Moncada, Adrian J.Hobbs & Amrita Ahluwalia. Endothelial nitric oxide synthase/cyclooxygenase-1 double knockout mice reveal cardioprotective role for endothelium-derived hyperpolarizing factor. Circulation 2005, 11:796-803.
Ramona Scotland, Sharmila Chauhan, Clare Davis, Carmen De Felipe, Stephen Hunt, Jahangir Kabir, Peter Kotsonis & Amrita Ahluwalia. Vanilloid receptor TRPV1, sensory C-fibers, and vascular autoregulation: a novel mechanism involved in myogenic constriction. Circulation Research, 2004, 95:1027-1034.
Andrew J Webb, Richard Bond, Peter McLean, Rakesh Uppal, Nigel Benjamin & Amrita Ahluwalia. Reduction of nitric oxide during ischemia protects against myocardial ischemia-reperfusion damage. PNAS, 2004, 101:13683-13688.
Sponsors