Are you a current student or recent alumnus of CCLS? Would you be willing to share your testimonial? If so, you could help a prospective student to make an informed choice to study at Queen Mary (class of 2020, 2021 and 2022 only).
María Barraco, Human Rights Law LLM (2021)
25 August 2021

"Queen Mary is also the best place to meet people from all over the world and to establish long-lasting friendships. Queen Mary really is the whole package!"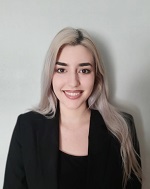 Nina Prusac, Human Rights Law LLM (2022)
14 July 2021

"I enjoyed an internship with the Queen Mary Global Policy Institute, participating in numerous projects and meeting various academics and professionals".