Deborah Lawunmi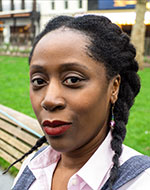 PhD Student
Email: d.d.lawunmi@qmul.ac.uk
Profile
Thesis title
What is the career experience of Black lawyers in City Law Firms?
Supervisors
Summary of research
Until very recently black lawyers were conspicuously absent from City law firms and the professional integration of this group represented a significant challenge for law firms in this sector. This situation is changing and black lawyers are now starting to secure training contracts in top City law firms and are graduating to associate roles on qualification. City law firms are also welcoming their first cohorts of black senior associates and partners.
Even though very few black lawyers work in City law firms (particularly at senior levels), the recent emergence of black lawyers as a minority group in elite law practice is of interest not least because their current and future experiences as a previously excluded group is not yet properly understood. There are also issues around poor retention levels post recruitment that have not been explored in any meaningful way by academic research.
The research draws on socio legal academic literature on the insider outsider divide within the legal profession generally and elite law practice in particular. In addition, qualitative data which investigates the professional experiences of black lawyers will be collected through semi structured interviews with black lawyers who work in City law firms.
The data collected from the interviews will be used to test theorising drawn from literature that has evaluated the experience of outsiders (including black lawyers), and to find out what patterns mark the career experience of black lawyers and how they respond to elite law firm culture
Very little is known about how black lawyers navigate the professional terrain of elite law practice, and this study seeks to contribute original research on this topic, as well as identify strategies that might be adopted to support their career progression.
Research