Dr Sian Henson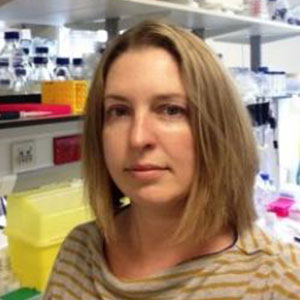 Reader in Immunology
Centre: Translational Medicine & Therapeutics
Email: s.henson@qmul.ac.uk Telephone: +44(0) 20 7882 2100Twitter: @DrSianH
Profile
Sian Henson obtained her PhD at Imperial College London in 2000. Subsequently, Sian undertook postdoctoral training with Prof Richard Aspinall at Imperial College investigating the role of IL-7 in thymic atrophy. She then moved to Prof Arne Akbar's lab at University College London where she directed her focus towards understanding the role of inhibitory receptors during ageing and found that senescence is not passive end-stage processes but is controlled by active signalling pathways. More recently she has become interested in the metabolic requirements of primary human senescent T cells. Sian became a lecturer at the William Harvey Research Institute in 2015 where she has established her own research group investigating the deregulation of T cell metabolism during human ageing and how it maintains an inflammatory deleterious state.
Dr Henson serves as a committee member for the BBSRC and the Dunhill Medical Trust. She is the Chair of the British Society of Immunology affinity group for Immune senescence. Sian is also an Associate Editor for Frontiers of Immunology. Current academic roles include module lead for Immunology for the Biomedical Sciences BSc.
Research
Group members
Dr Elizabeth Carroll, Ms Lauren Callender
Summary
Ageing is accompanied by alterations to T cell immunity and by a low-grade chronic inflammatory state, termed inflammaging. Although inflammation is critical for dealing with infections and tissue damage, inflammaging appears to be physiologically deleterious and predictive of all-cause mortality in multiple elderly cohorts. The maintenance of this inflammatory state is mediated by metabolic changes. Immune metabolism is an emerging field of research with little information regarding the metabolism and metabolic checkpoints that regulate T cell ageing. The aim of my work is to investigating how changes to T cell metabolism during human ageing maintains this inflammatory state.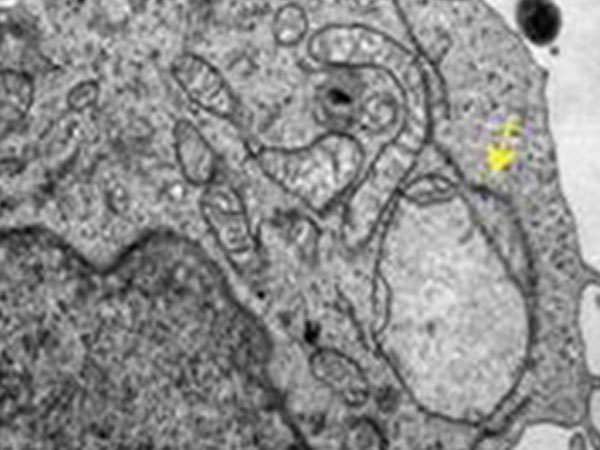 Senescent CD8+ T cell displaying dysfunctional 'giant' mitochondria, which contribute to the bioenergetic instability of these cells.
Key Publications
For a full list of publications
click here

Henson SM, Macaulay R, Riddell NE, Nunn CJ, Akbar AN. (2015). Blockade of PD-1 or p38 MAP kinase signaling enhances senescent human CD8(+) T-cell proliferation by distinct pathways. Eur J Immunol. 45(5):1441-51.
Veliça P, Zech M, Henson SM, Holler A, Manzo T, Pike R, Santos E Sousa P, Zhang L, Schiedlmeier B, Pule M, Stauss H, Chakraverty R. (2015). Genetic Regulation of Fate Decisions in Therapeutic T Cells to Enhance Tumor Protection and Memory Formation. Cancer Res. 75(13):2641-52.
Lanna A, Henson SM, Escors D, Akbar AN. (2014). The kinase p38 activated by the metabolic regulator AMPK and scaffold TAB1 drives the senescence of human T cells. Nat Immunol. 15(10):965-72.
Henson SM, Lanna A, Riddell NE, Franzese O, Macaulay R, Griffiths SJ, Puleston DJ, Watson AS, Simon AK, Tooze SA, Akbar AN. (2014). p38 signaling inhibits mTORC1-independent autophagy in senescent human CD8+ T cells. J Clin Invest. 124(9), 4004-4016.
Franzese O, Henson SM, Naro C, Bonmassar E. (2014). Defect in HSP90 expression in highly differentiated human CD8(+) T lymphocytes. Cell Death Dis
Lanna A, Coutavas E, Levati L, Seidel J, Rustin MH, Henson SM, Akbar AN, Franzese O. (2013). IFN-α inhibits telomerase in human CD8⁺ T cells by both hTERT downregulation and induction of p38 MAPK signaling. J Immunol 191(7):3744-52.
Griffiths, S. J., Riddell, N. E., Masters, J., Libri, V., Henson, SM., Wertheimer, A., Wallace, D., Sims, S., Rivino, L., Larbi, A., Kemeny, D. M., Nikolich-Zugich, J., Kern, F., Klenerman, P., Emery, V. C., Akbar, A. N. (2013). Age-Associated Increase of Low-Avidity Cytomegalovirus-Specific CD8+ T Cells That Re-Express CD45RA. J Immunol 190(11), 5363-5372.
Macaulay, R., Riddell, N. E., Griffiths, S. J., Akbar, A. N., Henson, SM. (2013). Differing HLA types influence inhibitory receptor signalling in CMV-specific CD8(+) T cells. Hum Immunol 74(3), 302-309.
Henson, SM., Macaulay, R., Franzese, O., Akbar, A. N. (2012). Reversal of functional defects in highly differentiated young and old CD8 T cells by PDL blockade. Immunol 135(4), 355-363.
Di Mitri, D., Azevedo, R. I., Henson, SM., Libri, V., Riddell, N. E., Macaulay, R., Kipling, D., Soares, M. V., Battistini, L., Akbar, A. N. (2011). Reversible Senescence in Human CD4(+)CD45RA(+)CD27(-) Memory T Cells. J Immunol 187(5), 2093-2100.