Galin Tihanov, PhD (Sofia), DPhil (Oxon), MAE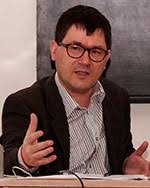 George Steiner Professor of Comparative Literature
Email: g.tihanov@qmul.ac.ukTelephone: +44 (0)20 7882 5912Room Number: Arts One 1.18Office Hours: Tuesdays, 11am-1pm
Profile
Galin Tihanov is the George Steiner Professor of Comparative Literature at Queen Mary University of London; he was previously Professor of Comparative Literature and Intellectual History and founding co-director of the Research Institute for Cosmopolitan Cultures at the University of Manchester. Tihanov has published widely on German, Russian, and East-European cultural and intellectual history. He is the author of four books and (co)editor of nine volumes of scholarly essays. Some of his books and articles have been translated into Bulgarian, Chinese, Danish, French, German, Hungarian, Macedonian, Polish, Portuguese, Romanian, Russian, and Slovene. His current research is on world literature, cosmopolitanism, and exile. Amongst his recent authored and edited books are Narrativas do Exílio: Cosmopolitismo além da Imaginação Liberal (2013) and Enlightenment Cosmopolitanism (2011, ed. with David Adams). Tihanov is winner, with Evgeny Dobrenko, of the Efim Etkind Prize for Best Book on Russian Culture (2012), awarded for their co-edited A History of Russian Literary Theory and Criticism: The Soviet Age and Beyond (2011). He is Honorary President of the ICLA Committee on Literary Theory, member of Academia Europaea, Honorary Scientific Advisor to the Institute of Foreign Literatures at the Chinese Academy of Social Sciences, and member of the Advisory Board of the Institute for World Literature at Harvard University. Tihanov has held visiting appointments at Yale University, St. Gallen University, the University of São Paulo, Peking University, Seoul National University, and the Higher School of Economics (Moscow), and research fellowships from the Leverhulme Trust, AHRC, the Alexander von Humboldt Foundation, the Open Society Foundation, Wissenschaftskolleg zu Berlin, and Collegium Budapest. His new book, Regimes of Relevance, will be published by Stanford University Press in 2019. He is currently writing Cosmopolitanism: A Very Short Introduction for Oxford University Press.
For Galin Tihanov's c.v. (including a list of his authored and edited books), please click here [DOC 85KB].
On World Literature, Exile and Cosmopolitanism: An Interview with Professor Galin Tihanov [PDF 1,470KB]
Research
Research Interests:
Comparative Literature and Cultural History, esp. Russian, German, and Central- and East-European Culture and Thought (19th-20th c.) and German, Russian, Bulgarian and Polish literatures in their relation to intellectual and cultural history (19th-20th c.); World Literature; History of Ideas; Continental, British, and American Literary and Cultural Theory; Cosmopolitanism and its Genealogies; Exile and Migration (esp. 20th century Central- and East-European exile); Construction of European Identities; Marxism and Post-Marxism; Mikhail Bakhtin; Olga Freidenberg; The Russian Formalists; Gustav Shpet; Boris Yarkho; Osip Mandelstam; German Post-Romanticism; German Conservatism (esp. 20th century); Goethe; Dilthey; Simmel; Heidegger; Carl Schmitt; Oswald Spengler; Ernst Jünger; Robert Musil; Hermann Broch; Elias Canetti; Heiner Müller; Alexandre Kojève; Russian avant-garde visual culture.