Meet with us
We understand that the choice of the right course and place for your undergraduate studies is a very important one.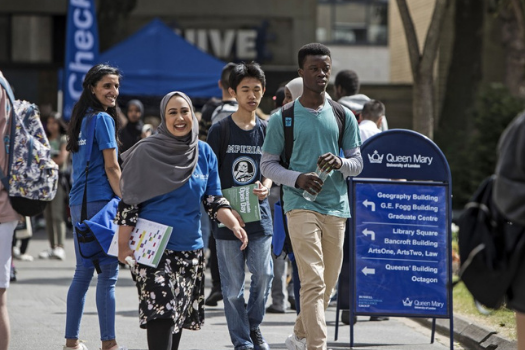 To help you choose we organise a series of open days and individual campus tours.
If you're unable to visit Queen Mary in person you can also take part in one of our virtual open days. Students living overseas can also speak to one of our international student ambassadors or meet us overseas if we are visiting your country.
Queen Mary University Open Days
We would love to meet you in person at one of this year's School open days, or at the next Queen Mary open day.
The School's next Undergraduate Open Day will be in October 2021. We will update this page with further information as soon as it is available.
Our October event will be on-campus and online. Either way, you will have the opportunity to learn what Queen Mary has to offer you: meet students, chat to academics, discover our degree programmes and get a real feel for life at Queen Mary. You'll get all the information you need to take your next steps with confidence.
Visit the Queen Mary website to find out more and book your place.
Campus tours
If you are unable to come to an Open Day, you can book a campus tour. This is led by one of our Student Ambassadors, and take in most of our key facilities; they give you a chance to find out more about Queen Mary life! Once you have booked your date, you can contact our School Marketing and Student Recruitment Manager. If you let them know the date and time of your visit, she can see if there is a member of the undergraduate team who can meet with you after your tour.
Visit the Queen Mary website for directions and travel information.
Virtual open days
If you can't attend one of our open days in London you can still take part in a virtual open day online. Virtual open days are live web chats with our academics and administrative staff. They give you the opportunity to ask questions about the programmes, studying in the School, careers, life in London and anything else you may want to know.
Contact us
If you have any questions in the meantime, please email the school's Student Recruitment Coordinator.
International student ambassadors
Whether you want to know what it's like to study economics at University, find out about events and activities for undergraduate students or simply ask about the experience of living and studying overseas, our international student ambassadors will be able to help.
Contact a student from your country
Please contact our Student Recruitment and Marketing team who will put you in contact with a student ambassador from your country.
Meet us overseas
Staff from the School and the university regularly travel overseas to meet students interested in studying with us. If we are visiting your country, we would be happy to meet with you. You can find a list of forthcoming events on the QMUL International pages.
If you have any specific queries, please email internationaloffice@qmul.ac.uk