Hear from some of our recent graduates about their experience at the School of Mathematical Sciences and the University as a whole.
Kamryn Harris, BSc Mathematics (graduated 2020)
Now Data Model Analyst at Semantic Evolution
My time at Queen Mary University of London helped me develop a key foundation so that I could launch my career. Whilst at Queen Mary, I took part in various activities that greatly impacted my life in a positive way: QConsult, being a Maths Ambassador and, later, being an instructor for Code First: Girls. All of these activities enabled me to acquire essential skills for my future. Studying maths helped me develop a unique way of thinking that shaped who I am and the way I approach my work on a daily basis. The societies I took part in provided me with exposure to events and activities I genuinely enjoyed while growing my network.
I would recommend any student to make an effort to get involved in things they enjoy doing while at University. I learnt so much in my three years at Queen Mary - beyond my course - and I am so grateful for the experience and foundation in preparing me for life and career after graduation.
Andrea Rusu, BSc Mathematics (graduated 2020)
Now Associate Systems Engineer (CSAP) at Cisco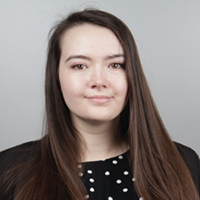 I will always look back at my time at Queen Mary fondly. Although my final year was cut short due to Covid-19, I can safely say I made the most of my time in previous years. Being a maths student ambassador for three years pushed me out of my comfort zone and in turn, improved so many of my skills. The other big part of my professional experience was the careers department with its numerous opportunities such as QConsult and QTaster. I couldn't have chosen a better university; Queen Mary not only offered me an excellent degree programme but also lifelong friendships.
Ma-ai Elven, BSc Mathematics (graduated 2020)
Now Audit IRM Analyst at KPMG UK

I thoroughly enjoyed my three years at Queen Mary which left me with not only a first-class degree in BSc Mathematics but also the most amazing memories and friendships that will last a lifetime. Studying mathematics enhanced my analytical and problem-solving skills, and during my course, I had the chance to take modules such as Computing and Data Analysis with Excel, Introduction to Computer Programming (Python) and Professional Skills and Data Analysis with SAS, which gave me the transferable technical skills required in my industry. I also utilised the careers department by attending events, CV improvement sessions and taking part in programmes like QTaster, QConsult supported by J.P. Morgan, and QMentoring. This equipped me with the knowledge and relevant experience to answer interview questions and successfully make it through the application process. I am now working at KPMG as a Graduate Audit IRM Analyst, where I continue to learn, push myself and make connections. I encourage current students to take advantage of all the opportunities presented at the University, especially QConsult (a paid internship where you work as a team to solve a client's business problems), to stand you in good stead when applying for jobs. Finally, try new things and put yourself out there because it will be the best time of your life!
Amandeep Bhumber, BSc Mathematics with Actuarial Science (graduated 2020)
Now Actuarial Analyst at AXA XL
Since graduating, I tried to stay within my industry of choice, insurance and had been applying for jobs based in London. Queen Mary helped me get my current Actuarial Analyst role at AXA XL through both the outstanding education it provides and its incredible careers department. With the exemptions from my degree course and the job application support available, I was able to ace my interviews and get my first "real" job. My advice for current students is to utilise the amazing careers facilities Queen Mary has to offer. There are different advisors for all sorts of industries and they are all really helpful in getting you to where you want to be. Don't be shy and remember, one small encounter with a professional could land you your big dream job in the near future. For recent graduates, I would advise continuing to apply for roles that you are interested in, getting in contact with graduate-specific recruiters and, most importantly, never give up! There's something out there for everyone if you just look hard enough.
Emmanuel Davies, BSc Mathematics with Finance and Accounting (graduated 2019)
Now Direct Lending Associate at Alcentra (BNY Mellon)
The three years I spent at Queen Mary have provided me with invaluable experiences and unforgettable memories. From an academic standpoint, studying Mathematics with Finance and Accounting was a challenging yet enjoyable experience. Undertaking various modules such as Financial Accounting, Financial Mathematics and Statistical Theory supplied me with the diverse skill set that I could utilise to enter a range of industries. Of course, I could not have succeeded without the help and guidance of Queen Mary's wonderful faculty who were always there to offer help and support, when needed. Working as a Mathematics Ambassador allowed me to gain strong presentation and leadership skills, which are so important for a truly successful career. Projects such as QConsult provide the opportunity to gain relevant work experience, which is fantastic, given that the search for external internships can be very difficult. From a social perspective, students can join many societies and take part in various sporting and social events. Overall, Queen Mary provides a very flexible experience that can be personalised to match your goals and lifestyle. I strongly recommend students to put themselves out there and get the most out of the opportunities Queen Mary offers. Upon graduating, you will find yourself to be a completely different person from when you started!
Anna Galli, BSc Mathematics with Business Management* (graduated 2019)
Now Financial Modelling Analyst at KPMG UK
I spent four years at Queen Mary as a Mathematics with Business Management student and loved every second of it. I had the privilege of learning from some of the best academics in the field while living in one of the most vibrant cities in the world, it doesn't get much better than that! During my time at Queen Mary, I had the opportunity to meet some amazing people from all over the world, who now I consider my family.
I spent a lot of time at the Students' Union and took part in various volunteering opportunities, where I learned a lot about myself and how far a little help can go. Looking back at the past four years I can see how much I've grown. I've also developed many new skills, from taking part in all-female coding courses to helping people move into accommodation, and I even developed an idea for a sustainable, youth-driven business. Queen Mary was my home for some of the most defining and exciting years of my life and I would do it all over again in a heartbeat!
*This programme name changed to Mathematics with Management in September 2019.
Joanna Lim, BSc Mathematics with Actuarial Science (graduated 2019)
Now studying MSc Actuarial Management at Cass Business School
I never knew how time flies until I graduated in Mathematics with Actuarial Science with First Class Honours after studying for three years at Queen Mary. I can still remember the first day I arrived in London as an international student as if it were yesterday. Being able to pursue my degree at Queen Mary is one of the most important decisions I have made in my life as it provided me not only education but also the opportunity to broaden my horizons and expand my network through meeting people from different backgrounds.
Throughout my degree, I completed a range of different modules such as Actuarial Maths, Financial Maths and Statistics for Insurance which developed my technical skills as well as enhancing my transferable skills through the Actuarial Professional Development programme. Being able to get exemptions from the Institute of Faculty of Actuaries' examinations through the programme represented a key milestone in my future career and has shortened my pathway to becoming a qualified actuary. On top of that, the lecturers and advisors were very dedicated and approachable as they provided academic support and useful career and professional development advice.
In addition to expanding my knowledge in the actuarial field, I was able to step out of my comfort zone and attend networking events where I connected with industry professionals. I was also able to experience a different culture and study environment throughout my years at the university and I learnt to be more independent. I spent three years at Queen Mary in one of my favourite cities, London is undeniably an unforgettable memory in my life. I am truly grateful for the abundance of opportunities that Queen Mary provided me.
Lina Salih, BSc Mathematics (graduated 2019)
Now Business and Technology Integration Analyst at Accenture
My time at Queen Mary was extremely valuable and had a direct impact on the trajectory of my career. The thing I loved most about studying at the university is that the course attracted a wide variety of people with different ways of thinking and tackling maths problems. This meant that I was able to up-skill myself and become very good at problem solving which is what I mainly do at my current role. I was also able to make some amazing memories and meet friends that I am still very much close to!
Luke Brown, BSc Mathematics (graduated 2018)
Now Analytics Analyst at Accenture
My time at Queen Mary was thoroughly enjoyable and provided a great foundation for my career. The wide variety of modules allowed me to explore various branches of mathematics and obtain a great set of transferable skills. During my three years at university, there were plenty of opportunities to get involved in extracurricular activities including being a Maths Ambassador and a PASS (Peer Assisted Study Support) mentor. One of my best experiences was working as a consultant for the QConsult programme. The wealth of opportunities provided during my time at Queen Mary helped me grow in confidence, get out of my comfort zone and understand my strengths. I am forever grateful for my time at Queen Mary!
Rachel Dance, BSc Mathematics (graduated 2018)
Now Risk Models Analyst at Winterflood Securities
I graduated in Mathematics from Queen Mary after a fantastic three years at the Russell Group institution. The course was flexible and adaptable and I was able to choose from a large set of modules, ranging from applied to abstract mathematics.
The careers service at the university was well designed and easy to use. The initiatives of the staff opened doors for me to learn about a variety of internships and volunteering placements which have helped shape my career so far. Qconsult, in partnership with J.P. Morgan, was an internship I applied for through Queen Mary which allowed me to undertake a part-time paid internship as a first-time consultant. This opportunity helped me when interviewing for summer internships later that year.
All my experiences at Queen Mary have shaped me into who I am today, and with the help of the University and the excellent teaching within the department, I was able to start my career on the Bank of England Graduate Scheme in Foreign Exchange Policy, before moving on to work in algorithmic trading at Winterflood Securities. Overall, Queen Mary was a great University for me to progress, improve my performance and also enjoy the social side of university life.
Harrison Burton, BSc and MSc Mathematics (graduated 2017)
Now Technology Risk Senior Associate at PwC
I've frequently said that choosing maths at Queen Mary is one of the best decisions I've made. I graduated with an MSci in Mathematics in 2017, but Queen Mary gave me so much more than a degree; it gave me a place to live, a job and some of my closest friends.
The range of modules and experienced lecturers set me up to succeed in my career where I now focus on Artificial Intelligence related risks. I've very appreciative of my four years at Queen Mary and consider myself very lucky to have had all the opportunities the University provided me.
Muhammed Ali Saleh, BSc Mathematics with Finance and Accounting (graduated 2017)
Now Architecture Analyst at 6point6
My time at Queen Mary was such a unique part of my life. I made amazing friends that inspired me. I was taught by lecturers who supported me. I joined societies and took part in events that I'd never thought I would join, and I ended up loving them. I had the opportunity to give back to Queen Mary too, by working for the School of Mathematical Sciences as an Ambassador. I also gave talks and tours to prospective undergrads, some of whom recognised and thanked me the next year after joining.
My course had a range of modules spanning the spectrum of pure to applied maths. Some of my favourite subjects were probability and economics. I've leveraged the knowledge I obtained in my finance modules to start my career as an Analyst and I intend to continue growing my knowledge of the field.
University teaches you so much, including technical knowledge, how to study, soft skills and more. But the most important thing you'll learn is about who you are and what you can achieve. I very am grateful for all the opportunities I was provided at Queen Mary.
Abeera Mohammad, BSc Mathematics and Statistics (graduated 2016)
Now Senior Associate Biostatistician at Amgen.
I really enjoyed the diversity of activities I could get involved in during my time at Queen Mary University of London. From learning a new language to studying abroad, it was great that my degree programme had the flexibility to accommodate this. Within my degree, modules such as Statistical Modelling or Designs of Experiments really helped form the basis of my understanding of statistics. During the summer of my second year, I completed an internship as a Research Assistant at Queen Mary's Wolfson Institute of Preventative Medicine (Barbican site). Here I was able to observe the work of Medical Statisticians working in academia and gain an understanding of epidemiology. The staff members were really friendly and supportive and overall I had a wonderful experience. For anyone interested in pursuing a career in Statistics, studying a degree in maths or a related subject would be a great place to start.
Muhammad Abdulmuntaqim, BSc Mathematics (graduated 2014)
Now Lead Data & Quantitative Analyst, FX, EMEA, at BNY Mellon
Graduating from a renowned Russell Group university has allowed me to work in the banking industry. I have since come back to study my MSc Financial Computing degree. Graduating from Queen Mary would not have been possible without the support of the School of Mathematical Sciences and the guidance received from my lecturers and professors. The School also provided career advice and networking opportunities.
Tola Alade, BSc Mathematics (graduated 2012)
Now Data Scientist at AKO Capital LLP
My degree in Mathematics at Queen Mary plays a pivotal role in my position as a Data Scientist within the financial services industry. I can apply statistical methods to solve complex problems within a commercial environment. I am delighted to be able to help current students at my alma mater by providing some mentorship and insights into my day-to-day role. For those interested in the Data Science field, I am happy to share my experience and the resources which helped me greatly in my career.