Are you a current student or recent alumnus of CCLS? Would you be willing to share your Testimonial? If so, you could help a prospective student to make an informed choice to study at Queen Mary. (class of 2020, 2021 and 2022 only).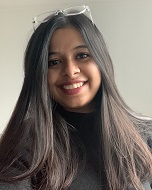 Barasha Borthakur (Law PhD, 2024)
15 September 2021

"The programme allows us to rub shoulders with other academics at the top of their fields, since they are invited to speak on their ongoing research at the School. Overall, I feel the programme has provided me with the finest opportunity to thrive in this profession".
Salvatore Fasciana, Law PhD (2022)
23 June 2021

"Studying at Queen Mary is a privilege. You have the chance to encounter numerous colleagues from different nationalities with their own insights and research approach".