International Economic Law
Are you a current student or recent alumnus of CCLS? Would you be willing to share your Testimonial? If so, you could help a prospective student to make an informed choice to study at Queen Mary. (class of 2020, 2021 and 2022 only).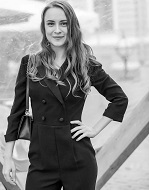 Yulia Dragunova, International Economic Law LLM (2020)
25 August 2021

"Don't be afraid to take the initiative and try different roles and activities - academic, professional, moot courts, career events or a specialism representative role."
Stefan Newton, International Economic Law LLM (2020)
19 August 2021

"My best advice to future students is to leverage the relationships CCLS has with international law firms and the legal sector in the UK. Attend as many of these events as possible. The networks formed during these events are critical in expanding career opportunities."
Dhonke Ridhong Kafi, International Economic Law LLM (2020)
18 August 2021

"CCLS really cares about its students and alumni so they do their best to facilitate their needs."