LAC honours outstanding contributions
Published: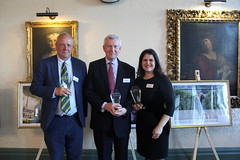 On 16 May 2019, Legal Advice Centre Alumni came together at the centre's first annual alumni reception to network, hear about the centre's current work and future plans, and to celebrate the outstanding contributions of the LAC's first fellows, Philip Ogden, William Wilson and Vitoria Nadas.
At the reception, Philip, William and Vitoria were awarded LAC fellowships to mark their critical contributions to the establishment of the LAC and their longstanding support of the centre's work. Former Queen Mary Professor of Geography, Philip, and former head of the QM School of Law, William, both played crucial roles in paving the way for the establishment of the LAC. Vitoria received her fellowship in recognition of having provided a decade of supervision and support to student legal advisors in the area of immigration.
Since the LAC opened its doors in 2006 the centre has grown from strength to strength. In 2018/2019 the centre handled over 1,800 client queries, and the LAC's 110 student legal advisors engaged , offering them free legal advice in over 30 different legal areas. In her speech at the event, LAC Director Fran Ridout emphasised that the centre's sphere of impact encompasses students, the wider School of Law and the surrounding area of Tower Hamlets. "The work that the LAC does has been vital to the local community. We hope that with continued support we can extend the centre's impact to a national policy level."
Of the LAC's future plans Matthew Evans, Director of External Relations at the LAC, says: "We are deeply grateful to our supporters who make our work possible. With continued support we hope to grow the centre into a dedicated legal educational clinic, which would be the first of its kind in London."