Professor Stavros Brekoulakis appointed as the newest professor at The School of International Arbitration
3 June 2013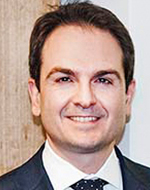 On 1 June, Professor Stavros Brekoulakis was appointed as the newest professor at The School of International Arbitration in the Centre for Commercial Law Studies at Queen Mary University of London. He is the third arbitration professor to be appointed after Julian Lew QC and Loukas Mistelis and the first to be appointed in 10 years.
Professor Brekoulakis's academic work includes the books Third Parties in International Commercial Arbitration and Arbitrability: International and Comparative Perspectives co-written with Loukas Mistelis. Working with international law firm White & Case in 2012, he led the school's survey on arbitration users and practitioners. Professor Brekoulakis holds an LLB from the National University of Athens, an LLM from King's College London in International Business Law and his PhD in Arbitration and Conflict of Laws from Queen Mary where he has also been a lecturer since 2005. In addition to his academic work, he has also practiced commercial law in Piraeus, Greece.
Professor Julian Lew founded The School of International Arbitration in 1985. It is part of the Centre for Commercial Law Studies, based in Lincoln's Inn Fields and teaches more than 100 LLM students each year. Queen Mary ranked highly on Global Arbitration Review's 2012 survey of international arbitration LLMs.