Dr Guan H. Tang (唐冠虹)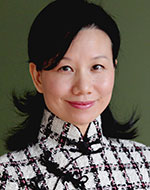 Senior Lecturer in Commercial Law Asia
Email: g.h.tang@qmul.ac.ukTelephone: +44 (0)20 7882 6186Room Number: CCLS
Profile
Dr Guan H. Tang is Senior Lecturer in Commercial Law in Asia at CCLS. She was previously Senior Lecturer in Law at Northumbria University, teaching and supervising in intellectual property (IP) and Internet law; Associate Professor of Law at Shanghai University of Finance and Economics, researching, supervising and teaching in the field of Chinese civil and commercial law, including IP, Internet Law, Corporate law and contracts.
Guan's academic journey started in 1998, when she was awarded a governmental scholarship to undertake her Masters at Queen's University Belfast, where she researched information technology and the law with a focus on IPRs in China. She later read law with Professor Hector MacQueen and received her PhD at the University of Edinburgh Law School.
Benefiting from a dual academic experience, Guan appreciates the legislative and cultural diversity. Her research consists of a strong theme of comparative copyright, from which it has broadened to include IP in trade, tohether with an insight about the rule of law in China from the commercial law perspective and their relevance to the rest of the world.
Postgraduate Teaching
IPLM135 Designs & Copyright

IPLM146 Designs & Copyright
Research
Research Interests:
Guan welcomes proposals for both academic and consultative collaboration. Her current research projects include:
Moral Rights in China
Copyright and Competition Law in China
The New Trademark Law in China
The Amendments of Copyright Law of the People's Republic of China
Will China Become the Next IP Superpower? An Empirical Study
"One Belt one Road": IP in Business
The Rule of Law in China: A Commercial Law Perspective
Publications
Guan has published numerous conference proceedings, peer-reviewed papers, and book chapters. Her works include monograph book, Copyright and the Public Interest in China, by Edward Elgar Publishing.
Supervision
Guan currently supervises six PhDs in the field of commercial law.
Public Engagement
---
Related news