Research & Action on Salt & Obesity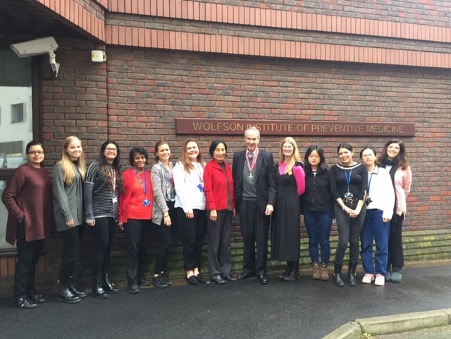 UNIT LEAD Professor Feng He
and Professor Graham MacGregor
This unit is a multi-disciplinary research team which conducts translational research to reduce dietary salt, sugar and saturated fat consumption across the whole population, and so prevent hypertension, obesity, type II diabetes, stroke, heart disease, heart failure and cancer. The unit's research findings have been instrumental in the development and implementation of the UK's salt reduction and obesity prevention programmes, which are now being copied around the world. The unit also carries out various research and public health programmes to reduce salt intake in several low- and middle-income countries, e.g. China, Malaysia.
The unit comprises research fellows, nutritionists and PhD students, and the registered charities Consensus Action on Salt, Sugar and Health, and Blood Pressure UK.
Public health nutrition research in action.


Reducing salt, sugar and saturated fat consumption to prevent non-communicable diseases.


Prevention and treatment of raised blood pressure.

OUR TEAM
Alessandrini , Roberta, PhD student
Bhageerutty , Sheena - Assistant Nutritionist
Brown, Mhairi - Nutrition Policy Co-Ordinator
Burt, Harriet - Policy & Communications Officer
Davies, Zoe - Nutritionist
Gabriel, Holly - Nutrition Manager
Hashem, Kawther - Campaign Lead & Research Fellow
He, Feng, Unit Co-Lead
Jenner, Katharine - Head of Campaigns
MacGregor, Graham, Unit Co-Lead
Markandu, Nirmala - Hypertension Nurse
Pei, Yu - Temporary Research Fellow
Pombo, Sonia - Campaign Manager (Nutritionist)
Song, Jing -Postdoctoral Research Fellow
Tan, Monique - Postdoctoral Research Fellow
Valero Morales, María Isabel, PhD student
Wang, Changqiong - Postdoctoral Research Fellow
CONTACT
Centre Manager - Craig Smith
Wolfson institute of Population Health
Charterhouse Square