At Queen Mary University of London, we believe that a diversity of ideas helps us achieve the previously unthinkable.  
The Wolfson Institute of Population Health was formed in August 2021, merging the former Wolfson Institute of Preventive Medicine (founded in 1991) and the Institute of Population Health Sciences (founded in 2019). The Institute is a part of Queen Mary's medical faculty, Barts and The London School of Medicine and Dentistry, and delivers internationally recognised research and teaching in population health.    
The health of populations around the globe has steadily improved over the last century; however, health systems face growing challenges in delivering better health. Climate change, environmental degradation, poverty, inequality, ageing populations, urbanisation, political upheaval, migration on an unprecedented scale, and more recently, the COVID pandemic, combine to exacerbate existing and create new needs. The Institute is a world-class grouping of scientists and educators in applied health sciences, including public and global health, health services and primary care research, clinical trials, health policy and economics, health data science, behavioural and social sciences, epidemiology, biostatistics, translational and implementation science.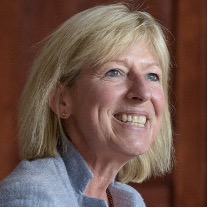 The work of our researchers and educators has had a significant impact on lives across the world. We provide integrated teaching and training opportunities delivered by leaders in the field. By sharing knowledge and pushing the boundaries of research, we will continue to advance population health and preventive medicine on a global scale.

— Professor Fiona Walter, Director, Wolfson Institute of Population Health
Our researchers explore the causes of poor health and health inequalities, how to detect disease earlier, and design novel interventions and evaluate measures aimed at improving the health and quality of life of individuals and populations, locally in East London, nationally, and across the globe.We focus on multimorbidity, complexity, and common and chronic diseases, including respiratory diseases, cardiovascular disease, cancer, mental disorders, and neurologic diseases. The Institute is also known for its expertise in developing and applying methods for evaluating the effects of public health and clinical interventions. Our research spans action to influence the social determinants of health, change individual lifestyle factors such as tobacco use and diet, improve the early detection of disease, as well as ways to improve the effectiveness and quality of health services with a focus on primary care. Our vision is to drive forward research within and across these conditions and disciplines to generate the evidence to implement health system change, improve population health, and nurture social equity.