Professor Ahuva Nissim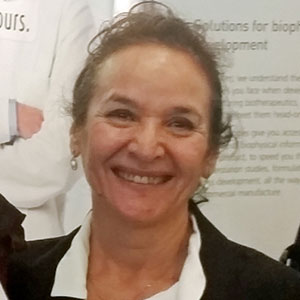 Professor in Antibody and Therapeutic Engineering
Centre: Biochemical Pharmacology
Email: a.nissim@qmul.ac.ukTelephone: +44(0) 20 7882 3990
Profile
Ahuva Nissim graduated in Molecular Immunology in 1992 from the Weizmann Institute of Science in Israel and was trained as a postdoctoral fellow at the MRC Centre for Protein Engineering in Cambridge until 1995. During this period she developed phage display semi-synthetic human antibody library, the so call 'Nissim' library which has been used worldwide. In November 2000 she was appointed as a Senior Lecturer at Queen Mary University. Her studies are interdisciplinary and involve translational research at the William Harvey Research Institute and with intensive worldwide collaborations. Her studies have been mostly focused on the mechanisms that lead to the formation of disease tissue-specific pathogenic proteins and the exploitation of identified pathogenic proteins to develop platform technologies for novel disease - and tissue-specific, diagnosis and targeted treatment.
Research
Group members
MD/PhD research fellow: Dr Rocky Strollo (with Prof Pozzilli as part of international collaboration with Campus Bio-Medico University of Rome)
Students: Chiara Vinci (with Prof Pozzilli), Louise Mary Topping (with Helena Azevedo); Anastasija Pikus (with Prof Leslie)
Research staff: Dr Michael Tranter; Dr Sagar Raturi, Dr Stella Man
Summary
The main research interest focuses on development of diseased tissue specific diagnosis and targeted immunotherapy to novel neoantigens produced specifically in diseased tissue. The role of oxidants in generation of neoantigen in the diseased tissues as a results of oxidative post-translational modification is investigated. Research is focused on arthropathies and type 1 diabetes but other autoimmune condition such as periodontal diseases have been studied. Hence, a specific targeted immunotherapy for the treatment of arthropathies has been developed. Ongoing research activities include the development of novel human antibody repertoires for engineering of new treatment modalities.
Key Publications
For a full list of publications
click here
Strollo R, Vinci C, Napoli N et al.(2017). Antibodies to post-translationally modified insulin as a novel biomarker for prediction of type 1 diabetes in children. Diabetologia 60, (8) 1467-1474. doi: 10.1007/s00125-017-4296-1
Strollo R, Vinci C, Arshad MH et al.(2015). Antibodies to post-translationally modified insulin in type 1 diabetes. Diabetologia 58, (12) 2851-2860. doi: 10.1007/s00125-015-3746-x
Lim NH, Vincent TL, Nissim A (2015). In vivo optical imaging of early osteoarthritis using an antibody specific to damaged arthritic cartilage. Arthritis Res Ther 17, 376. Doi: 10.1186/s13075-015-0898-5
Targeting of viral interleukin-10 with an antibody fragment specific to damaged arthritic cartilage improves its therapeutic potency. Hughes C, Sette A, Seed M, D'Acquisto F, Manzo A, Vincent TL, Lim NH, Nissim A (2014). Arthritis Res Ther. Jul 16;16(4):R151. doi:10.1186/ar4613.
Structural guided scaffold phage display libraries as a source of bio-therapeutics. Man YK, DiCara D, Chan N, Vessillier S, Mather SJ, Rowe ML, Howard MJ, Marshall JF, Nissim A (2013). PLoS One. Aug 9;8(8):e70452. doi: 10.1371/journal.pone.0070452.
Autoantibodies to posttranslationally modified type II collagen as potential biomarkers for rheumatoid arthritis. Strollo R, Ponchel F, Malmström V, Rizzo P, Bombardieri M, Wenham CY, Landy R, Perret D, Watt F, Corrigall VM, Winyard PG, Pozzilli P, Conaghan PG, Panayi GS, Klareskog L, Emery P, Nissim A (2013). Arthritis Rheum. 2013 Jul;65(7):1702-12. doi: 10.1002/art.37964.
HLA-dependent autoantibodies against post-translationally modified collagen type II in type 1 diabetes mellitus. Strollo R, Rizzo P, Spoletini M, Landy R, Hughes C, Ponchel F, Napoli N, Palermo A, Buzzetti R, Pozzilli P, Nissim A (2012). Diabetologia. 56(3):563-72. doi: 10.1007/s00125-012-2780-1
Involvement of autoimmunity in the pathogenesis of aggressive periodontitis. Hendler A, Mulli TK, Hughes FJ, Perrett D, Bombardieri M, Houri-Haddad Y, Weiss EI, Nissim A (2010). J Dent Res. 89(12):1389-94. doi:10.1177/0022034510381903.
Human single-chain variable fragment that specifically targets arthritic cartilage. Hughes C, Faurholm B, Dell'Accio F, Manzo A, Seed M, Eltawil N, Marrelli A, Gould D, Subang C, Al-Kashi A, De Bari C, Winyard P, Chernajovsky Y, Nissim A (2010). Arthritis Rheum; 62(4):1007-16. doi: 10.1002/art.27346
Generation of neoantigenic epitopes after posttranslational modification of type II collagen by factors present within the inflamed joint. Nissim A, Winyard PG, Corrigall V, Fatah R, Perrett D, Panayi G, Chernajovsky Y (2005). Arthritis Rheum. 52(12):3829-38
Historical development of monoclonal antibody therapeutics. Nissim A, Chernajovsky Y. Handb Exp Pharmacol. 2008;(181):3-18. Review.Dec;52(12):3829-38.
Collaborators
Internal: Costantinos Pitzalis (WHRI); Michele Bombardieri (WHRI); Francesco Dell'Accio (WHRI); Gavin Giovannoni (Blizard); David Lesly (Blizard); John Marshal (BCI); Helena Azevedo (School of Engineering); James Garnett and Roberto Buccafusca (School of Biological and Chemical Sciences);
External: Paul G Winyard (Exeter); Pozzilli Paolo (Rome), Iain B McInnes, Carl S Goodyear (Glasgow); Frederique Ponchel, Philip G Conaghan, Paul Emery (Leeds); Tonia Vincent (Kennedy); Maria Infantino and Maurizio Benucci (Florence); Howard Amital (Israel); Zelig Eshhar (Israel); Industrial collaborators from Europe, Israel and US.