Felicity Turton, LLB, LLM, PhD Candidate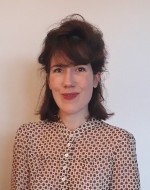 Researcher
Email: f.turton@qmul.ac.uk
Profile
Felicity is a researcher with the Cloud Legal Project and Microsoft Cloud Computing Research Centre, exploring various legal aspects of cloud computing, with a particular interest in standard contracts and data protection. Felicity is an Affiliate of the Ostrom Workshop on Data Management and Information Governance, Indiana University Bloomington, a member of the Human Rights Lawyers Association and International Association of Privacy Professionals, and prior to commencing the PhD was a Privacy Analyst at OneTrust DataGuidance.
Felicity is also studying for a PhD at CCLS in the field of competition law, with focus on defining 'new economy' markets.
Research
Felicity is currently working on a range of forthcoming publications.
Conferences
Presented: 'Conceptualising zero- price personal data as "market" in EU Competition Law' at ICCL Annual Postgraduate Research Commercial Law: New Challenges and Opportunities, Durham Law School (2019).
Presented: "Dealing with Data in EU Competition Law" at Silver Linings Postgraduate Legal Research Conference, Centre for Commercial Law Studies, Queen Mary University of London (2019).