Laura Foley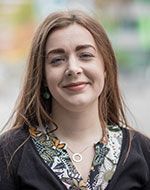 Postdoctoral Research Fellow
Email: laura.foley@qmul.ac.ukRoom Number: Graduate Centre, Mile End
Profile
Laura Foley is a Postdoctoral Research Fellow working on the Unpacking the Global Governance of Migration project (PI Professor Nicola Piper) in the School of Law at Queen Mary, University of London. Laura completed her PhD in the Department of Politics at the University of Sheffield (2016-2020) as part of the Prospects for International Migration Governance (MIGPROSP) project which was funded by the European Research Council. Her doctoral thesis analysed the governance of labour migration in Malaysia, and investigated how a gendered governance system has developed for migrant domestic workers.
Laura holds an MSc in International Relations from University College Dublin, an LLM in International Human Rights and Development from London South Bank University and a BA in Sociology and French from Trinity College Dublin. Between 2011 and 2016 Laura worked with migrants and refugees in the UK and Ireland in a variety of civil society and research organisations including the Joint Council for the Welfare of Immigrants, NatCen Social Research, and New Communities Partnership.
Research
The Unpacking the Global Governance of Migration project, funded by the British Academy, analyses the role of the International Labour Organisation (ILO), and its tripartite constituents, in the global governance of labour migration. The central aim of the project is to investigate how 'decent work' for migrant workers can best be achieved in a field of multi-level, multi-actor governance.
Laura has also received funding from the Global Engagement Research Initiation Scheme to develop a collaborative project Advocating for Rights-Based Governance in Southeast Asia which aims to bring together scholars working on different levels of labour migration governance in order to develop interdisciplinary insights into the challenges of migration governance.