QMUL School of Law hosts 2017 George Hinde Moot Final in UK Supreme Court
Published: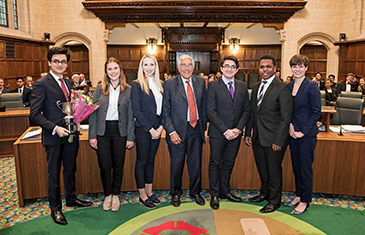 On Monday 24 April 2017, QMUL School of Law hosted its annual George Hinde Moot Final at the UK Supreme Court. The competition – organised by students and academics at the School of Law – has been established for more than 40 years and provides undergraduate students with 'real-world experience' as well as an invaluable insight into advocacy and the Bar. Participants are expected to present and defend legal arguments under court room conditions.
This year, the final was judged by The Right Honourable The Lord Phillips of Worth Matravers, KG, PC (former UK Supreme Court President).
The four students who competed in the 2017 final were Aymen Ati, Octavie Ralet, Nikiforos Spathopoulos and Rebeka Mrzlikar. Aymen Ati won the moot competition and Octavie Ralet won The Yeats and Lane trophy for Fresher who went the furthest in the mooting competition. Well done to Nikiforos Spathopoulos and Rebeka Mrzlikar for their excellent performances.