CCLS launches the the biannual Commercial Law in China Series
Published:
By Yukun Shi
15 December 2016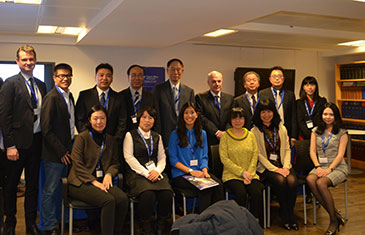 A conference on Intellectual Property (IP) in Business was launched as the opening session of the biannual Commercial law in China Series by the Centre for Commercial Law Studies (CCLS), Queen Mary University of London on December 15, 2016. The conference reflected the growing importance of the development of IP in China and its vital role in the current and future global market economy. It provided an insightful discussion on the named topic from Chinese and UK/EU perspectives. Eminent speakers included Professor Chuntian Liu (Chairperson of the China IP Law Society and Dean, IP Academy of Renmin University of China), Mr Zhipei Jiang (Former Chief Judge of IP Supreme People's Court, Editor Chief of IPR website and Vice president of CIPS), Mr Yongshun Cheng (Former Chief Judge of IP tribunal, High People's Court of Beijing Municipality, Director of the China Copyright Association and Vice president of CIPS), Professor Yufeng Li (Southwest University of Political Science and Law), Professor Chen Li (IP Academy of Renmin University of China), Ms. Jillianne Osborn (IPR Legal Counsel of Vodafone) and Mr Xiangyuan Xiao (Director of West EU Regional Legal Department, Huawei Technologies Co. LTD).
Professor Spyros Maniatis, the Head of CCLS, delivered the opening remarks, in which he expressed his aspiration to benefit the society with research achievements. He also expected further exploration of IP law in countries outside United Kingdom.
Professor Chuntian Liu, as the representative of the Chinese delegation, then made a keynote speech with the title of "The Effects of Technology Development on Intellectual Property Policy Reform". Professor Liu pointed out that China is currently going through transformation, during which every change is possible. Being opposed to so-called "overtaking corner" theory, Professor Liu emphasized the significance of technology innovation in effectively promoting China's social transformation.
The conference was consisted of two panels. The first panel was moderated by Professor Duncan Matthews, Professor of Intellectual Property Law at CCLS, and the speakers included Mr Yongshun Cheng, Professor Chen Li and Ms Jillianne Osborn. Mr Cheng elaborated on several contemporary issues related to evidence preparation in patent litigation in China. He also made a comparative analysis between different jurisdictions on this topic. For Professor Li, she described the latest development of China's Copyright Law from the legislative aspect in detail. Ms Jillianne Osborn, from a practical perspective, shared the IP protection strategy that Vodafone co. has adopted in China.
The Second panel was composed of Mr Zhipei Jiang, Professor Yufeng Li, Mr Adam Xiao, together with Dr Guan H. Tang, Senior Lecturer in Commercial Law Asia at CCLS, as the moderator. Mr Jiang appreciated China's current practice in establishing specialized IP Courts. He also recommended judges to promote intermediation under the principle of fair and justice in IP cases instead of simply making judgments. After that, Professor Li expressed professional interpretation of the 2013 amendment of China's Trademark Law. As the last speaker, Mr Xiao delivered a speech about Huawei co.'s protection over its core intellectual property rights in west Europe.
The conference provided a great opportunity for experience and idea exchange between scholars and professionals from different countries, which has laid a foundation for closer communication and cooperation possible in the future.