8 June 2015
The Second Edition of 'International Financial and Monetary Law' by Professor Rosa Lastra was launched at a special event at the Centre for Commercial Law Studies on 15 May 2015, following a conference organised by the Bank of England and CCLS.
Opening remarks on the economic aspects of the global financial crisis were given by Professor Charles Goodhart of the London School of Economics and on the legal aspects by Thomas Baxter, General Counsel of the Federal Reserve Bank of New York.
'International Financial and Monetary Law', published by the Oxford University Press, is a leading authority on central banking and financial regulation, including detailed legal and policy analysis of the institutions that safeguard monetary stability and financial stability nationally, at the EU level and globally.
The new edition has been renamed (previously 'Legal Foundations of International Monetary Stability') to better reflect the book's breadth of coverage, which includes an in-depth study of central banking, a fresh look at supervision, regulation and crisis management after the global financial crisis. It also includes updated material on the law of the European Central Bank and banking union, the law of the IMF and work undertaken by international standard-setters, in particular the FSB and the Basel Committee.
Part I focuses on national developments, Part II deals with EU developments and Part III examines international developments. Each of these sections commences with a historical chapter, then analyses the framework of the 'monetary architecture'. Finally, each part considers the 'financial architecture' with regard to the functions of financial supervision (micro and macro) and surveillance, regulation and crisis management, including lender of last resort and resolution.
Pictured: Thomas Baxter (General Counsel of the Federal Bank of New York), Prof Charles Goodhart (Economist, LSE), Prof Rosa Lastra (QMUL) and Prof Spyros Maniatis (QMUL).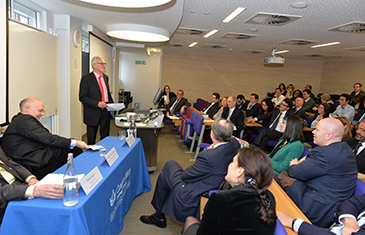 Book launch of 'International Financial Monetary Law' by Prof Rosa Lastra