Queen Mary LLM students are top UK team in International Moot Court Competition
Published:
Queen Mary postgraduate students finished ahead of other UK University teams and went through to the final rounds in the Willem C Vis International Commercial Arbitration Moot in Vienna on 16-21 April 2011.
The Queen Mary Vis Moot Team was placed joint 17th out of 265 competing teams from around the world. The oral advocacy team members were LLM students: Elizabeth Simos, Niyu Lin and Marta Blocka. Elizabeth Simos received an honorable mention for her oral advocacy skills.
The Willem C Vis International Commercial Arbitration Moot is an annual international moot court competition held in Vienna, Austria. It aims to foster study in the areas of international commercial and arbitration laws and encourage the resolution of business disputes by arbitration.
The competing teams were required to submit written memoranda for claimant and respondent and to present oral arguments based upon the memoranda. This year's moot problem was the 'Arbitration Rules of the Chamber of National and International Arbitration of Milan'.
Queen Mary academics Dr Stavros Brekoulakis and Angie Raymond played a key role by coaching and supporting the students throughout the competition.
"We are very proud of the team as the problem was a very difficult one this year. Their success is due to their hard work and commitment - and they did an excellent job of representing the University on an international stage," said Angie Raymond, Co-Director of the LLM and Lecturer in International Commercial Law.
The Centre for Commercial Law Studies at Queen Mary, University of London offers a comprehensive, research-lead, postgraduate programme specialising in International Arbitration and Commercial Law.
"We are delighted to have achieved such a great result in this highly competitive competition," said Dr Stavros Brekoulakis, Senior Lecturer in International Dispute Resolution.
"Doing consistently well in the Willem Vis Moot over a number of years is additional evidence of the high quality of our students and our LLM programme."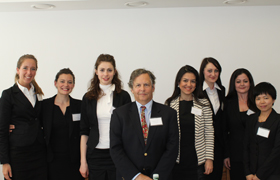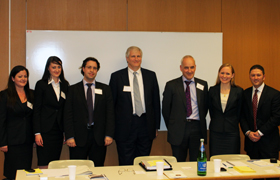 The Queen Mary moot team had generous support from law firms including K&L Gates LLP, Clifford Chance LLP, Freshfields Bruckhaus Deringer LLP, Herbert Smith LLP, Norton Rose LLP, Baker Botts LLP, Wilmer Hale LLP, Insight Investment Management (Global) Limited and Davenport Lyons.
"The firms provided various types of support such as hearing arguments, financial support, an enormous amount of feedback and their time!" said Angie Raymond.