Student life on campus
As a student studying abroad at Queen Mary, you are a valued member of the Queen Mary community. You will have the same access to our services as our full-degree students, with the additional support that your programme provides.
GO and get social!
While our Welcome Programme (Orientation) will mean you'll already have a busy social calendar by the time you arrive, there's plenty more happening on campus to keep you busy.
Every couple of weeks our Global Opportunities team will send you our GO Semester Newsletter, packed with news of events on campus, suggestions for what to do in and around London, as well as some cultural recommendations.
Make the most of our Students' Union
Our campus is a lively, friendly place and the Queen Mary Students' Union (QMSU) plays a major part in campus life.
You automatically become a member of QMSU when you join Queen Mary. This means you can not only go to their student nights and events, but you can also explore the hundreds of clubs and societies they run: there are over 200 societies, ranging from the Harry Potter Appreciation Society to the Baking Society, and around 60 sports clubs. It's a great way to meet people who share your interests – or try something new while you are in the UK.
You can also use the Union's excellent range of facilities and services, such as QMSU's gym, QMotion, which has first-class fitness facilities, a busy schedule of exercise classes and personal trainers who can make sure you exercise your body as well as your mind.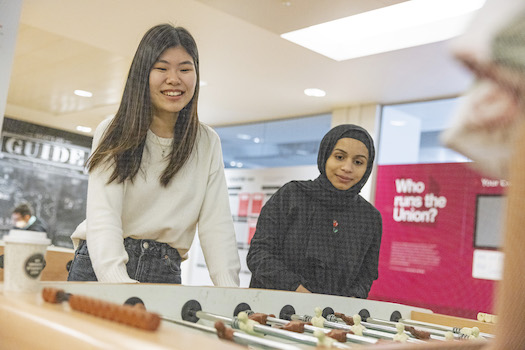 Our self-contained campus
We are very lucky to have one of the largest self-contained campuses in London. It is convenient, safe and has a very friendly atmosphere. Not only will you have a bookshop, grocery shop and gym a five-minute walk from your studies, our many cafés, bars and canteens make it easy for you to make and meet friends on campus.
This also means that you don't have to travel far for advice or information: our central services, such as our Careers Service and our Advice and Counselling Service are also on campus, so you will never be far from any help or guidance you need. We also have a 24-hour Security Team on campus.
Our campus is only a 15-minute tube ride from the West End, home to London's entertainment district, so it's easy for you to explore the rest of the capital from your Mile End base.
A diverse and inclusive experience
Queen Mary is an inclusive and diverse university. We welcome students from all over the world from different backgrounds. As well as a welcoming academic community, you will also find a host of student groups and representatives committed to making everyone feel welcome. You can find out more about our student groups on the QMSU website. We also have Welfare and Equal Opportunities Representatives who are dedicated to ensuring all students have the best experience and are represented. You may also want to visit our QMSU Support and Advice Services pages who have guidance and advice services to benefit all students.
You might also be interested in: