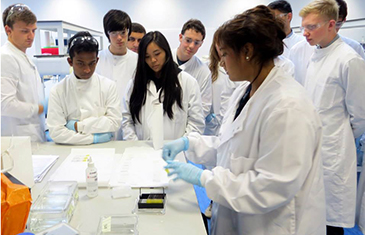 We are delighted in this cross-faculty and cross-disciplinary training programme with our industrial partners to train the next generation of drug discovery researchers

— Mike Barnes, Professor of Bioinformatics & Peter McCormick, Reader in Pharmacology. The William Harvey Research Institute, Faculty of Medicine and Dentistry
Students
Is this programme for me? Given the cross-disciplinary nature of the programme, we expect to recruit students from a range of academic backgrounds, from computer science to biochemistry. The specific balance between areas in which each student will be trained will therefore differ significantly as the students develop into interdisciplinary researchers. While this programme is primarily focussed on computer-based research, QMUL will provide with a useful route to experimental validation of novel findings, allowing close integration of experimental biology and data-driven and modelling approaches.
Each student will have 2 academic supervisors who will be Professors at QMUL and an industry supervisor who will be a senior scientist at one of our partner companies (Exscientia, MSD, Sosei Heptares).


This page will be updated with profiles of our students and supervisors, once we have completed recruitment for each of the annual intakes.