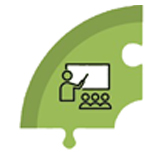 Researchers with a strong grounding in molecular bioscience allied to proven experience in data science and AI are in particularly high demand. Our new PhD programme is specifically designed to produce such researchers, by offering research projects exclusively at this biology-data science interface and providing the experiences and training needed to succeed in this space.

— Professor Conrad Bessant, AIDD Academic Principal Investigator and Professor of Bioinformatics, QMUL
All projects developed by our PhD students are interdisciplinary, so we recruit a heterogeneous cohort from both computational and bioscience backgrounds, then work together with each student to co-create a personalised training roadmap (PTR) the specific skills gaps needed to tackle their project. PTRs include a compulsory 3-day AIDD short course delivered by project supervisors, a compulsory six-week group project, a project-specific diet of QMUL masters level modules covering topics as diverse as bioinformatics, machine learning, genomics and structural biology. Students may also enrol on training offered by the industry partners, and by external training providers.

Students are enrolled in one of the schools of QMUL's Faculty of Science & Engineering or Faculty of Medicine and Dentistry in line with the affiliation of their primary academic supervisor. Students spend a minimum of three months working in one of the three partner companies, and will also have a co-working space at the Digital Environment Research Institute in QMUL. Development of their research project will be in continued collaboration between their industry and academic supervisor. It is envisioned time spent at the industrial partner will be working on the PhD research as part of the industrial supervisor's research team. The PhD student benefits from interacting with this team and understanding the broader context in which the research sits, and how the project can help advance the company's commercial achievements.
What type of research will PhD students be conducting? The common theme of all projects is that they seek to advance the frontiers of bioscience discovery in areas underpinning the development and delivery of novel therapeutic drugs. Research conducted by our PhD students will cover technology development, pharmaceuticals, structural biology, systems biology and ageing. The targets for covering these topics over the duration of the programme are shown in the upper panel of the figure below, the lower panel shows the computational technologies associated.

Technology development for bioscience research is a common theme throughout the CTP and will involve the development or adaptation of AI methods for the analysis of large biological datasets. These methods will include:
Computer vision for automated analysis of microscopy images.
Natural language processing for semantic tagging of biological knowledge in scientific literature and patents.
Data integration and network science to enable systems biology studies.
Machine learning for feature extraction and in silico model generation.
Knowledge graphs capture findings from large scale data mining
Bioinformatics as an enabling technology for projects including 'omics data.
In addition to a PhD thesis, students will be expected to publish research papers in academic journals, present their work at scientific conferences and where appropriate work with industry supervisors to identify and protect novel intellectual property.