CCLS is pleased to work with a variety of associations, universities, companies, law firms and other institutions in Paris, including:
We are keen to develop relations to promote research and teaching in commercial law, notably from an international and comparative perspective. If you, your law firm, company or organisation would be interested in working with us, please contact: cclsparis@qmul.ac.uk.
Amicus Curiae
CCLS is working with Amicus Curiae to provide students with the opportunity to contribute to their Amicus Info initiative. The aim is to inform as well as decipher and analyse legal issues in a way accessible not just to lawyers, but to the general public also. A number of current and former LLM in Paris students contribute blog articles on diverse topics of global interest.
Association Française des Juristes d'Entreprise (AFJE)
We have worked with the AFJE for many years and are grateful to them for their long-standing support of a scholarship for an LLM student.
We also work together to coordinate seminars involving members of the QMUL academic team, and to provide in-house counsel with training and updates in particular areas of commercial law.
Tidiane Camara, CCLS-MWE-AFJE scholar 2015-16 with Véronique Chapuis-Thuault, Vice-President of the AFJE
Ecole de Droit de la Sorbonne (Université Paris 1 Panthéon-Sorbonne)
We work closely with the Law School of the Université Paris 1 Panthéon-Sorbonne, including in the delivery of a shared, bilingual Double LLM in International Business Law, and French and European Law.
We are keen to promote student interaction and exchange through shared events and other activities.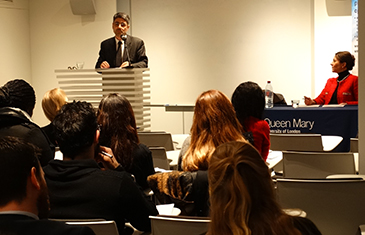 Francois Guy Trebulle, Dean of the Sorbonne Law School, delivers a Queen Mary Paris LLM Opening Lecture
ELSA France
ELSA (The European Law Students' Association) is the world's largest law students' association; it is comprised of more than 41,000 members across the globe including students and recent graduates who are interested in academic and personal excellence in addition to their studies at their universities.
ELSA QMUL is the first local ELSA group established in London and, from our campus in Paris, we are pleased to collaborate also with ELSA France.
ESCP Business School
The Ecole Supérieure de Commerce de Paris, ESCP Europe, is one of the world's oldest business schools and we are delighted to be working with them on a number of collaborative projects. The projects aim to combine the expertise of the two institutes from the two disciplines of commercial law and business management, providing students with an opportunity to advance their career prospects through this entwined knowledge and these innovative channels. All projects will see students studying in both Paris and London, widening their international perspective, and career and networking opportunities.
Franco-British Lawyers Society (FBLS)
We work with the FBLS to promote opportunity for exchange between students and friends with cross-Channel interests.
Queen Mary was previously awarded the Franco-British Lawyers Society Prize which enabled us to recognise and reward a number of individual students for their outstanding achievement.
CCLS Paris student winners of the prize include:
• Aliénor Kamara-Cavarroc
• Lucien Ilie
• Olivier Herbreteau
• Aude Leveau.
Paris Bar School (EFB)
By virtue of our partnership with the Ecole de Formation professionnelle des Barreaux de la Cour d'Appel de Paris (EFB), students are able to study towards an LLM with Queen Mary in Paris, in parallel with their training at the Bar School. Further details are provided here.
Further, CCLS arranges a variety of seminars and events in Paris each year, some of which are open to practitioners and can be credited as "formation continue" with the Paris Bar.
McDermott Will and Emery
McDermott Will and Emery's Paris office has generously supported an LLM student each year, through contribution to a scholarship.
Since 2014, the firm has kindly hosted the September Opening Lectures of the LLM in Paris, which mark the start of students' studies with us, such as the conference by Andrew Clarke, General Counsel, Esso UK Ltd.
The firm has also provided invaluable experience to some Paris LLM students through internships.
Tidiane Camara, CCLS-MWE-AFJE scholar 2015-16 with representatives of CCLS, MWE and AFJE at the LLM Paris Opening Lecture September 2015