Event Recap: Law and Finance Alumni Networking Event, Barts Pathology Museum
Published:
Queen Mary University of London alumni took part in a Law and Finance networking event at the Barts Pathology Museum on Monday 1 December.
More than 50 alumni attended the networking event held at the Pathology Museum, a unique Victorian museum that houses over 5,000 medical specimens on display over three mezzanine levels. The event was organised by the Queen Mary Alumni Network in collaboration with the Queen Mary Careers and Enterprise Centre and the Schools of Law and Economics and Finance. It included guest speakers from the School of Law, including Rodrigo Olivares-Caminal, Professor of Banking and Finance Law, who highlighted the importance of alumni events:
'The reason we hold events like this is to keep in touch with you all. As alumni you are our best possible ambassadors.'
Richard Ashcroft, Professor of Bioethics, gave a mini lecture on Medical Law, which was followed by a drinks reception where alumni conversed and admired the pathology exhibitions.
Alumni were at the event to socialise with old friends, talk with peers in similar industries and to offer careers support and opportunities to current students and recent graduates.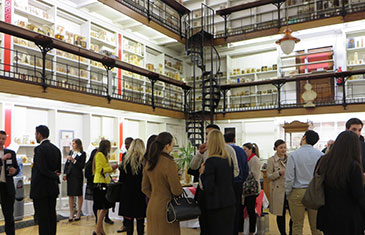 Emiline d'Ollone, Compliance Consultant and Legal Counsel at Fragomen, attended in order to find employable graduates:
'Having studied at Queen Mary I know that these kinds of events are great for finding smart, talented and motivated people looking to fast-track their careers. I work for an Immigration Law company, but I completed an LLM in Intellectual Property. It is important that graduates know that their specialisms do not have to limit them in the workplace.'
Other former students expressed their gratitude for a strong 'alumni culture' cultivated by the network and praised the structured and unstructured events that were organised for them. Many did note, however, that the responsibility lies with the individual to strengthen their relationships with the university and that the network should be used for the good of the graduate, as well as the university.
---
The Queen Mary Alumni Network provides a focus for former students of Queen Mary University of London and its constituent colleges. The Network is a vibrant global community of over 100,000 former students, in over 150 countries around the world, providing a lifelong link to the university.
Join the QM Law Network on Linkedin
Join the CCLS Network on Linkedin
'Like' the Queen Mary University of London Alumni Network on Facebook